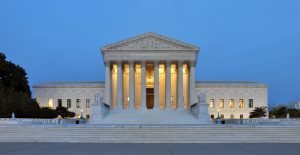 By Dave Workman
Editor-in-Chief
Scores of amicus briefs supporting the New York State Rifle & Pistol Association's challenge to New York State gun laws have flooded into the U.S. Supreme Court, representing some of the biggest names in the gun rights community, and on Capitol Hill.
Alan Gottlieb, chairman of the Citizens Committee for the Right to Keep and Bear Arms—one of the organizations which have submitted "friend of the court" briefs, told TGM this could be a record for the number of different individuals and organizations showing this degree of interest in a high court case. CCRKBA submitted its brief solo. NYSR&PA is one of its state affiliates.
At least 46 amicus briefs have been submitted by some 75 attorneys, representing at least 200 individuals and organizations. One brief, submitted by Congresswoman Claudia Tenney (R-NY) was signed by 175 of her colleagues. Another, submitted by U.S. Senators Ted Cruz and Mitch McConnell contains their names and those of 23 other senators.
The Second Amendment Foundation's submission represents more than a dozen gun rights organizations.
The case could have ground-shattering repercussions for the handful of states that still require so-called "good cause" by applicants for concealed carry permits before the application is approved. In an overwhelming majority of those cases, the permits are denied, and critics say this is an arbitrary process.
A majority of states have adopted "shall issue" statutes that require law enforcement agencies to issue permits or licenses to anyone who legally qualifies, which usually translates to having a clean record with the police and courts.
Briefs have come from organizations that certainly do not fit the liberal media narrative. There are submissions from the Independent Women's Law Center, Black Guns Matter, Liberal Gun Club, Inc., one from Texas Gov. Greg Abbott, the Asian Pacific American Gun Owners Association and one from the Center for the Defense of Free Enterprise with four partners.
If the high court strikes down, or forces a severe change of New York's issuing scheme, it will spell big trouble for New Jersey, Maryland, California and other states in which officials currently hold inordinate sway over who does and doesn't get a carry permit. It would bring an end to systems that seem accommodating to politically connected elites while average citizens are essentially kept defenseless outside their own homes.
Many, including CCRKBA's Gottlieb, are saying the Supreme Court's acceptance of such a case is long overdue.
Credit must go to former President Donald Trump, say some observers, because he was able to make three critical appointments to the high court: Brett Kavanaugh, Amy Coney Barrett and Neil Gorsuch during his single four-year term. With the court having what appears to be a solid conservative (and presumably pro-gun) majority, Capitol Hill liberals and the gun prohibition lobby began arguing for "court packing" almost as soon as anti-gun Democrat Joe Biden was sworn into office in January.
The presence of this majority could mean the court will finally begin taking on other Second Amendment cases and handing down rulings to further define the parameters of the right to keep and bear arms.