By Jim Dickson | Contributing Editor
Not everyone wants or can afford a custom knife and it is worth looking at some of the factory alternatives.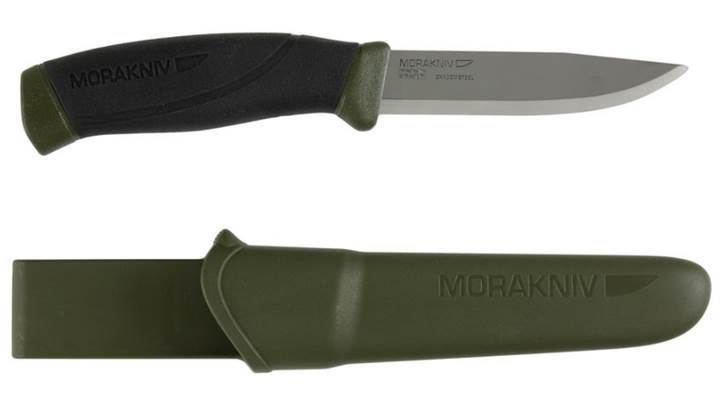 A knife doesn't have to be the best in the world to give good service in the field and some of the highly touted custom knives are actually flops in the field. With that in mind let's look at some of the factory alternatives.
The Swedish Mora knives are exceptionally cheap yet give good service. Quality is something the Swedes demand in everything to a greater degree than any other country. The ones listed here are made from 1095 tool steel, the same tool steel the U.S. Military specifies for their knives and machetes. They are hardened to Rockwell 58-60 which is as hard as you ever want a knife to be. Any harder and you will never be able to sharpen it easily in the field and that's where knives get dull and have to be re-sharpened under the worst conditions.
The blades are flat ground instead of the cheaper to produce hollow grind that will not hold an edge well. A hollow ground knife's edge flexes in use like a flag waving in the breeze. The Mora knife's flat grind makes them superior to many extremely expensive hollow ground knives regardless of their steel alloy.
Specimens shown here have thermal polyethylene (TPE) handles and scabbards. The tang goes three-fourths of the way through the handle to insure strength.

The first knife is my favorite Mora, the Basic 511-Black & Military Green with a whopping MSRP of $9.99! Betcha didn't think you could get a fine knife for under $10.
It has a 3.625-inch blade .08 inches (2MM) thick with a clip point. There is a comfortable handle with a good front guard and an overall length of 8.25 inches. It weighs 2.7 ounces.
The next Mora is the Morakniv Companion MG with a MSRP of $14.99. It has a patterned rubber high friction grip over the TPE handle for a better hold. That makes it cost more. It lacks the substantial guard of the first knife but has a curve to the handle that fits the hand well. It's blade length is 4.1 inch and it has a thickness of .08 inches with an overall length of 8.6 inches. It weighs 3.9 ounces.
Mora also offers a gut hook. The Belly Opener (Gut Hook) – 351P with a MSRP of $14.99. I never liked a gut hook on a knife as it is to prone to snagging things I don't want snagged. I am a big believer in one as a separate tool. By making it separate from a knife blade Mora was also able to make it big enough, something the ones on Knives are not. This knife is made of Swedish Sandvik 12C27 stainless steel hardened to Rockwell 58. It has a glass fiber reinforced slip resistant handle with a neb to help you drag it through the hide without losing your grip.
Mora knives are high performance yet low priced knives. You can afford to give everyone a Mora knife for Christmas at their price. At their weight they can be carried afield as a spare instead of depending on a flimsy pocketknife. They are the most knife for the least money out there.
For those wanting a heavier knife, Ontario Knife Company make the current military issue 7-inch blade fighting knife and the 5-inch blade Air Force survival knife. All the government knives are 1095 tool steel like the Mora knives. These knives have been proven in the worst conditions of war and wilderness by generations of American military men. Their dependability at all tasks is well proven.
The 5-inch blade Air Force Survival knife is 9.5 inches overall and weighs .84 pounds the heavy steel pommel bringing its weight up.
The 7-inch combat knife is 12 inches overall and weighs .85 pounds.
Ontario reports that the Air Force Survival knife is the biggest seller to sportsmen. It should be noted that a similar sized knife in WW2 was deemed too small by the troops for all purpose use and the troops found the 7-inch knife more useful.
Ontario also makes the 1943 M3 Trench Knife whose 7-inch blade was used on the M1 carbine and every U.S. bayonet since. This has a big, comfortable leather grip and a narrow blade better suited to making the fine cuts in dressing and butchering deer and other big game. In Scotland this type of long narrow blade is called a graloching knife for that is the term for dressing the deer. Of the three military knives I have always preferred this one. The current issue knives come with heavy leather scabbards but the M3 comes with a thin commercial type sheath so I put mine in a bayonet scabbard. Same blade on the bayonet so no problem with fitting and it is never going to cut out of that plastic scabbard.
The M3 is 12 inches' overall length, weighs 0.93 pounds.
Ontario also supplies the machetes to the government out of 1095 tool steel and the G.I issue 18-inch blade machete is top of the line for machetes. I have used these machetes for years and I really like them. I consider them an indispensable jungle and wilderness tool that is equally useful around the farm and on regular hunts. Back in the 4th edition of The Gun Digest Book Of Knives I pointed out that most of the accidents with machetes could be prevented by a knucklebow to help keep the machete from flying out of the hand when it sticks in bamboo or something. Ontario soon added a model with a knucklebow made from fiberglass reinforced plastic.
Both versions weigh 1.45 pounds and are 24 inches overall. The G.I. Issue model sells for $36.95 and the one with the knucklebow sells for $39.95.
The machete is a very light and very useful tool for the hunter. It builds blinds and shelters and clears brush interfering with having a clear field of fire. It will cut your firewood and slice up your moose with equal ease. It is a splendid blade to have with you and very light and easy to carry.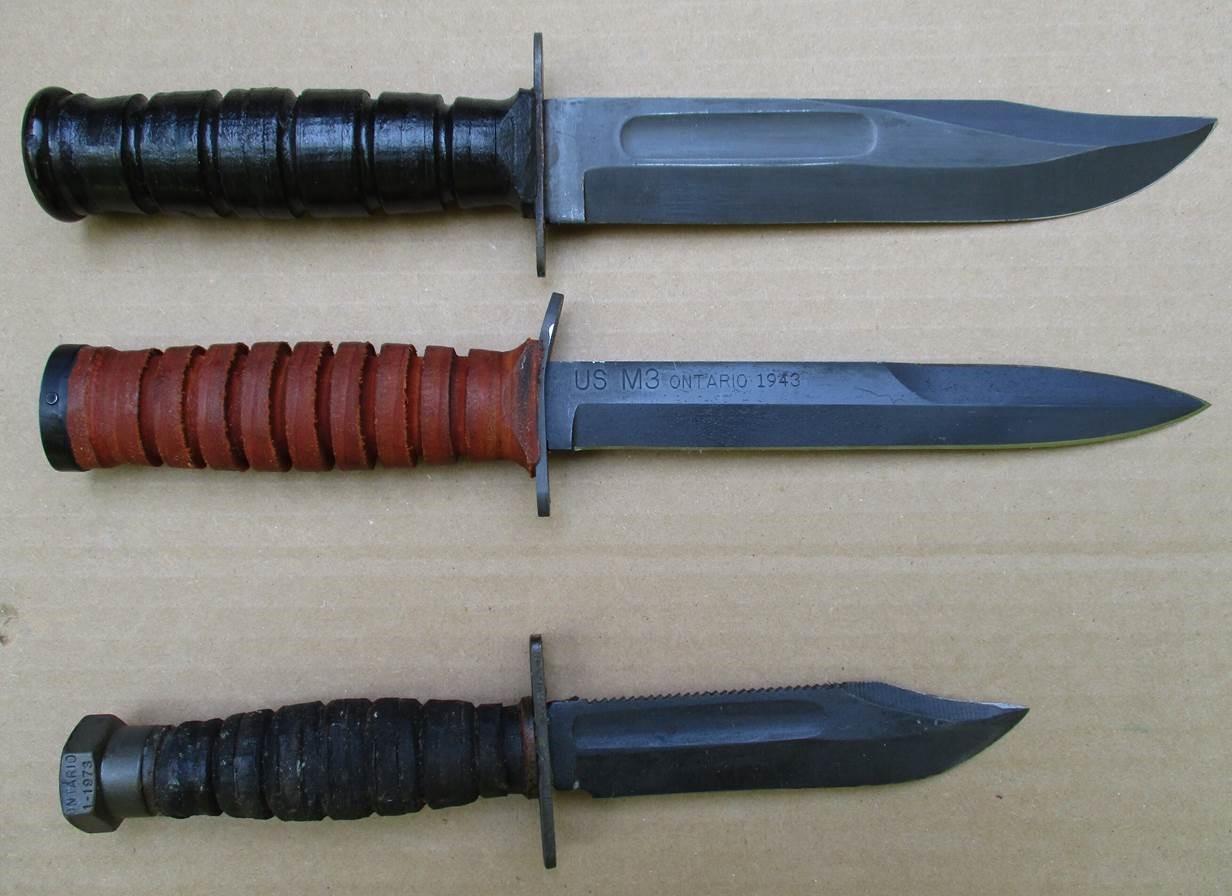 A knife in a class by itself is the old Collins Bowie/machete first made when a man asked the Collins machete company to make a Bowie knife. The same basic knife is made by Case today and a WW2 carbon steel Case combat veteran is pictured with this article. This 9.5-inch blade bowie is one of the best big game skinning and butchering blades made. It excels at light brush cutting and was the knife that many G.I's wanted adopted instead of the 7 inch blade that was. Many have carried it as a private purchase knife in every war since it first came out. It simply does everything a knife is supposed to do well and it does a lot of things that smaller knives cannot. It is perfectly balanced and the Case version could not have a more comfortable grip. Case sells this 20 ounce 14.25-inch overall length knife for $208.99. It currently is made with a stainless steel blade of unknown composition as Case will not divulge the analysis. Order the Model # 00288 Bowie black synthetic handle with leather sheath. Fishermen have special needs and the Penn Fishing Tackle Company, famous for its saltwater fishing rods and reels, produces some very fine fillet knives. I particularly like their 6FFK 6-inch fillet knife which sells for $19.99 and their 8CBFK 8-inch fillet knife for larger fish which sells for $24.99. These knives have German Thyssen-Krupp 4116 stainless steel blades 2.5MM thick with black nickel titanium coating. This is a medium carbon steel similar to or possibly the same as the steel used in the famous Heinkels chef's knives. It is hardened to Rockwell 51-54. The purpose of this is to have a knife that you can easily touch up the edge on while you are using it with either a sharpening steel or a ceramic rod sharpener. This is the standard operating procedure for professional chefs and butchers as they use their knives. They touch up the edge on a sharpening steel every time they pick up the knife before using it. The edges are sharpened at a 26-degree angle on these knives for easy cutting through fish flesh. Medium carbon steels are extremely common in knives but they are always labeled high carbon for advertising purposes. The handles are comfortable and well designed not to slip when your hands are wet, cold, and slimy from cleaning fish. Their plastic scabbards have a Scandinavian style swiveling belt clip and come with drain holes for when they get a dunking in the water. They will not get waterlogged and mold, mildew, and rot like leather fillet knife scabbards are prone to do.
Finally, we have another Swedish company, Fallkniven, which makes a very fine knife. They are not cheap like Mora but you definitely get what you pay for. They sandwich a piece of VG10 steel with a Rockwell hardness of 59 between two soft stainless steel bars in the traditional Scandinavian style. They make many different types and styles of knives but I can only write about the ones I have used.
My favorite is the A1, a 6.24-inch blade knife 6MM thick and 11 inches overall. It weighs 11 ounces and has a soft Kraton handle with the broad tang sticking out the back. It has the most wonderful feel in the hand. This is a very handy size knife for most work and it was made extra strong for duty as a military survival knife in the Scandinavian forests in the winter where no harsher conditions on earth exist for both man and knife. Its price is $313.95
The S1 is a smaller version with a blade a hair over 5 inches long and 9.72 inches overall. It is thinner at 5MM and weighs only 6.7 ounces. It's Thermorun handle offers a good feel and it shares the broad tang through the handle sticking out the back with the A1 and the F1. Being smaller it does not fit me quite as good as the A1 but a man with smaller hands might like it better than the A1. It sells for $219.95
The F1 is a much smaller knife with a 3.84 inch blade and an overall length of 8.28 inches. It's blade is 4.5MM thick and it weighs 5.28 ounces.
All of the above come with either zytel or leather sheaths.