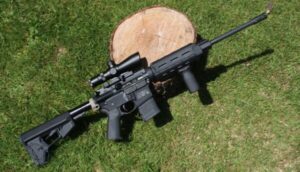 By Dave Workman
Editor-in-Chief
The Second Amendment Foundation and three other gun rights organizations, plus a couple of businesses and several private citizens are celebrating a significant federal court victory in California declaring the state's ban on so-called "assault weapons" is unconstitutional.
Judge Roger T. Benitez also wrote in his blistering 94-page ruling, "How well has the California ban on assault weapons worked? Before AWCA ("Assault Weapons Control Act"), twice in a decade, an assault weapon was used in a mass shooting. On average, since AWCA, twice a decade, an assault weapon was used in a mass shooting. The assault weapon ban has had no effect. California's experiment is a failure."
The judge also took a swipe at the state's penchant for passing more and more gun control laws when it's clear none of the schemes has worked.
"But it should be obvious that barring total extinction of the Second Amendment, no amount of 'common sense' gun control laws will prevent criminals from misusing guns," Benitez wrote. "Whatever the reason, these laws are still on the books. Like Victor Hugo's Inspector Javert relentlessly searching for Jean Valjean, California continues to amend its statutes to prohibit more and more firearms."
California Attorney General Rob Bonta quickly promised to appeal.
The case is known as Miller v. Bonta.
SAF was joined by the Firearms Policy Coalition (FPC), California Gun Rights Foundation, San Diego County Gun Owners PAC, Poway Weapons and Gear, Gunfighter Tactical, LLC, and several private citizens including James Miller, for whom the case is named.
SAF founder and Executive Vice President Alan M. Gottlieb hailed the ruling.
"In his 94-page ruling, Judge Benitez has shredded California gun control laws regarding modern semi-automatic rifles," Gottlieb said. "It is clear the judge did his homework on this ruling, and we are delighted with the outcome."
This is not the first affirmative ruling Judge Benitez has handed down on the Second Amendment. He is the same judge who previously ruled the state's ban on so-called "high capacity magazines" is also unconstitutional.
As reported by NBC News, "The judge in the U.S. District Court's Southern District of California cited multiple precedents to bolster his decision, although some experts and gun control advocates have long argued the authors of the Second Amendment could never have imagined a weapon originally designed for modern warfare being used for personal defense."
In a press release, FPC President Brandon Combs stated, "In his order…Judge Benitez held what millions of Americans already know to be true: Bans on so-called 'assault weapons' are unconstitutional and cannot stand."
Judge Benitez made it clear from the outset the California ban was in trouble. In the opening paragraph of his ruling, the judge wrote, "Like the Swiss Army Knife, the popular AR-15 rifle is a perfect combination of home defense weapon and homeland defense equipment. Good for both home and battle, the AR-15 is the kind of versatile gun that lies at the intersection of the kinds of firearms protected under District of Columbia v. Heller, 554 U.S. 570 (2008) and United States v Miller, 307 U.S. 174 (1939). Yet, the State of California makes it a crime to have an AR- 15 type rifle. Therefore, this Court declares the California statutes to be unconstitutional."
Judge Benitez stayed his ruling for 30 days to allow the state time to appeal. But in his opinion, the judge made it clear, noting, "The Second Amendment protects modern weapons."
A few pages later, he added, "Modern rifles are popular. Modern rifles are legal to build, buy, and own under federal law and the and of 45 states."
In his opinion, quoted by Fox News, Judge Benitez also wrote, "Under no level of heightened scrutiny can the law survive."
Anti-gun California Gov. Gavin Newsom was furious, declaring in a tweet, "The fact that this judge compared the AR-15 — a weapon of war that's used on the battlefield — to a Swiss Army Knife completely undermines the credibility of this decision and is a slap in the face to the families who've lost loved ones to this weapon."
Newsom, a Democrat, is currently facing a possible recall.
"There is not much wiggle room in the judge's decision," Gottlieb stated. "Today's ruling is one more step in SAF's mission to win back firearms freedom one lawsuit at a time."