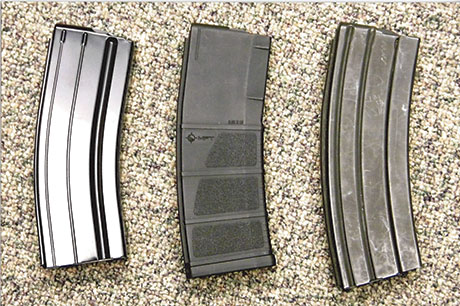 By Dave Workman
Editor-in-Chief
UPDATED – Saying plaintiffs in a challenge to Ballot Measure 114, the Oregon gun control initiative passed last month, essentially failed to make convincing arguments, a federal judge in Portland has denied a request from a gun rights organization for a temporary restraining order and preliminary injunction against implementation of the measure, which takes effect Thursday, Dec. 8.
However, U.S. District Judge Karin J. Immergut, a Donald Trump appointee, placed a 30-day delay on the requirement for a permit-to-purchase contained in the measure, but will allow the section banning the sale and transfer of so-called "large capacity" magazines to take effect.
Judge Immergut's 43-page ruling was issued Tuesday. In it, she writes, "this Court finds that Plaintiffs have failed to meet their burden showing that they are entitled to the extraordinary relief they seek. Plaintiffs have failed to demonstrate that they will suffer immediate and irreparable harm if this Court does not block Measure 114 from taking effect on December 8, 2022. Plaintiffs have not produced sufficient evidence at this stage to demonstrate a likelihood of success on the merits of their challenge to Measure 114's restrictions on large-capacity magazines. Plaintiffs have also failed to demonstrate a likelihood of success on their facial challenge to Measure 114's permitting provisions."
The state attorney general's office had requested a hold on imposing the purchase permit requirement.
According to the Portland Oregonian, "Immergut found the Oregon Firearms Federation, three county sheriffs and two gun store owners had failed to show they will suffer 'immediate and irreparable harm' if the measure takes effect."
The judge also said OFF and its fellow plaintiffs "failed to demonstrate that magazines capable of holding more than 10 rounds are necessary for self-defense or commonly used for lawful purposes."
Later in her ruling, the judge reiterated, "While magazines in general are necessary to the use of firearms for self-defense, Plaintiffs have not shown, at this stage, that magazines specifically capable of accepting more than ten rounds of ammunition are necessary to the use of firearms for self-defense."
In reaction, OFF issued a statement declaring the ruling "will provide no protection for anyone who currently owns a standard capacity magazine or anyone who owns a common shotgun which will now be contraband."
"It also does nothing for anyone waiting to take possession of a firearm they paid for but have not received, if that gun comes with a standard magazine," OFF said. "Furthermore, come Thursday even security guards and off duty police will be breaking the law if they are in possession of a standard magazine."
Judge Immergut did acknowledge "some courts in other circuits, considering similar restrictions on large-capacity magazines, have found that these magazines are in common use."
However, a few lines later, she added, "Neither of these decisions are binding on this Court, and in each case, the court only assumed—without explicitly deciding— that large-capacity magazines were protected by the Second Amendment."
It's not clear what the next step will be by the plaintiffs, but it is certain this is not the end of any Oregon litigation.