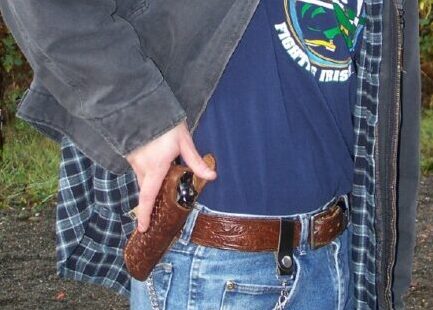 By Dave Workman
Editor-in-Chief
A federal judge in Minnesota on Friday declared a state restriction on limiting handgun carry permits to those over age 21 to be unconstitutional, handing gun rights groups including the Second Amendment Foundation a major victory.
The case is known as Worth v. Harrington. U.S. District Judge Katherine Menendez issued the 50-page ruling in which she wrote, "The Supreme Court's recent decision in New York State Rifle & Pistol Ass'n v. Bruen, 142 S. Ct. 2111 (2022), compels the conclusion that Minnesota's permitting age restriction is unconstitutional, and Plaintiffs are entitled to judgment as a matter of law. "
There are ongoing court battles over gun control laws affecting young adults in other states, including Washington, where sales of semiautomatic rifles have been restricted to people over age 21, under a 2018 initiative passed by voters, and supported by the state's attorney general, Democrat Bob Ferguson.
SAF is joined in the Minnesota case by the Minnesota Gun Owners Caucus, Firearms Policy Coalition and three young adults, Austin Dye, Axel Anderson and Kristin Worth, for whom the case is named. They are represented by attorneys Blair W. Nelson of Bemidji, Minn., and David H. Thompson, Peter A. Patterson and William V. Bergstrom at Cooper & Kirk in Washington, D.C.
"Judge Menendez' ruling is a huge victory for young adults and their right to keep and bear arms," said SAF founder and Executive Vice President Alan M. Gottlieb. "Furthermore, her decision underscores the importance of last year's Supreme Court ruling in the Bruen case, which rightfully did away with the so-called 'balancing test' that invariably weighed in favor of government interests over individual rights. Judge Menendez has firmly established that young adults are entitled to all the rights protected by the Constitution."
"Today's decision confirms what we already knew to be true, that 18-20 year-olds possess the same right to bear arms for self-defense as those over the age of 21," added SAF Executive Director Adam Kraut. "We are pleased that the court has enjoined the state of Minnesota from infringing on the rights of young adults. SAF will continue to work in the courts to vindicate the rights of all Americans."
In her decision, Judge Menendez notes, "neither the Second Amendment's text nor other provisions within the Bill of Rights include an age limit."
"However," she adds, "the Founders placed age requirements elsewhere in the Constitution, including for eligibility to be a House Member, Senator, or the President. U.S."
A few lines later, the judge writes, "the inclusion of 'the people' elsewhere in the Bill of Rights supports the interpretation that the Second Amendment extends to individuals over the age of eighteen."
Going into greater detail, Judge Menendez observes, "In this case, the dispute is not about whether the conduct is covered by the text, but whether the Plaintiffs are covered if they engage in that conduct. The parties disagree whether the Plaintiffs are among 'the people' referred to in the Second Amendment's so-called operative clause—'the right of the people to keep and bear arms shall not be infringed.' Plaintiffs argue that the Second Amendment's reference to the people applies to all the people, including adults who are over the age of eighteen, but not yet twenty-one. Defendants argue that the plain and ordinary meaning of 'the people,' as understood at the time the Second and Fourteenth Amendments were adopted, would not have included persons under twenty-one, and adopting the Plaintiffs' all-the-people reading too literally would lead to absurd results, such as allowing young children to publicly carry firearms. For the reasons that follow, the Court concludes that the Second Amendment's plain text is better read to include adults 18 and older in its protections."