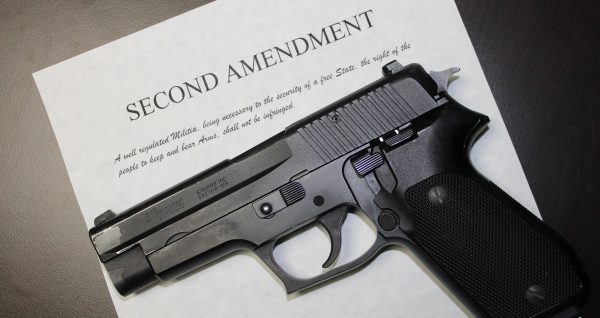 By Dave Workman
Editor-in-Chief
A federal court judge in New Mexico has granted a temporary restraining order covering several legal challenges, including one filed by the Second Amendment Foundation, to Democrat Gov. Michelle Lujan Grisham's "suspension" of the right to carry, openly or concealed, in Albuquerque and surrounding Bernalillo County.
U.S. District Judge David H. Urias, a Joe Biden appointee, issued the TRO which remains in effect until Oct. 3, when a hearing is scheduled on a motion for a preliminary injunction. The order was effective immediately.
SAF is joined in this action by the New Mexico Shooting Sports Association, Firearms Policy Coalition and a private citizen, Zachary Fort, who resides in Bernalillo County. They are represented by Jordon George of Aragon Moss George Jenkins, LLP. The lawsuit and motion for the TRO were filed in U.S. District Court for the District of New Mexico.
In addition to Gov. Lujan Grisham, defendants in the lawsuit are Patrick M. Allen, cabinet secretary for the New Mexico Department of Health; Jason R. Bowie, cabinet secretary for the New Mexico Department of Public Safety, and W. Troy Weisler, chief of the New Mexico State Police.
"We are delighted that the court wasted no time in clamping down on Gov. Lujan Grisham's clearly unconstitutional suspension of Second Amendment rights," said SAF founder and Executive Vice President Alan M. Gottlieb. "No governor has the authority to arbitrarily deny constitutional rights, especially on the flimsy argument this is a public health emergency."
"It should be no surprise that Governor Grisham's order was subjected to a temporary restraining order," said Adam Kraut, SAF's Executive Director. "The order was so patently unconstitutional, even gun control advocates have been distancing themselves from her actions. We look forward to prevailing in this case as it continues."
Gov. Lujan Grisham issued the edict last Friday, igniting a firestorm which saw members of her own party criticize the move as a violation of the Second Amendment. Republican state lawmakers are already talking about impeachment, and one prominent anti-gun California congressman also tweeted that she lacked the legal authority to override a constitutional protection.