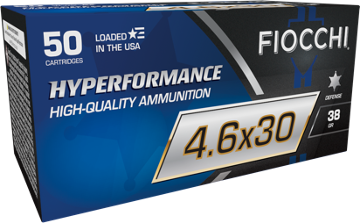 As the 2023 SHOT Show continues in Las Vegas, Fiocchi has added an extension to its Hyperformance line of centerfire ammunition.
The new 4.6x30mm Hyperformance cartridge joins the FMJ Range Dynamics and jacketed soft point Defense Dynamics cartridges for this proven chamber.
For 2023, the 4.6x30mm enters the Fiocchi Hyperformance line with a tipped hollow point. This design delivers exceptional ballistics from a high-velocity, low-recoil round while ensuring the kind of terminal performance demanded in defensive ammunition.
Developed for personal defense carbines, the new Hyperformance 4.6x30mm boasts a 38-grain bullet. The cartridge comes in 50-round boxes with ten boxes per case.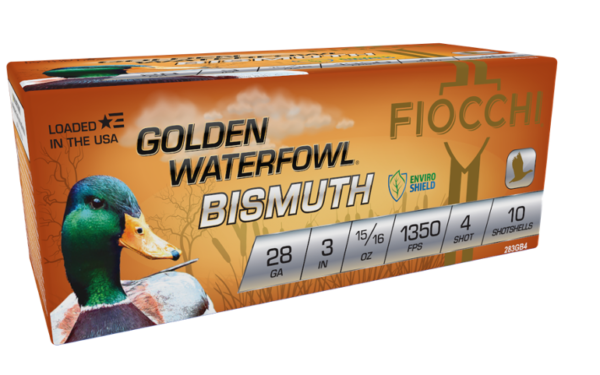 Fiocchi has also added a 28-gauge load to its Golden Waterfowl Bismuth line. With the recent expansion of sub-gauge shotguns in the marketplace, Fiocchi is providing the fans of these lightweight, easy-shooting platforms the ammunition they need for successful adventures in the marshes and the duck blinds.
The company has extended its line of Golden Waterfowl Bismuth to include 28-gauge shotshells. This new load joins the 20- and 12-gauge Golden Waterfowl Bismuth.
Comprised of Fiocchi's highest-quality hulls, primers, wads, and high-density 9.75g/cc bismuth shot, the new 28-gauge Golden Waterfowl Bismuth is a precision load that hits hard and accurate even at extended ranges. It is also moisture-resistant to withstand the foulest of waterfowl hunting conditions.
Fiocchi Golden Waterfowl Bismuth
12-ga., 3-in., 1 3/8-oz., 1450 fps, #2
12-ga., 3-in., 1 3/8-oz., 1450 fps, #4
12-ga., 3-in., 1 3/8-oz., 1450 fps, #6
20-ga., 3-in. 1 1/16-oz., 1250 fps, #4
28-ga., 3-in., 1 5/16-oz., 1350 fps, #4 (NEW!)