While the overall economy under Barack Obama has remained static and unemployment continues to hover above 8%, there is one bright spot that has been consistently improving since even before the president took office: The fi rearms industry.
A report from the National Shooting Sports Foundation (NSSF) says the industry provides 98,750 direct jobs, and more than 110,000 ancillary jobs for a total of more than 209,000 jobs and the economic benefit has been more than $31.8 billion.
Firearms industry employees pay more than $2.07 billion in taxes including income, property and sales taxes, and the sale of fi rearms and ammunition in Fiscal Year 2011 alone generated $348,318,790 in special excise tax revenues under the Pittman-Robertson Federal Aid to Wildlife Restoration that was apportioned to the states to support wildlife management and hunter education, plus some range development.
According to the NSSF report, Pittman-Robertson excise tax revenues are a major source of wildlife conservation funding in the United States.
NSSF recently issued an eight-page report detailing the positive benefits to the economy, Firearms and Ammunition Industry Economic Impact Report 2012. This report notes that the total industry wages created by firearms sales and those paid by suppliers and other ancillary companies comes to more than $9.8 billion for 2011.
Current signs suggest that 2012 could be another banner year with strong employment.
The report says that companies that manufacture, distribute and sell sporting arms and ammunition, and related supplies "are an important part of the country's economy." For example, in Pennsylvania—a stronghold state for sportsmen—there are more than 7,300 jobs because of the fi rearms industry, generating $342,844,737 in total wages, and almost $16.7 million in federal excise taxes, according to 2011 figures.
In Texas, the NSSF report says more than 13,000 jobs are related directly or indirectly to the firearms industry, generating $623,664,039 in wages and more than $33.9 million in federal excise taxes.
In Wisconsin, there are more than 3,900 jobs accounting for more than $281 million in wages, and more than $14 million in federal excise taxes.
As in any economy, there are primary benefits and then "ripple effects" that come as the money circulates through the national economy.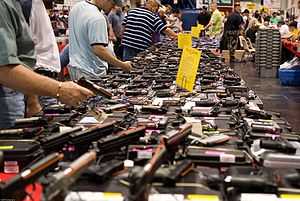 On top of the tax revenues mentioned above, more than $2.5 billion is generated in federal business taxes and an additional $488 million in other federal excise taxes, the report notes.
Another indicator of the vitality of the current fi rearms and ammunition market is the continuing high pace of NICS checks. The May 2012 NSSF- adjusted National Instant Criminal Background Check System (NICS) fi gure of 840,412 is an increase of 20.6% over the NSSF-adjusted NICS figure of 696,947 in May 2011. For comparison, the unadjusted May 2012 NICS figure of 1,305,392 reflects a 7% increase from the unadjusted NICS figure of 1,219,872 in May 2011.
This marks the 24th straight month that NSSF-adjusted NICS figures have increased when compared to the same period the previous year.
The adjusted NICS data were derived by subtracting out NICS purpose code permit checks used by several states such as Kentucky, Iowa and Michigan for CCW permit application checks as well as checks on active CCW permit databases.
Industry Briefs:
The current heady pace of the firearms industry may also affect individual firms in different ways.
For example, on March 21, Sturm, Ruger announced that its independent wholesale distributors had placed orders for more than one million Ruger fi rearms in the first quarter of 2012, and the company temporarily suspended the acceptance of new orders. Then, on May 29, after just two months, Ruger announced that it had resumed taking orders.
The publicly traded company also reported that it had set a production and sales record in 2011 by selling over 1.2 million fi rearms, and meeting and exceeding its NRA challenge announced at the NRA's 2011 spring annual meeting months ahead of this year's NRA meeting in April.
Remington Arms has been awarded an $83.9 million contract that will create up to 50 jobs in the community, US Sen. Charles Schumer's Office confirmed to the Utica Observer-Dispatch.
The contract is for manufacturing more than 100,000 M-4 rifles for the US Army and also will allow the plant to buy new equipment and expand its facility, Schumer said.
The contract is anticipated for completion in April 2017. Remington's flagship firearms plant in Ilion, NY, employs more than 1,000 people.
Also in 2011, Schumer secured a $8.9 million US Army contract for Remington to manufacture 1,212 M-24 Sniper rifles.
In September 2010, the company won a $28.2 million contract to upgrade 3,600 sniper rifles, and the previous May the company announced a $6 million expansion project, the newspaper added.
The Rocky Mountain Elk Foundation has announced a partnership with Hunting GPS maps, a company that helps hunters spend less time trying to decipher where they are on a map and more time hunting. It also benefits RMEF chapters around the country.
Hunting GPS maps creates color-coded GPS maps of property ownership displaying federal, state, county and private lands, and multiple other features specifically designed to meet the needs of the outdoor community.
The collaboration allows Hunting GPS maps to be a sponsor for "RMEF Team Elk," soon to begin its second season on Outdoor Channel. Hunting GPS maps will also make its products available to RMEF chapters for fundraising banquets around the country.
For information about Hunting GPS maps products, visit vimeo.com online.
In early June, the Potterfield Family announced that they have sold their entire interest in Battenfield Technologies, Inc. to Clearview Capital, a private equity group based in Connecticut, and to members of Battenfeld's existing management team.
Battenfeld manufactures accessories under several popular brands including; Caldwell Shooting Supplies, Wheeler Engineering, Tipton Gun Cleaning Supplies, Lockdown Vault Accessories, Past Recoil Protection, Non-Typical Wildlife Solutions and others.
Battenfeld will continue to operate from its current facility and all contact information will stay the same. The management team and workforce will remain unchanged.