The Firearms Policy Coalition is set to launch 12-22-2012, on the eve of what may be a large legal and legislative fight over the Second Amendment. The coalition sent this release preceding its official launch: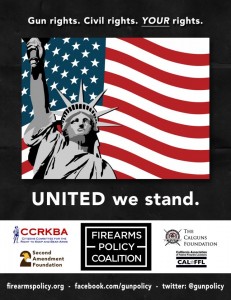 Many throughout the U.S. may have believed, incorrectly, that President Obama had "no position" on gun control, that he was "neutral", or somehow took a "reasonable" view toward our fundamental Second Amendment rights. No matter what your views prior to the recent tragedy in Newtown, there can no longer be any doubt.
In a recent press conference, the President stated, "This is not something where folks are going to be studying the issue for six months and publishing a report that gets read and then pushed aside … This is a team that has a very specific task: to pull together real reforms, right now."
It's doesn't take a political science degree to understand what that means. His message is clear: 'it's time to ban guns.' What kind of "reforms" does the President have in mind?
Backing California Sen. Dianne Feinstein's proposed ban on the most common semi-automatic firearms in the United States, including the AR-15 platform modern sport utility rifle
Banning the standard-capacity magazines that protect our families in our homes and while lawfully carrying in dangerous urban areas
Making firearms purchases virtually impossible for those who don't live near federally-licensed dealers by prohibiting all private sales of firearms
Demanding that Congress approve his anti-gun choice to lead the BATFE
And the list goes on.
Your Second Amendment rights are under attack. We need your help and support NOW to get ready for the coming barrage of gun control bills and anti-gun special interests like the Brady Campaign (formerly Handgun Control, Inc.) and Mayors Against Illegal Guns that are sure to challenge our pro-gun friends in Congress.
Please, take just 1 minute of your time to SIGN OUR PETITION demanding that our elected leaders respect our Constitution and our right to keep and bear arms. The future of our civil rights are at stake here – it's time to make your voice heard… before it's too late.
Connect with FPC via: Twitter and Facebook.