By Dave Workman
Senior Editor
The national misdirected "blame game" in the wake of the Valentine's Day attack on a high school in Florida went full-tilt against the National Rifle Association when Delta Airlines and several other firms announced they were ending the "NRA Discount" programs that have been in place for years.
Then Dick's Sporting Goods and Walmart, followed by L.L. Bean, all decided to halt sales of firearms to anyone under age 21. That announcement resulted in widespread blowback from gun owners who deluged social media with vows to take their business elsewhere.
Next, Seattle-based REI (for Recreational Equipment, Inc.) adopted an anti-gun-rights attitude, announcing that it had "placed a hold on future orders with Vista Outdoor brands, such as CamelBak and Giro" because Vista also owns gun and ammunition companies, including Federal Ammunition and Savage Arms.
That may have not been much of a stretch, since Seattle is considered the Northwest capitol of liberal politics, and REI customers are largely hikers, backpackers and non-consumptive outdoor users.
In a statement, REI declared:
"REI does not sell guns. We believe that it is the job of companies that manufacture and sell guns and ammunition to work towards common sense solutions that prevent the type of violence that happened in Florida last month. In the last few days, we've seen such action from companies like Dick's Sporting Goods and Walmart and we applaud their leadership.
"This week, we have been in active discussions with Vista Outdoor, which has recently acquired several companies that are longtime partners of REI. These include Giro, Bell, Camelbak, Camp Chef and Blackburn. Vista also owns Savage Arms, which manufactures guns including "modern sporting rifles." 
"This morning we learned that Vista does not plan to make a public statement that outlines a clear plan of action. As a result, we have decided to place a hold on future orders of products that Vista sells through REI while we assess how Vista proceeds.
"Companies are showing they can contribute if they are willing to lead. We encourage Vista to do just that."
Posting on Facebook, one pro-Second Amendment REI customer, Ken Akerman, questioned the company's move:
  Why is REI cutting ties with a major outdoor retailer just because its parent company includes gun and ammo manufacturers and has ties with the NRA? Since I hike, climb, ski, and participate in many other outdoor activities, it alarms me that REI is not supporting its vendors that do produce products that are vital to our safety and security and protected by the 2nd Amendment to the U.S. Constitution. What is wrong with REI?"
Gun rights activists became alarmed at President Donald Trump for holding a White House session with Congressional leaders from both parties about guns, school safety and related subjects. During that televised meeting, the president made several suggestions and statements that angered some gun owners.
But 24 hours later, Trump met with officials from the NRA and following that meeting, NRA's Chris Cox, executive director of the Institute for Legislative Action, sent out this tweet: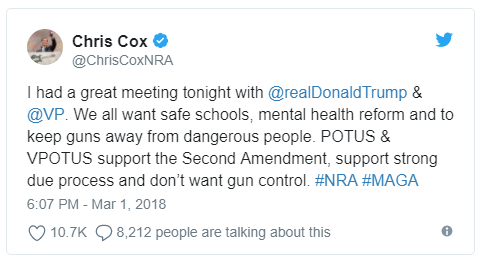 The days following the attack on Marjory Stoneman Douglas High School in Parkland, Florida that took the lives of 17 students and adults have been tumultuous. While the NRA became a public whipping boy for the anti-gun media and gun prohibition lobby, all gun owners and Second Amendment groups were demonized by default.
But firearms owners and the industry were not backing down. The National Shooting Sports Foundation — the firearms industry umbrella group — issued a statement in reaction to a proposal to raise the minimum age for purchasing firearms to 21.
There is a raft of legislation being introduced both in Congress and in state capitals that would deny adults of their rights, simply based on age," NSSF said. "NSSF opposes these measures and it's important for all Americans to know why the firearms industry's trade association is standing for their right to protect themselves and their families. When a man or woman turns 18, that person is an adult fully-vested in all their constitutional rights. Denial of that right, based upon an arbitrary age requirement, relegates the Second Amendment to a second-class right."