By Joseph P. Tartaro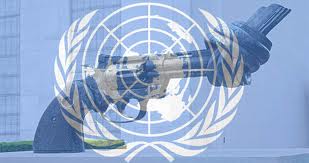 Executive Editor
Perhaps the United Nations should have a motto that reflects its focus on "government stability" and the balance of power between the people of the world and their respective governments.
I'd suggest the UN consider clearly stating, "The most despicable government we've ever known was pretty good." If you need evidence beyond the fact that the lambs have been feeding at the same trough as the crocodiles all of these years, just look what the UN did as the much anticipated and dreaded conference on a binding Arms Trade Treat (ATT) began in July.
With the shadow of Syrian repression cast across most news media in the world and clouding the ATT talks, the UN turned to Iran to help negotiate a global arms treaty in a move that is drawing scorn and ridicule around the globe. But apparently not among the striped-pants diplomats meeting in New York City.
The appointment was made by members of the UN Conference on the ATT shortly after the month-long conference began in July. The committee to which Iran was appointed is tasked with coming up with a treaty regulating the international trade of conventional small arms and, proponents hope, ammunition.
"Right after a UN Security Council report found Iran guilty of illegally transferring guns and bombs to Syria, which is now murdering thousands of its own people, it defies logic, morality, and common sense for the UN to now elect this same regime to a global post in the regulation of arms transfers," said Hillel Neuer, executive director of UN Watch, a non-governmental monitoring group based in Geneva.
"This is like choosing Bernie Madoff to police fraud on the stock market. And the UN's scandalous choice of Iran is exactly why we fear that Syria's declared bid for a UN Human Rights Council seat is not impossible."
The 15-nation committee is led by Argentina, which serves as president, and includes the US, Iran, China, and Russia as nations that serve as vice presidents.
UN Watch called on UN Secretary-General Ban Ki-moon to condemn the decision to name Iran to the committee.
"He should remind the conference that the Security Council has imposed four rounds of sanctions on Iran for refusing to halt its prohibited nuclear program, and that Iran continues to defy the international community through illegal arms shipments to the murderous Assad regime," Neuer said.
US officials played down the significance of the appointment.
"Obviously we oppose (Iran's appointment), but it's a symbolic position with little impact on a month-long negotiation that must be decided by consensus," one senior State Department official told Fox News.
"It will ultimately face the approval of the United States regardless of which country holds one of 14 powerless vice president positions. At that point, we will be looking for an arms trade treaty that makes the legitimate global weapons trade safer by bringing the rest of the world's arms trade regulations up to the high US standard." However, two weeks into the deliberations on the ATT, there seems to be a wide divergence of position by different governments. There is no guarantee the negotiations now in progress will produce a treaty, let alone a good one. In February, preparatory talks on the ground rules for this month's talks nearly collapsed due to procedural wrangling and other disagreements.
In the end, the US and other countries succeeded in ensuring the treaty must be approved unanimously, so any one country can effectively veto a deal.
In spite of Iran and Syria, there are still deep divisions on key issues to be tackled in the treaty negotiations, such as whether human rights should be a mandatory criterion for determining whether governments should permit weapons exports to specific countries.
China wants to exempt small arms, while several Middle East states oppose making compliance with human rights norms a mandatory criterion for allowing arms deliveries. Meanwhile, Canada wants to exclude civilian small arms and ammunition altogether.
Britain has joined France, Germany and Sweden in calling for a solid, effective and legally binding treaty.
According to Peter Brookes of the Heritage Foundation, a treaty would damage US foreign policy and prevent it helping friends such as Taiwan. But he noted the treaty was not yet a done deal.
"Diplomats will natter away about it all month over cappuccinos in Turtle Bay," he wrote. "But the White House isn't doing the country any favors by playing footsie with a UN effort to take aim at our liberties and disarm our foreign policy." Meanwhile, many organizations opposed to the treaty have been allowed to speak at the UN, and more than 130 congressmen, led by Rep.
Mike Kelly (R-PA), signed a letter sent to President Barack Obama in early July expressing their opposition to a UN arms trade treaty if it violates US gun owner rights and sovereignty.
The letter includes specific demands— that the treaty leave out small arms and ammunition and recognize an individual's right to self-defense.
The Obama administration has claimed that there are safeguards to their treaty approach, but the safeguard is insufficient for opponents of the US participation, not least because UN talks invariably involve compromise.
"The administration swears they have a whole bunch of red lines, and they will block consensus if anyone crosses them," said a government relations consultant as senior associate with the Commonwealth Consulting Corporation.
"But the dynamics of international negotiations are that once you get 90% of what you seek, you say, 'Maybe there is a way we can finesse the final 10%.' " A clause permitting arms transfers solely between UN member states would allow UN member China to object to US arms sales to Taiwan, a non-UN member that China considers to be a renegade province.
This would be highly problematic for the US at a time when Beijing is engaged in an unprecedented arms buildup.
Another fear is that Arab or other states critical of Israel may use any treaty language on human rights standards to argue against US arms transfers to the Israeli government—as they currently use the UN Human Rights Council to condemn Israel.
US gun lobby concern focus on the emphasis the treaty places on governmental—as opposed to individual—rights to guns, according to Wayne LaPierre, NRA executive vice president.
"They're trying to impose a UN policy that gives guns to the governments—but the UN doesn't in turn make moral judgments as to whether these governments are good or bad," he said.
"If you're the government, you get the guns, if you're a civilian, you don't. This will just end up helping evil governments and tyrants."