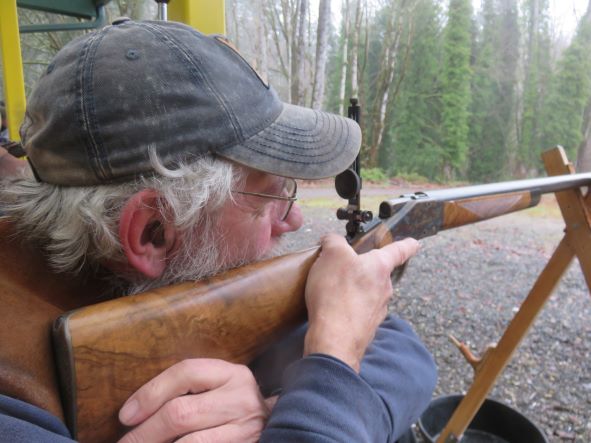 By Mike Nesbitt | Contributing Editor
The Old West Centerfires matches, put on by the Black River Buffalo Runners (a part of Capitol City Rifle & Pistol Club near Olympia, Washington), are held just six times per year.
We're just a small club but we have a lot of fun with our black powder cartridge shooting. Let me tell you more about our matches.
Our gatherings are small matches, a whole lot of fun and very friendly. We do our shooting with black powder cartridge rifles, such as the Sharps falling blocks or the Remington style rolling blocks, from the sitting position while supporting the barrels of our heavy rifles over cross-sticks, much in the way that the buffalo hunters commonly did their shooting. With such matches held six times per year, we basically hold the matches every other month.
   These six matches are always much alike, each one features a standard bullseye target at 100 yards for ten shots and then other larger bullseye targets at 200 yards for another ten shots.  That adds up to 20 shots and a possible score of 200. The reason the matches are basically all the same is because we keep accumulating scores for the year and at the 'end of the year match' we award additional prizes for the top aggregate scores.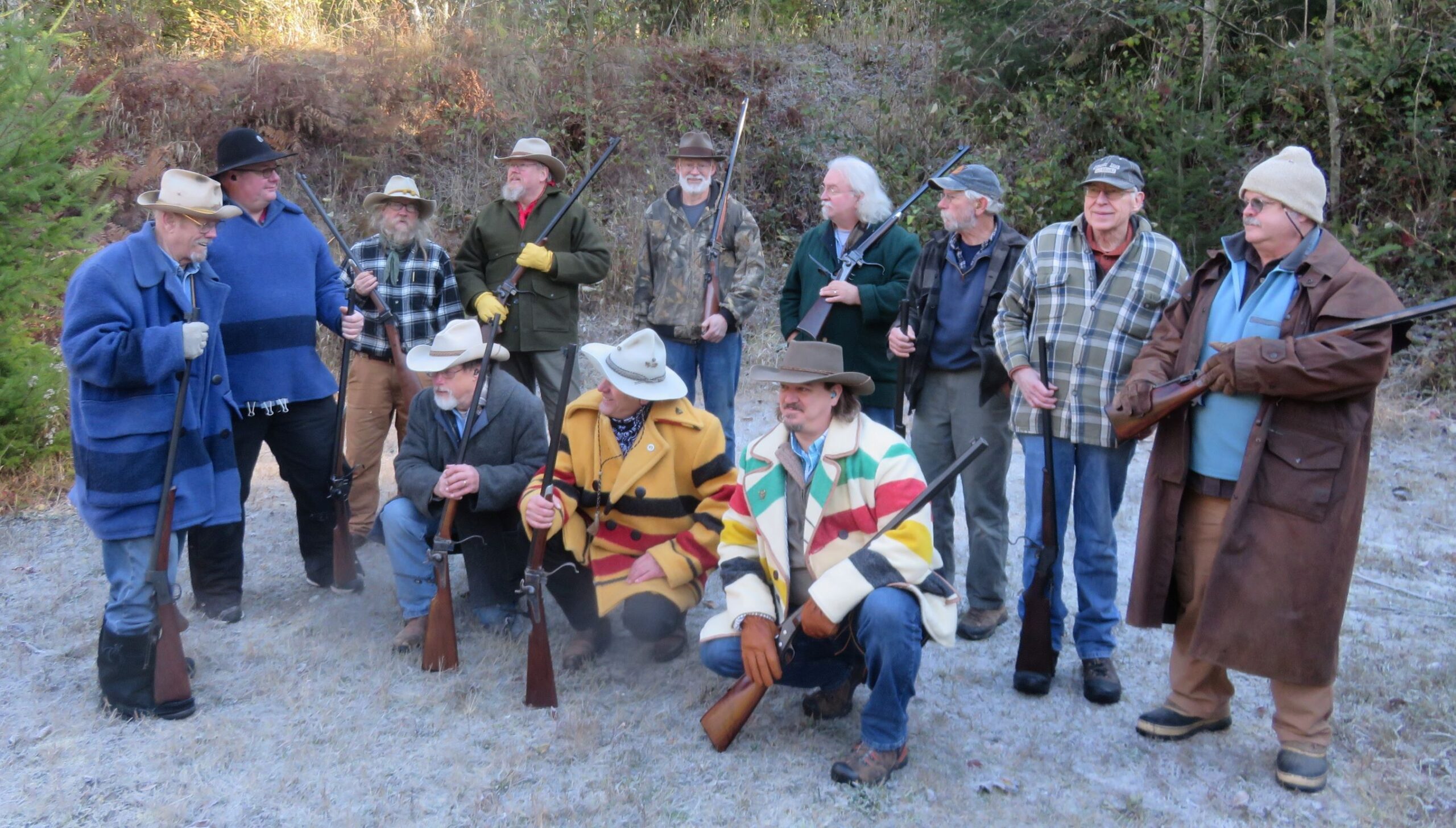 Also, the yearly aggregate scores are based on just five of the six matches per year. This allows a shooter to miss one of the matches or to throw out their lowest score if they shot in all six events. Having the yearly aggregate simply adds to the fun and, of course, our matches are shot with the old-time buffalo rifles with black powder loads.
   To have even more fun we hold an 'after-aggregate' match every time. The 'after-aggregate' match can vary, we often simply use our heavy rifles but shoot at gongs, both from cross-sticks and offhand. At other times we'll hold a black powder revolver match, generally with .44- and .45-caliber six-guns. Or, what seems to be very popular, we'll shoot at the gongs with our lever action "camp guns" such as the 1873 Winchesters and their copies in .44-40 caliber.  To join the 'after-aggregate' match, each shooter pays one more dollar and the winner, only one winner, takes the pot.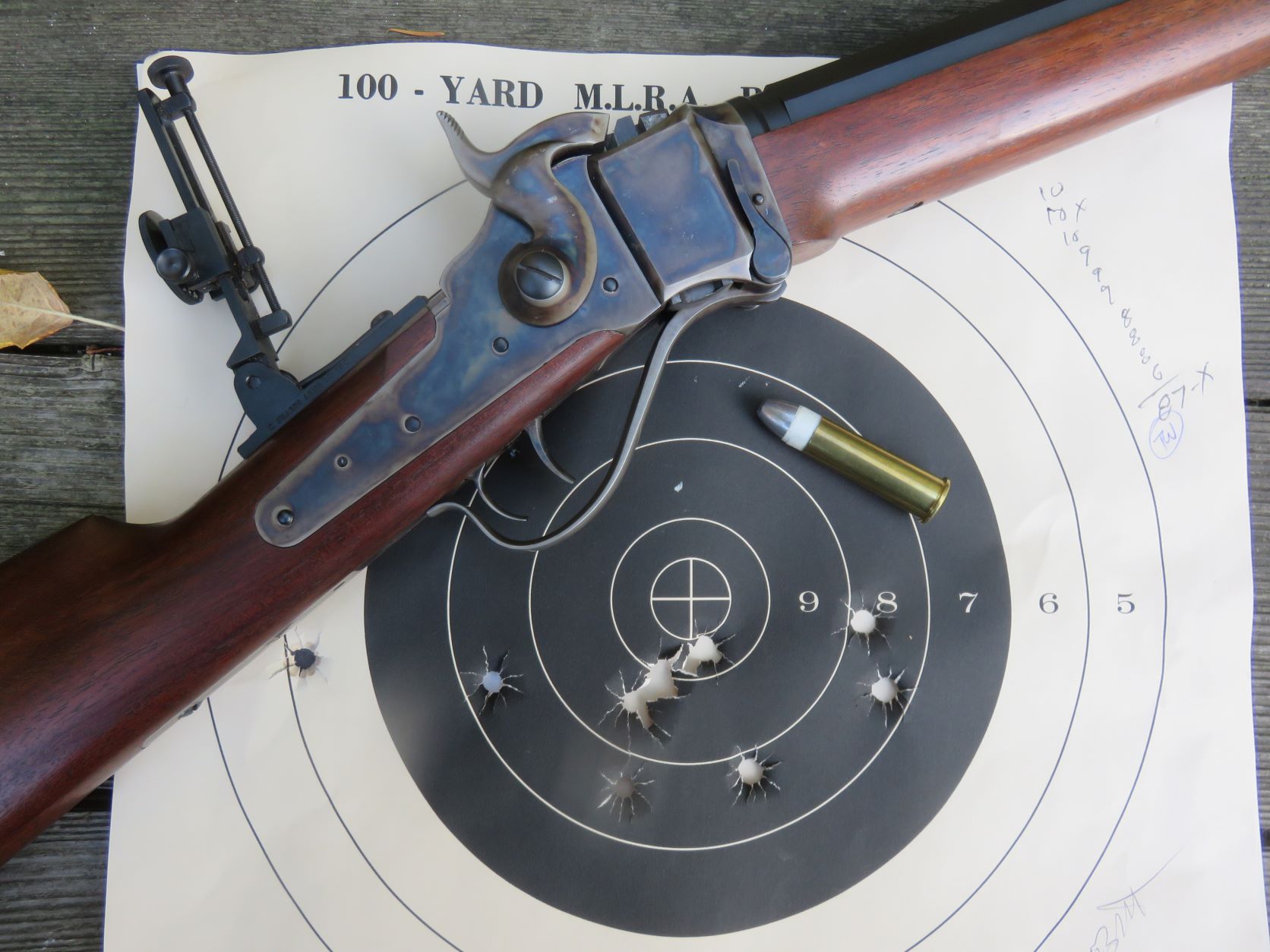 That's just a brief and general description of our short-range black powder cartridge matches. Now let me get more specific and put more life into this story by telling you about the match we recently conducted.
Even with the below freezing weather we had last November, the turnout for this event had a record number of shooters. Our shoots are small events but for once we had over a dozen competitors, that is just over a dozen, thirteen shooters. And the winner of this match missed setting a new match record by just one point. That was Ken Kurfurst and he already held the record so he simply tied his previous high score. His score was 195 out of a possible 200. Most of our shooters did well in this match with eight out of the thirteen getting scores over 150 points.
One of our shooters, Allen Cunniff, did his shooting early because a trip down to Texas was on his schedule at the same time as our match. We have a good system for doing such things, he shot his targets in advance with witnesses and then those targets were kept by the match director until they were scored along with the targets shot by other shooters during the match. Allen is not the only one to use this option, although he was the only one this time.
   Our top shooter, as already mentioned, was Kurfurst but here's a little more information. His score was a fantastic 195-6X, earned while shooting his rebuilt Sharps Borchardt rifle chambered for the .45-90 Sharps cartridge. Ken's 100-yard target shows a score of 99 with several X's. Ken also had the high scoring target at 200 yards.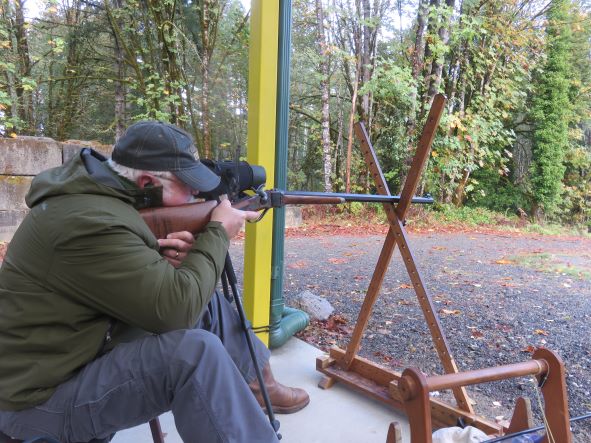 Taking second place was "Loco Jeff" Ritter with his Remington rolling block, also chambered for the .45-90, scoring a very good 184-3X.  Just behind "Loco" was Curt Lokovsek with his Remington Hepburn rifle, another .45-90, getting a score of 182-2X.  (This is enough to make anyone think the .45-90 is the most accurate cartridge. It is very good, certainly, but taking the top three spots was basically a coincidence. At least, we'll call it a coincidence until it happens again.  And, the shooters must get more credit than the cartridges.)  Coming in fourth with his Pedersoli Sharps in .45-70 and using paper patched bullets was Bob DeLisle with a 172-X.  Rounding out the top five was me, Mike Nesbitt, shooting my C. Sharps Arms Model 1874 in .50-70, also using paper patched bullets, scoring 169-2X.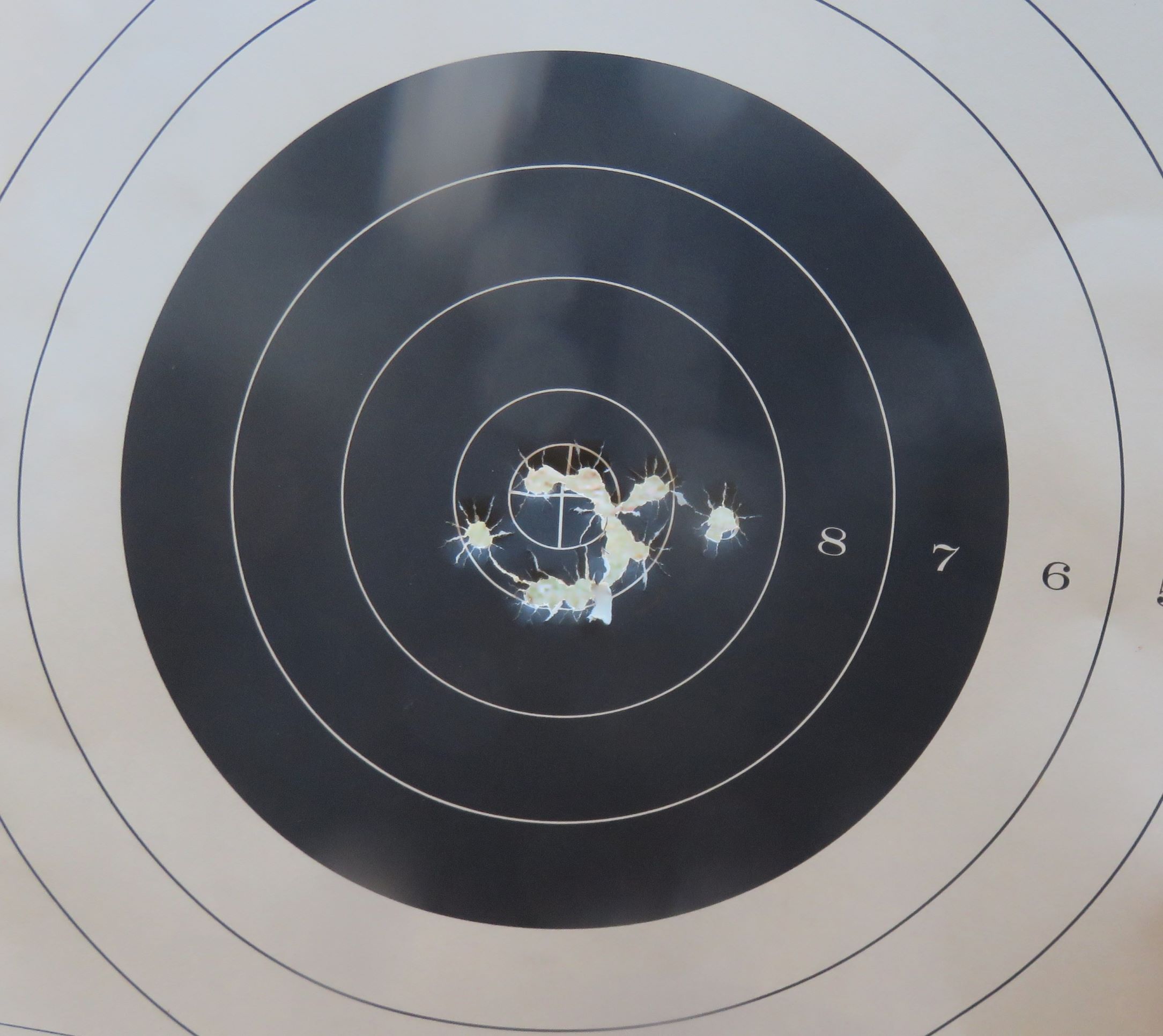 One point behind me was Jerry Mayo, one of my frequent shooting partners. He was using Model 1874 Sharps, by C. Sharps Arms, in .45-70 caliber, getting 168-X for a score. Then one more point behind Jerry was Mike Moran, shooting another C. Sharps Arms '74 in .45-70 with a score of 167. Allen Cunniff came next, shooting a heavy Sharps in .45-110, the first time he competed with that gun. Following Allen was Tom Witt, shooting another C. Sharps Arms rifle in .50-70 caliber. Then in 10th place was Phil Wiebe shooting a Highwall by C. Sharps Arms in .38-50 Remington caliber.
The total rundown of the scores can be seen in the list below.
Scores for this Match
      Name                               Rifle/Cartridge                             100 yards      200 yards            Total           
1st Ken Kerfurst Sharps Borchardt .45-90 99-4X 96-2X 195-6X
2nd "Loco" Jeff Ritter Rem. Rolling Block .45-90 94-2X 90-X 184-3X
3rd Curt Lokovsek Rem. Hepburn .45-90 88-X 94-X 182-2X
4th Bob DeLisle 1874 Pedersoli .45-70 87-X 85 172-X
5th Mike Nesbitt '74 C. Sharps Arms .50-70 87-X 82-X 169-2X
6th Jerry Mayo '74 C. Sharps Arms .45-70 78 90-X 168-X
7th Mike Moran '74 C. Sharps Arms .45-70 79 88 167
8th Allen Cunniff C. Sharps Arms. .45-110 75 76 151
9th Tom Witt C. Sharps Arms .50-70 80 68 148
10th Phil Wiebe Sharps Hi-Wall .38-50 73-X 74-X 147-2X
11th "Doc" Jeff Ritter Rem. Rolling Block .45-90 67 65 132
12th Mark Davis Shiloh Sharps .45-70 45 60 105
13th Tom Herman 1874 Pedersoli .45-70 26 10-X 36-X
After all of the scores for this match were added on to the scores earned previously in the last year, we found who had done the best for the whole year. Allen Cunniff was our top shooter and he beat Ken Kurfurst only by seven points. That means the fight to the top prize was certainly a struggle. It is also easy to see that the top five or six shooters for the year were the same as the top five or six for the last match. There is certainly some heavy competition in our small black powder cartridge rifle matches, and that adds to the fun.
Aggregate scores for 2022:
2022 Aggregate Results
| | | | | |
| --- | --- | --- | --- | --- |
| 1st Allen Cunniff | 927-13X | | 9th Mike Moran | 776-2X |
| 2nd Ken Kurfurst | 920-18X | | 10th Will Ulry | 560-X |
| 3rd "Loco" Jeff Ritter | 910-13X | | 11th Mark Davis | 300 |
| 4th Curt Lokovsek | 888-12-X | | 12th Phil Wiebe | 291-3X |
| 5th Mike Nesbitt | 801-5X | | 13th "Doc" Ritter | 283 |
| 6th Jerry Mayo | 799-7X | | 14th Paul Warden | 116 |
| 7th Tom Witt | 784-2X | | 15th Tom Brown | 111 |
| 8th Bob DeLisle | 782-2X | | 16th Tom Herman | 89-X |
| | | | | |
And I did mention the after-aggregate matches, which are held at each of our Old West Centerfires shoots just to add to the fun as well as the variety of our events. The way we run the after-match is to simply use an entry fee of $1 per shooter, and at the end of the match the top shooter takes the pot. At this particular match we had ten shooters entering the after-match, which was shot with black powder cartridge revolvers. Each shooter fired offhand ten shots at a paper target, posted at just 30 feet. Only single action revolvers using black powder and lead cast bullets were used. When the smoke cleared away, we had a tie. Bob DeLisle and Jerry Mayo both had scores of 90 out of the possible 100, so they shared the winnings.
   That's the report for our Old West Centerfires matches for 2022 and, of course, we start a new aggregate with the first Old West Centerfires match for 2023 which was just held. The fun and good black powder cartridge shooting simply starts over again.