By Mike Nesbitt | Contributing Editor
Our little black powder cartridge outfit, the Black River Buffalo Runners (at the Capitol City Rifle & Pistol Club near Olympia, Washington), enjoy holding our Old West Centerfires matches at least six times per year, shooting our buffalo rifles in short range competition.
Those matches, however, are rather repetitious in that we shoot at the same bullseye targets at both 100 and 200 yards each time. To add variety to our matches, we also hold an 'after-aggregate' match, after the shooting for our aggregate scores is done. The after-aggregate matches are always something different and this time we shot our black powder revolvers in some tight competition.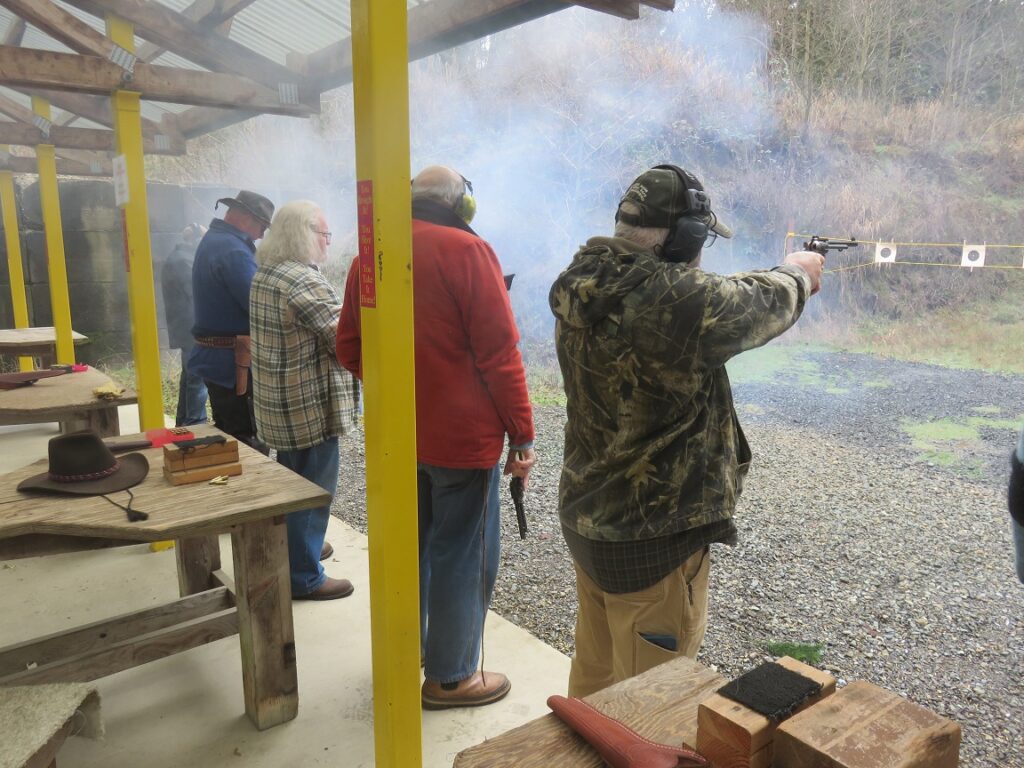 At our last Old West Centerfires match, where all shooting is done with black powder cartridges, we had eleven shooters. Out of those eleven, eight of them threw an extra dollar in the pot and joined the after-aggregate match which, this time, was a 10-shot match using buffalo-hunt-era styled revolvers, also using black powder cartridges. All of the guns were modern made replicas and the line-up of revolvers used shows a lot of variation. The match winner takes the pot as the only prize.
One shooter used a 3rd generation Colt Single Action Army in .44/40 caliber with a 5 ½ inch barrel. Another .44/40 was Allen Cunniff's 7 ½ inch barreled flat-top, a copy of the Colt target model from the 1880s which is still available through Dixie Gun Works. (For an accurate single action revolver, that flat-top is highly recommended.) Two shooters used Uberti copies of the Colt Richards-Mason conversion and those were both in the modern version of the old .44 Colt. (The "modern version" uses .429" diameter bullets.) One more shooter used an 1872 Colt style open top but in .44 Special. (The famous .44 Special, introduced in 1907, was our last black powder revolver cartridge.) Two other shooters were blasting away with 1858 Remington replicas with conversion cylinders in .45 Colt caliber. And one more shooter, that's me, shot in the match with an Uberti copy of the Smith & Wesson #3 New Model in .44 Special. With everyone using black powder in these guns, the smoke on the firing line was something to see, or see through…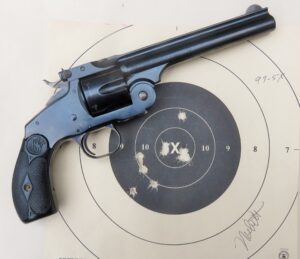 For targets we simply used the "target center" which is often used to repair larger targets after being shot. This target measures 10 ½" square and the black, with scoring rings for the 9 and 10, measures 5 ½" across. While that target isn't tiny at all, it is a very fair target for our match which required 10 shots, offhand (a two hand hold is fine) at just 30 feet.
While some shooters might think that target is an easy one, none of our shooters aced the match by shooting a 100. Even so, the competition was strong and at least a couple of shooters came close to that top score. Let me tell you about some of them complete with some black powder load data for their guns.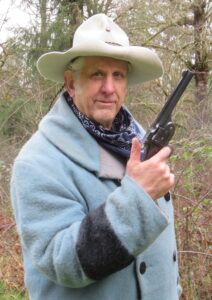 In first place, even though I'll try not sounding too proud, was me with my copy of the old Smith & Wesson #3 New Model. This gun is imported by Taylor Fire Arms and while the gun is chambered for the .44 Special cartridges, I favor shooting it with ammo loaded in .44 Russian brass. The load I used burns 18 ½ grains of Olde Eynsford 2F powder under the 245-grain round nose bullet cast from an old Lyman #429184 mold, which is the original design for the .44 Russian. That load gives the bullet about 700 feet per second out of the 6 ½" barrel and it is simply a ball to shoot. My score, after the shooting was done, totaled 99-5X.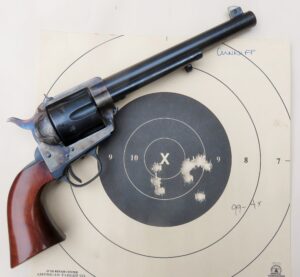 In second place and hot on my heels was my Quigley partner, Allen Cunniff. Allen and I do a lot of shooting together. On top of that, he's a very good shot. And a .44/40 revolver with full black powder loads is certainly enough to make heads turn. Allen loads his Starline cases with 34 grains of Olde Eynsford 2F powder under a 205-grain bullet cast from one of Accurate Molds' #43-205C molds which has one very large lube groove, being designed for use with black powder. Allen's score was 99-4X and I believe the group made by his 10 shots was obviously tighter than mine.
After making that statement, I measured our two groups. Allen's measured just 2 ¼ inches while mine is 3 ¾" and I'll admit I'm glad he was shooting just a bit to the right… We're still friends, of course, but our shooting was in friendly competition.
By the way, Allen's loads in his .44/40 sixgun send the bullets out of the barrel at about 960 feet per second. From the blast those loads made you'd think the bullets were going faster. Let's put it this way, a fully loaded black powder .44/40 revolver is a serious combination.
Our third place shooter was Jerry Mayo and he worried me most of all simply because Jerry and I had been practicing together for several weeks. He is really getting good with his Richards-Mason copy in .44 Colt. This gun is made by Uberti and imported by Cimarron. It has an 8-inch barrel and the same grip as the Colt 1860 Army which is larger than the Navy Model as well as the Single Action Army. Jerry loads his Starline .44 Colt cases with 21 grains of Olde Eynsford 2F powder, like the rest of us, and shoots a 220 grain bullet designed for the modern .44 Colt cartridge cast from another of Accurate Molds. That load develops about 770 feet per second out of the gun's 8-inch barrel.
You can look at Jerry's target and see what I mean about him getting good. All of his shots were right in the 10 ring, that is except for his very first shot. That one he threw out into the 8 ring and because of it he finished with a 98-3X. Jerry moaned after taking his first shot and for any future revolver matches, he'll be one to watch.
The other five shooters all did rather well too and, let me put it this way, none of our shooters turned in blank targets. One thing we all agree on is how must fun this was, makin' smoke on the pistol range, and we're all looking forward to doing it again.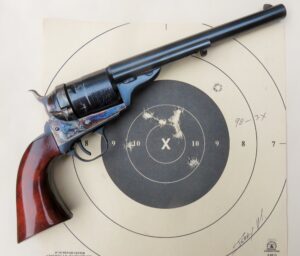 If this type of informal shooting interests you, and I hope it does, let me make a recommendation. Be sure to use a black powder lubricant on your cast bullets. A smokeless lube or one of the new coatings will not do the job. Without a black powder lube, which is designed to keep fouling at a minimum, your gun's bore will be filled with hard fouling that is enough to make your gun perform like a smoothbore. In other words, after about three shots any accuracy is lost. With a good black powder lube, also very important in rifle cartridges, accuracy is maintained very well. There are several good black powder lubes, from the famous SPG to BPC Lube (Black Powder Cartridge) by C. Sharps Arms. Get some black powder lube and go for it.
We might be holding another 'smokin' sixgun match' soon. Shooting the revolvers with black powder loads is just too much fun to not give it a good try.
Photo Captions:
Allen Cunniff is aiming his .44/40 while smoke blows off the firing line.
The top score was shot with this S&W copy using .44 Russian cartridges
Author Mike Nesbitt with his favored .44 by Uberti.
Allen Cunniff had a tighter group but needed one more X
Jerry Mayo used his .44 Colt, throwing one shot out of the 10.