Review by John Markwell | Contributing Editor
VickersGuide 1911, by Larry Vickers with illustrations by James Rupley. © 2015. Published by Mott Lake Publishing, PO Box 158294, Nashville, TN 37215. Hardcover, illustrated. Price: $95, available on line at: vickersguide.com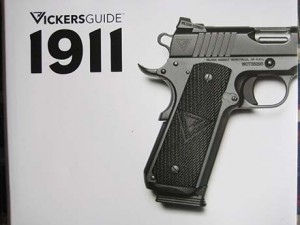 , also offering autographed and deluxe editions at slightly higher prices.
For those who appreciate the 1911 pistol this 343-page hardbound book is a dangerous acquisition. Much like cruising the high dollar car lots, turning the pages of Larry Vickers' Guide to the 1911 pistol is likely to lead to a certain amount of envy. And, it's possible that could lead to previously unplanned expenditures. The guns illustrated in the Vickers Guide 1911 are incredible examples of the art of the 1911 and offer a glimpse at the history of America's most customized pistol.
Based on Vickers' long association with the 1911 as a builder, end user (in combat), and industry consultant, the pistols photographed for this coffee table book were selected to provide the reader with a historical tour of some of the most significant 1911s from several collections. From Ken Hackathorn's spectacular ivory stocked Swenson-built Colt to recent production guns from Springfield Armory and Kimber, the development of the 1911 as a combat pistol is stunningly illustrated in photos by James Rupley. The text describing each gun is brief and concisely describes the significance of each piece and its features.
There is a heavy emphasis on 1911s built by Vickers himself for specific folks and events like the USPSA Single Stack Nationals. Ken Hackathorn's 50th birthday gun, Special Forces buddy Dave Royer's well used pistol, and the gun Rob Leatham won at the Single Stack Nationals illustrate Vickers' practical approach to customizing the iconic 1911. These are no-frills guns that reflect the evolution of the full house custom 1911. They are spectacular classics.
The photos illustrating the evolution of the Delta and FBI 1911 pistols as well as the LAPD gun offer insights into how these fighting 1911s came to be. And the history of KURD pistol begs to be investigated in more detail, if only these older guns could talk.
Due credit is given to those from whom Vickers gleaned the knowledge to become one of America's most sought after and admired builders of 1911 pistols. From Steve Nastoff and John Miller, to Ken Hackathorn, who wrote the book's introduction, Vickers acknowledges that his current status was built upon the knowledge, experience and skill of other masters of the 1911 pistol.
Sit back and enjoy this book by the fire. It's a visual tour of some wonderful examples of the John Browning masterpiece that has now been in service to free people for over 100 years.