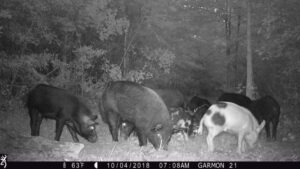 By Jim Dickson
Contributing editor
We have a long tradition of hunting hogs in the North Georgia mountains where I make my home.
The first settlers let their hogs run loose in the woods to fatten up on chestnuts and acorns. This practice continued up through WWII. Ears were notched to show ownership and when cool weather came they were hunted down and shot. The risk of meat spoilage was too great if they were shot in warmer weather.
You had to be very careful not to shoot your neighbors hog for that led to the start of many a bloody feud in pioneer days. Hogs were too important a food source to be treated lightly.
Most wild hogs are descended from formerly domestic hogs but at the turn of the century wild Russian hogs were introduced in the Great Smokey Mountains by hunting clubs. Hogs being rooting animals, they quickly dug under the fencing meant to hold them in and a wilder and much more vicious strain of animal was loose in the mountains. These have interbred with domestic hogs that have gone feral, and have added their bloodline to the wild hogs of the Southern Appalachians.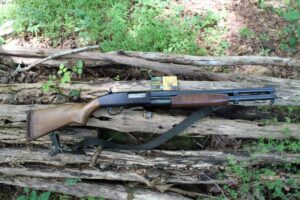 Hogs were sometimes hunted on foot but the use of the ever present hound made locating them a lot easier. That holds true today, for a wild hog can be as crafty and elusive in thick cover as any deer.
Once brought to bay a hog can be deadly to a pack of dogs ripping them open with the fearsomely sharp tusks they wield so well. Upon sighting the hunter rushing to his dog's rescue they may abandon the fight with the dogs to charge the hunter. Charge or no charge all shots will be at close range when using dogs lest you hit a dog in the melee.
While most of these porkers are fairly small resulting in 5.56 caliber AR15's being popular with some hunters, I don't think that is a good idea. I know of at least two wild hogs killed that weighed over 1,000 pounds.

Now consider this. In the British colonial days in Kenya the giant forest hog would weigh from 500 to 750 pounds and the legal minimum caliber was .450-400. The .375 H&H Magnum was deemed too underpowered to be legal for this dangerous animal.
Aside from your own safety your dogs are depending on you to put the hog down before a big boar can rip them to pieces. You owe it to your dogs to use a gun with adequate stopping power in the worst scenarios possible.
The round that has proven effective for over a hundred years is the 12 gauge Brenneke slug from Germany, where wild boar hunting is a passion for many jaegers. On thin skinned game like wild boar this slug has more stopping power than a .470 elephant rifle yet it has only normal 12-gauge recoil. People often ask "If it's so powerful how come they don't use it in Africa?" Well the Germans have killed everything in Africa with it over the years.
This is also the round favored by the Alaskan State Troopers for putting down rogue bears. It is extremely accurate even at 100 yards and you won't be shooting anywhere near that far when hunting with a dog pack for fear of hitting one of the dogs. When a huge boar with oversize tusks is bearing down on you a few yards away this is the round to use if you want the maximum stopping power available.
The American Flobert pattern shotgun slugs were designed for use on deer and are not in the same category as these German slugs designed for dangerous game at close range. Taking down charging animals like wild boar is what the Brenneke slugs do best.
Due to the need to run after the dogs and the close quarters shooting at the end of the chase a lot of men prefer to use a pistol. The only two calibers I can recommend are the .45 ACP and the .45 Colt. Sure you can use a big magnum caliber but you won't stop the boar any quicker and you give up the ability for a fast second shot as the magnum's recoil prevents that.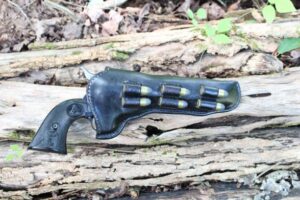 When dealing with more than one hog your life and the life of your dogs may depend on fast follow-up shots.
Worst of all the magnum's decibel level can quickly do permanent hearing damage. People don't normally follow the dogs with their ear muffs and ear plugs in for they need to hear the hounds and there will be no time to put them in at the fast moving climax of the chase. Both the .45 ACP and the .45 Colt are proven performers on wild boar. Use FMJ or hard cast bullets as you need the penetration. You already have a big enough hole.
For rifles the best calibers readily available are the 7.62 NATO and the venerable .30-06. These should be in a good semi-auto rifle as you may have to shoot fast and you may have more than one hog to deal with at a time. If you can catch a passel in the middle of a field you have to be able to shoot them all before they can escape. After the first shot they won't be back in that field in daylight hours for a long time so you have to destroy them while you can. This isn't sport hunting. You are defending the farmer's livelihood against an invasive nonnative crop wrecker. Hogs run in groups and it is not uncommon for them to attack in a mass if they decide to fight. That's no time to be stuck with a bolt action rifle.
People who are frustrated at trying to get a shot at the elusive wild hogs or who only get to shoot smaller ones may overlook the fact that the wild hog can be extremely dangerous.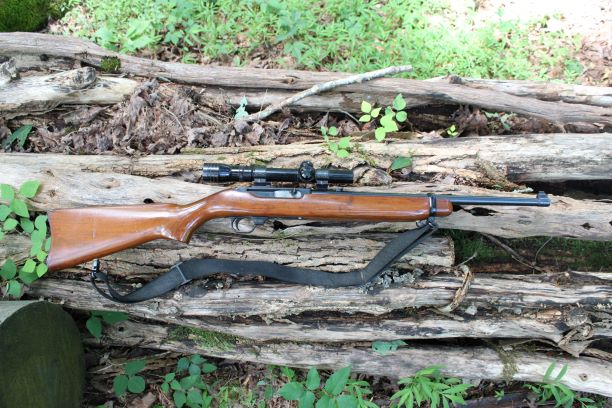 You don't have to be hunting them to run afoul of them either. A hiker suddenly encountering a boar accompanied by a sow with piglets had better start climbing the nearest tree fast. I have seen a small boar put an overweight man up a tree faster than I ever believed possible.
Hogs are intelligent and not all attacks are pressed home, I remember once my wife, Betty and I were deer hunting on an island off the Georgia coast on one of the quota hunts the state Game and Fish Commission holds. There was a young college kid running through the woods yelling "Help! Help! The pigs chasing me! The pigs chasing me!" A young hog was having all the fun he wanted chasing him with no intention of actually catching him.
Attacks aren't the only threat hogs present. There are 34 different diseases they might carry that they can transmit to man and his animals. That's why you wear rubber gloves when skinning and butchering them. All pork must be cooked well done for just like bears, hogs can have the trichinosis parasite which can lodge in the brain. I believe this parasite accounts for a lot of the abnormal behavior sometimes found in these two species.
In recent years, night vision sights and thermal imaging sights have proved a blessing to those trying to defend their crops from the nocturnal depredations of the ever expanding wild hog population. The use of silencers has enabled the hogs to be culled without waking people up in the middle of the night. Wild hogs are quick to learn that it is safer to destroy crops under cover of darkness and then hide out during the day to escape hunters. In some cases, the passels are so large and the devastation wrought by them so complete as to financially ruin the farmer. Financial loses are staggering and there are areas that the state and federal government are negligent in not moving in to eradicate hogs. These are not native game animals. They are an invasive pest multiplying at an astronomical rate in many areas throughout the country. Hunting is needed to keep them in check and to keep them afraid of people.