by Conor Higgins | TGM Contributor
Hillary Clinton has never been an avid supporter of gun rights in the United States. Despite her constant attempts to paint herself as the backwater belle of Arkansas, a state with a strong gun culture, she is still a Chicagoan when it comes down to it. Up until her most recent campaign build-up Hillary Clinton had a standard, Progressive Democrat approach to firearms. In fact in 2008 her stance was very typical of a Democrat trying to get elected amidst the American gun culture.
"I respect the Second Amendment. I respect the rights of lawful gun owners to own guns, to use their guns, but I also believe that most lawful gun owners whom I have spoken with for many years across our country also want to be sure that we keep those guns out of the wrong hands. And as president, I will work to try to bridge this divide, which I think has been polarizing and, frankly, doesn't reflect the common sense of the American people. We will strike the right balance to protect the constitutional right but to give people the feeling & the reality that they will be protected from guns in the wrong hands." However, recently Mrs. Clinton has departed from her "middle of the road" approach to gun- control, evidenced by a series of speeches and interviews she gave which conveniently touched upon the topic. During a keynote speech at the National Council for Behavioral Health in May, Mrs. Clinton began her shift.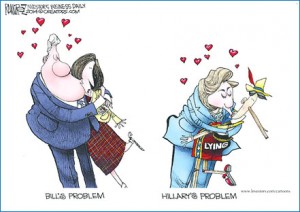 "We have to rein in what has become an almost article of faith, that anybody can own a gun anywhere, anytime. And I don't believe that…" One would believe that after being a senator for so long, having been involved in the gun control debate before, and running for president as a "moderate" gun control supporter in 2008, Mrs. Clinton would know that she is not telling the truth. "Anybody" cannot own a gun "anywhere" or even at "anytime." There are background checks, waiting periods, and licensing in many cases which need to take place before a person can even put money down. This is nothing more than an attempt to scare the uninformed American public into putting their faith in her, lest they risk the consequences of millions of rampaging gun owners.
But this was only the beginning. On June 17, during a CNN Town Hall airing, Hillary Clinton decided to take her rhetoric to the next level when she was asked if an "assault" weapon ban, or magazine capacity limits would deter violent crime.
"I believe that we need a more thoughtful conversation, we cannot let a minority of people, and that's what it is, it is a minority of people, hold a viewpoint that terrorizes the majority of people…" Hillary Clinton has just cemented her stance on gun control. Six years ago when she was running for president, amid a country that was not thirsty for gun control, amidst a higher violent crime rate, she espoused the need for a balanced approach. Fast forward six years later, when violent crime is lower, but gun hysteria is high, and she has labeled gun owners and advocates as terrorists.
Quite a change, it would seem.
However, not satisfied with having called the roughly 40% of Americans who own firearms terrorists, Mrs. Clinton went on to make further wildly false statements.
"I don't think any parent, any person, should have to fear about their child going to school or going to college because someone, for whatever reasons; psychological, emotional, political, ideological, whatever it means, could possibly enter that school property with an automatic weapon and murder innocent children, students, teachers…." Hillary Clinton is again lying to the American public. While every single school shooting is a tragedy, they remain anomalies, and contribute very little to the violent crime rate in the United States. Everytown For Gun Safety likes to tout how there have been 74 school shootings since Sandy Hook; aside from being a false statement, it pales in comparison to towns likes Chicago, which in a short period had 80 shooting incidents between the end of May and early June of this year.
To see that article, go to: commdiginews.com and search "Chicago gun violence." In addition, automatic weapons are extremely rare, and incidents of their use in crimes are scarce at best. However, it is likely that the former Secretary of State who supplied radical Islamists in Syria with weapons and ammunition is very well aware of this.
There is a culture of fear in America today, perpetuated by constant news stories of violence all around the country. Despite the fact that violent crime is down, and school shootings are rare, the media has created hysteria among the people. Politicians and political hopefuls alike have latched on to that. They are feeding off of that fear, and that is what Hillary Clinton is doing. She is a politician, and right now to either side the issue of gun control and gun rights is political uranium; if mishandled it could destroy one's future, but if harnessed could be immensely powerful.
Look for Hillary Clinton to continue to see how far she can push this issue. As long as the media keeps feeding the American people stories of the horrors of gun violence, she will continue to capitalize upon that fear.