By Joseph P. Tartaro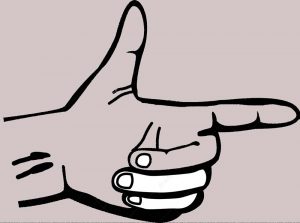 Finger guns might be as harmless as a corny way to say hello or to shoot some imaginary thing, or even acknowledge a friend's greeting. But in the eyes of police or school administrators, if a person on the receiving end of the pretend gun feels threatened, it's criminal behavior or grounds for suspension.
For instance, in September a 13-year-old Overland Park, KS, girl appears to be the latest person charged with a felony after making a gun shape with her fingers and pointed at other students.
According to news reports. the student had been asked by another student to point out "five people you would kill," Overland Park Chief of Police Frank Donchez told reporters, and then she pointed her finger gun at those students before the squirrelly girl pointing her finger-gun toward her own head in a mock suicide.
Several of the students reported the incident that night through the Shawnee Mission School District's website, that allows students and families to report bullying anonymously.
After receiving the reports, Westridge Middle School principal Jeremy McDonnell interviewed the finger-pointing student and those who witnessed the incident. Then contacted the school resource officer.
"[The officer] then determined that several of the students are genuinely fearful of this girl, and combined with prior knowledge that he has, felt that an arrest was warranted," Donchez said.
Donchez said he could not identify the student or comment on the student's prior disciplinary history because she is a minor. The student is now facing a criminal threat charge and was taken to a juvenile detention center
But children aren't the only people who can get in trouble by pointing finger-guns at others.
The Washington Post reported in late August that a Pennsylvania man had been convicted of menacing by a state superior count.
As reported, on a warm day in June 2018, Stephen Kirchner was walking with a female neighbor when they came up on Josh Klingseisen's yard.
They were not friendly with Klingseisen. In fact, the woman walking with Kirchner, Elaine Natore, had a "no contact" order against Klingseisen, who happened to be outside mulching in his yard, as the two neighbors passed. Kirchner stopped, and the two men made eye contact.
Then, Kirchner raised his arm and pointed a finger like a gun, "made a recoil motion as if to suggest he had shot him," as the Pennsylvania Superior Court described it — and ended up charged with criminal disorderly conduct as a result.
Now, The Post reported, after fighting the case for more than a year, a state appeals court has upheld Kirchner's conviction on the misdemeanor offense, ruling that the 64-year-old's finger-gun pointing "served no legitimate purpose, and recklessly risked provoking a dangerous altercation."
"We conclude that there was sufficient evidence that Kirchner's act of mimicking his shooting Klingseisen created a hazardous condition," Judge Maria McLaughlin wrote in the opinion.
Kirchner argued his actions were so minimal that they shouldn't even be considered criminal. A mere hand gesture — "albeit in the rough form of a gun" — couldn't possibly arise to the standard of disorderly conduct, he argued, and he had no intent to cause "public alarm" or create "hazardous conditions."
But he lost in court.
It's not uncommon for people to be arrested for making the gesture, or for school children to be disciplined for pointing finger guns at other kids and saying "Pow," in class.
However, in the Kirchner case, to Yvonne Rodriguez, another neighbor, it wasn't funny. Rodriguez saw the exchange from her front porch and felt "insecure," deciding to call police, she later testified. Klingseisen also said that Kirchner's gun-like hand gesture made him feel "extremely threatened," according to testimony.
"Kirchner acted with a reckless disregard of creating a risk of public alarm, as evidenced by the fact that an eyewitness on a neighboring property contacted 911 because Kirchner's actions caused her to feel insecure," the court wrote.
This isn't the first time a court has been asked to make a ruling on the issue when finger-gun pointers have challenged their convictions.
In 2017, a Florida court ruled that pointing a finger gun at an off-duty police officer was not protected First Amendment speech. The ex-con who was arrested for disorderly conduct over the gesture had told the officer, "Officer Hernandez, I got you now!"
"As almost everyone who was ever a child can testify, no one has ever been killed or injured by forming fingers into the shape of a gun and dropping the hammer [thumb]," assistant public defender Paul Nuñez wrote in a motion asking the court to declare the disorderly conduct law unconstitutional, the Miami Herald reported. "There is no objective true threat here from that gesture."
But, again, the court found the cop felt threatened and feared for her life. Therefore, it was a "true threat" — a crime.
Having been forewarned by the preceding far-from-rare examples, it is noteworthy that the students, staff and alumni from New Mexico State University, and locals from the community, can be seen representing the traditional "guns up" hand signal to show their spirit for school's mascot, Pistol Pete. The NMSU student newspaper reported that there is confusion about the hand pistol: should it be formed with one finger or two? The answer seems to lead to the side that the NMSU pistol is a double-barreled one.
Aggies imitate their mascot Pistol Pete by throwing up their hands in a manner that resembles Pete's pistol. Lots of the times, the "pistol" is formed differently by fans.
Attend an NMSU sporting event, for example, and some fans will make a double-barreled pistol and others, a single-barreled pistol. Many students are not sure where to turn for the right answer—What is the right way to form the gun?
The student newspaper, The Round Up, met with Charles Trujillo who is a student assistant in the Aggie Welcome Orientation program at NMSU. The program teaches incoming NMSU students all the ins and outs of the university, including the many traditions it has.
Trujillo among other leaders in AWO teach students that the correct way to do "guns-up" is with two extended fingers plus the thumb. He explains the pistol is a double barrel and there is a correct way for it to be formed.
While finger-guns can be fun, they can also get you into legal hot water.
Tartaro is Editor Emeritus of TheGunMag.com and president of the Second Amendment Foundation.