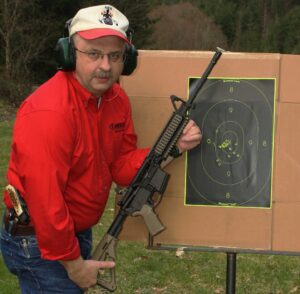 By Dave Workman
Editor-in-Chief
David Hogg, once the darling of the gun prohibition movement and anti-gun media, who is now described as a "prominent gun safety advocate," was thrown out of a House Judiciary hearing Wednesday following an outburst criticizing members of the panel for "perpetuating violence" because they oppose banning so-called "assault weapons."
The hearing was about the proposed Assault Weapons Ban of 2021 and other legislation. As noted by Fox News, "assault weapons" is "a term used to describe semi-automatic rifles."
Only days ago, the Associated Press issued a "Style Tip" to journalists around the world, especially in the U.S. to "Avoid assault rifle and assault weapon, which are highly politicized terms that generally refer to AR- or AK-style rifles designed for the civilian market, but convey little meaning about the actual functions of the weapon."
Wednesday, the National Shooting Sports Foundation release an updated estimate of the number of semi-auto modern sporting rifles (MSRs) now in private ownership in the U.S. That number is 24,446,000 that have been purchased since 1990. It is an increase of more than 4.5 million rifles since the last estimate in 2020.
"The estimate is derived from NSSF research, Bureau of Alcohol, Tobacco, Firearms and Explosives (ATF) Annual Firearms Manufacturing and Exportation Report (AFMER) and U.S. International Trade Commission (U.S. ITC) data, in cooperation with manufacturers, importers and exporters of MSRs, or AR-15 and AK-style rifles. This most recent estimate includes production figures current through 2020, when the industry estimates over 2,798,000 of these rifles were produced or imported. This estimate does not include MSRs that were produced and exported or imported and later exported," the organization said.
Republicans on the Judiciary Committee do not support a ban, while Democrats do. Whether a ban could survive constitutional scrutiny is also a question. That evidently doesn't deter Congressman David Cicilline (D-RI), who is one of the lead sponsors.
"We all respect the Second Amendment, but it's not without limits," Cicilline said. "Imagine how much we could get accomplished if we clung to the desire to protect our children and communities as tightly as some of my colleagues cling to their rifles."
The proposed ban legislation was advanced in a 25-18 vote but Fox News noted no date has been set for a House floor vote.
Hogg rose to prominence in the aftermath of the 2018 mass shooting at Marjory Stoneman Douglas High School in Parkland, Fla. Described by Business Insider as a "Parkland survivor," Hogg was especially critical of Rep. Andy Biggs (R-AZ), who said his constituents need semi-auto rifles as a defense against an invasion along the southern border. Border policy under Joe Biden has been disastrous, according to critics. Illegal immigration is out of control, critics say.
Biggs said, "The reality is it is an invasion of our southern border."
A report at Fox News noted, "Democratic Reps. Jared Golden, D-Maine, and Henry Cuellar, D-Texas have said they won't support the bill while Republican Reps. Chris Jacobs, R-N.Y., and Adam Kinzinger, R-Ill., have said they are open to voting for a ban, according to The Hill. House Democrats have a four-vote margin."
The debate could be all for naught, however. At the end of June, the Supreme Court granted certiorari (review) to four Second Amendment cases, vacating lower court decisions and remanding the cases back to their respective courts for further consideration in the wake of the June 23 ruling in New York State Rifle & Pistol Association v. Bruen. A critical component of that ruling, authored by Justice Clarence Thomas, did away with a "two-step" framework for analyzing Second Amendment cases that had been adopted by lower courts, essentially out of thin air, combining history with "means-end scrutiny."
"Today," Thomas wrote, "we decline to adopt that two-part approach."
Two pages later in his 63-page majority opinion, Thomas added, "Despite the popularity of this two-step approach, it is one step too many…Heller and McDonald do not support applying means-end scrutiny in the Second Amendment context."
One of the four cases was Bianchi, Dominic, et.al. v. Frosh, a case brought by the Second Amendment Foundation and the Citizens Committee for the Right to Keep and Bear Arms challenging Maryland's 2013 ban on so-called "assault weapons." The high court essentially made it clear justices will accept that case if it comes back to them. An affirmative ruling protecting semi-auto rifles under the Second Amendment would prohibit an outright ban, say gun rights advocates.