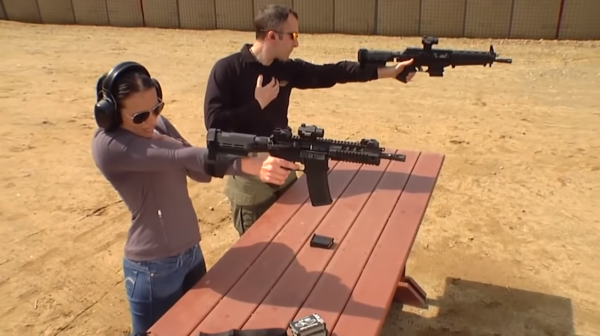 Fox News is reporting that House Republicans will "take a step" in their effort to block the Biden administrations' recently adopted rule by the Bureau of Alcohol, Tobacco, Firearms and Explosives regulating pistol stabilizing braces, which set off an uproar earlier this year.
In a move that may not get far, U.S. Reps. Andrew Clyde (R-GA) and Richard Hudson (R-N.C.) reportedly planned to introduce a Congressional Review Act (CRA) resolution which "would nullify the Biden administration rule if passed by the House and Senate and signed by President Biden, or if Congress were to override a likely Biden veto," Fox reported.
Back on Jan. 31, Rep. Clyde reintroduced the "Stop Harassing owners of Rifles Today (SHORT) Act, which was aimed at ATF's stabilizing brace rule. A companion bill was introduced in the Senate by Senators Roger Marshall, MD (R-KS) and John Kennedy (R-LA).
"Congress must swiftly move to block the ATF's unconstitutional pistol brace rule, as this misguided measure turns millions of law-abiding gun owners, including many disabled veterans, into criminals for merely possessing legal firearms with stabilizing braces," Clyde told Fox News Digital.
The Georgia congressman also accused ATF of "abuse of rule-making authority" and said it violates the constitution and ignores Congressional authority. and was "nothing more than a reckless attempt to advance President Biden's ultimate goal of an unarmed America." He also asserted the rule is designed to advance President Biden's "ultimate goal of an unarmed America."
Other GOP members of Congress are also opposed to the pistol brace rule.
In January, when Clyde reintroduced his bill, he issued a statement; "Congress cannot continue to turn a blind eye to the Biden Administration's weaponization of the NFA (National Firearms Act) and ongoing assault on Americans' Second Amendment freedoms. In the face of President Biden's unconstitutional tactics and backdoor gun control, the SHORT Act provides a permanent solution to combat the unlawful Pistol Brace Rule and protect Americans' constitutional right to keep and bear arms. I'm proud to reintroduce this legislation and lead the fight on behalf of all law-abiding gun owners across our great nation against the Biden Administration's latest gun-grabbing measure."