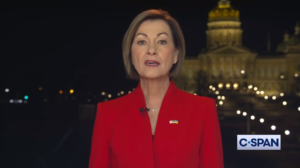 By Dave Workman
Editor-in-Chief
Responding to calls for more gun control following a March 7 school shooting in Des Moines, Iowa Gov. Kim Reynolds told reporters, "We have gun laws. We have laws on the books right now for guns, and those weren't accessed legally."
Democrat lawmakers and gun control proponents used the school tragedy to call for stricter gun laws, and to criticize the governor and Republican legislators for "loosening" state gun laws. Even President Joe Biden weighed in on the shooting death of Jose Lopez-Perez, 15, in a drive-by shooting.
Reynolds, a Republican, delivered the GOP response to Biden's State of the Union address last month.
Democrat State Sen. Claire Celsi pointed the finger of blame, telling the Des Moines Register, "There's really no other way to say it, Republican-sponsored measures have weakened Iowa's gun laws. The resulting policies have failed our kids and our communities."
She wants legislation requiring so-called "universal background checks," but there is no evidence such a law would have prevented the shooting because the suspects range in age from 14 to 17, too young to legally purchase a firearm.
At a news conference earlier this week, organized by Frantz Whitfield—described by the newspaper as a 1999 graduate of East High School, where the victim attended—emotions were high.
"In my opinion, Iowa's gun laws are too loose, and guns are flooding our streets," Whitfield reportedly stated. "Young people are being gunned down by immature and untrained individuals who are finding it all too easy to obtain firearms."
Whitfield is president of the Iowa chapter of National Action Network. He is also a church pastor.
According to KCCI News, Des Moines Schools Supt. Tom Ahart asserted, "It's unfortunate that our state and our country have become a place where firearms are far too easily accessible. We remain committed to protecting our students and staff, but real change to gun laws and access would go a long way to help us."
However, the newspaper is reporting that the teens held in connection with the murder "acted in concert."
"The tragedy is our educational system is letting these kids down," Gov. Reynolds observed. "They should have been in school. We should be figuring out resources to help them stay there." Reports say two teenage girls were injured in the attack that killed Lopez-Perez.