By Dave Workman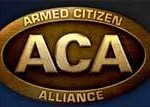 Senior Editor
Backed by some of the biggest names in the industry, a new national organization for armed citizens who want opportunities to learn, train with and shoot their personal defense firearms recreationally has been announced.
The Armed Citizen Alliance was created to provide new and experienced gun owners the opportunity to "practice, train and become familiar with the use of concealed carry handguns and other personal defense firearms."
According to P.R. "Dick" Metcalf, the veteran gun writer who will serve as the unpaid executive vice president—all officers and directors are volunteers—the ACA was created to meet the needs of millions of gun owners who want to shoot and become proficient with their firearms, but don't care to compete in existing "games."
Jim Shepherd, editor/publisher of The Outdoor Wire and a member of the ACA advisory board, explained the barrier between average gun owners and competitors.
"Existing groups, whether it's the NRA, NSSF, IDPA, USPSA, NMLRA or whomever, all have a perceived image with new gun owners," he explained on the Outdoor Wire website. "They're not interested. ACA's goal is to give them information enabling them to make an informed buying decision, learn to be competent with their purchase, and comfortable with the experience along the way."
Metcalf told TGM that there will be recreational opportunities to shoot commonly-owned defensive firearms, even something as diminutive as a Ruger LCP in .380 ACP. He points to the ACA website, which was launched in conjunction with the group's official announcement.
"ACA 'Practice & Confidence' recreational events offer an appealing alternative," the "website explainexs, "designed specifically so people can 'Shoot what they actually carry; the way they actually carry it.' Only store-bought handguns of carry-concealed configuration are allowed. No special-configuration custom guns, no non-standard refinements.
"The format and structure of ACA events themselves will be simple, safe, and fun," the organization adds. "Basic and necessary forward-looking rules will provide for the inevitable desire of returning participants to expect growth and improvement as they become 'captured' by the challenge–and the enjoyment–of developing personal defense abilities and confidence, and seek ways to 'keep track of how well they're doing'."
There is far more to the organization, however. Metcalf said there will be genuine training opportunities for new gun owners, and other opportunities.
Founding sponsors include Taurus, Colt, Sig Sauer, Brownell's, Rock River Arms, Mossberg, Ruger, the National Shooting Sports Foundation, FMG Publications (American Handgunner), Smith & Wesson and LaserLite. Metcalf said several other companies were poised to come aboard, and individual membership applications have been heavy.
Metcalf acknowledged the "delicious irony" of putting the ACA headquarters in Barry, IL; the heart of the only remaining state that does not have any statutory provision for carrying a loaded firearm for personal protection, either concealed or openly. On-going federal lawsuits by the Second Amendment Foundation and others may change that.
Millions of American citizens and legal resident aliens are licensed to carry concealed handguns, and their numbers are expanding almost daily across the country. Metcalf said firearms industry officials are always looking for new avenues to provide not only products but continued service to customers – average citizens who keep firearms for personal safety and other non-competitive reasons – and ACA seems the perfect vehicle.
ACA will also operate a member forum on the Internet, aimed at bringing more new shooters aboard for discussion and debate common to the subjects of firearms safety and personal protection. That forum was scheduled to launch May 15.