Levi's launches anti-gun initiative; gun control hurt Dick's bottom line
By Joseph P. Tartaro | Executive Editor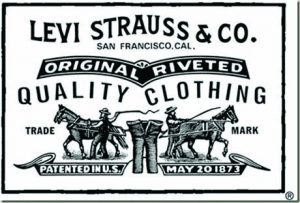 Joining Dick's Sporting Goods in the commercial approach to gun control, American denim giant Levi Strauss & Co. has announced that it is launching a series of new initiatives to benefit groups working to promote gun control.
Levi Strauss's CEO and President Chip Bergh wrote in Fortune, a business monthly, that his company "simply cannot stand by silently when it comes to issues that threaten the very fabric of the communities where we live and work."
"You may wonder why a company that doesn't manufacture or sell guns is wading into this issue, but for us, it's simple," Bergh wrote. "Americans shouldn't have to live in fear of gun violence. It's an issue that affects all of us — all generations and all walks of life."
Bergh said it was his responsibility to speak up for important issues since he leads a "values-drive company that's known the world over as a pioneer of the American West and one of the great symbols of American freedom."
He added that he is not advocating a repeal of the 2nd Amendment nor calling gun owners irresponsible.
"We can't insulate ourselves from every threat," Bergh wrote. "We can't 'harden' every place we gather — whether it be our schools, workplaces, shops, churches, or entertainment venues. But we can take common-sense, measurable steps — like criminal background checks on all gun sales — that will save lives."
Levi's, therefore, announced a new three-tiered initiative to support gun violence prevention.
The company will donate more than $1 million over the next four years to nonprofits and youth activists that work to end "gun violence," establishing the "Safer Tomorrow Fund."
The blue jean manufacturer also partnered with gun control group media-billionaire Michael Bloomberg's Everytown for Gun Safety and other executives to form Everytown Business Leaders for Gun Safety.
Bergh called the group a coalition of business leaders who "believe, as we do, that business has a critical role to play in and a moral obligation to do something about the gun violence epidemic in this country."
Levi's will also double all donations made by their employees to the Safer Tomorrow Fund.
Bergh acknowledged that the decision to advocate for gun control is a controversial one.
"While taking a stand can be unpopular with some, doing nothing is no longer an option," he wrote.
In other words, Levi Strauss intends to enable further Hogglike behavior, to lay down more Astroturf and to empower more "progressive" politicians to enact edicts further eviscerating the right to keep and bear arms, wrote David Codrea on Amoland.com.
It will be interesting to see how many other company's join Bloomberg's business-first anti-gun movement and see how that impacts their bottom line over time.
---
Dick's sales slide
Meanwhile, Reuters reported on Aug. 29 that Dick's Sporting Goods (DKS) reported a bigger-than-expected drop in quarterly same-store sales and forecast further declines this year due to its new tighter controls on gun sales, sending its common stock prices down 8 percent.
The company posted a 1.9 percent fall in same-store sales, bigger than the average estimate of a 0.62 percent drop, also blaming weak sales of Under Armour products at its stores.
Dick's was one of the first retailers to stop selling so-called assault rifles and full-capacity magazines as well as bar the sale of guns to people under age 21, following the massacre at a Florida high school in February.
The company had predicted that its hunting guns business would be pressurized due to the change in its gun sales policy but claimed the move also attracted more people to its stores.
Dick's said it expects annual same-store to decline 3 percent to 4 percent, compared with a 0.3 percent decline in its 2017 fiscal year. Dick's also said it expects earnings per share of in the range of $3.02 to $3.20 for the year ending February 2019.
Dick's CEO Edward Stack said Under Armour sales fell as a result of the sports apparel maker's decision to expand distribution. Under Armour shares were also reported down by 3 percent in premarket trading.
---
Taurus Groundbreaking
The City pf Bainbridge, GA, in Decatur County, hosted its official groundbreaking of the new Taurus USA headquarters and WTXL broadcast that "it is a huge day for the City of Bainbridge."
That's because the Taurus opening was the biggest of several new projects expected to bring jobs to the city and the county.
Taurus USA, a manufacturer of small arms and handguns with operations in Brazil and Florida, was previously headquartered in Miami.
Four months ago, Taurus announced that it would be moving its North American Headquarters from south Florida to Bainbridge, and the construction has been underway for weeks.
---
Kahr Group changes location for future firearms service, repairs

Kahr Firearms Group has announced that Kahr Arms and Auto-Ordnance are changing the location for product service and repairs. Beginning Sept. 17, 2018, all repairs and product returns must be sent to the new location in Greeley, PA. The service department can be reached by email at service@kahr.com or by phone at 508-795-3919 Ext. 1.
The new shipping address for Kahr and Auto-Ordnance repairs and product returns is: Kahr Firearms Group, Attn: Returns Department, 105 Kahr Avenue, Greeley, PA 18425
An RMA number is required for all returns or repairs, and can be found on the websites: kahr.com/kahr-rma, or auto-ordnance.com/kahr-rma.
The move will allow Kahr Arms and Auto-Ordnance to better serve their customers. If you have any questions or concerns, please contact them at service@kahr.com.
---
Ecommerce startup AmmoReady.com provides FFLs a Shopify alternative
AmmoReady.com has released new plans, pricing, services, and an integrated payments solution called AmmoReady Payments, providing a much-needed alternative to popular ecommerce solutions like Shopify that have recently restricted the sale of firearms.
With the addition of AmmoReady Payments, AmmoReady now offers FFLs a comprehensive solution for ecommerce and online payments from a single company that was started specifically to service their unique needs.
Plans starting at $29/month include AmmoReady Payments for reliable, firearms-friendly Credit and Debit Card processing
For high-volume merchants, AmmoReady is offering AmmoReady Pro, an enterprise scale plan that features discounted card processing rates, priority support, and access to the AmmoReady API.
Distributor catalog integration, order fulfillment, and drop shipping for all platform distributors can be added to any of the new plans, including AmmoReady Pro, with the Distributors Direct add-on for a flat fee of $69/month. The add-on currently supports Sports South, Bill Hicks, Zanders Sporting Goods, RSR Group, and Davidson's, with a sixth distributor being tested now.
In addition to rolling out the new plans and AmmoReady Payments, AmmoReady is offering free consultations and expedited setup for FFLs facing restrictions on other platforms. To learn more, schedule a consultation, or start a free trial, visit AmmoReady.com, send an email to hello@ammoready.com, or call 800-566-8082.
---
Roanoke Council eyes limited gun ban
The Roanoke, VA, City Council is likely to try again to convince the state's General Assembly to allow it to bar firearms from council meetings, according to The Roanoke Times.
The council discussed the firearms and other options in September as it refined a draft of its proposed 2019 legislative agenda.
The new proposal is more narrowly tailored. It doesn't seek a total ban on firearms in the municipal building but instead seeks to bar guns in places where a local governing body is meeting.
The ban would apply only during a council session, not all the time and it would apply wherever the council meets, even if it's not in the municipal building.
"That's a step and it's only one step," said Councilman Bill Bestpitch during the meeting of council's legislative committee, which he chairs.
He noted that there's ample precedent for what the city is seeking. Guns are banned from local courthouses and parts of the General Assembly itself.