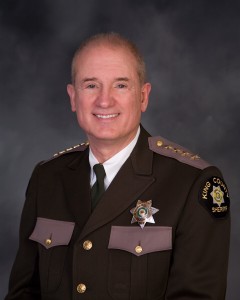 By Dave Workman
Senior Editor
King County Sheriff John Urquhart has denied a request for the names and addresses of concealed pistol license holders in his jurisdiction, sought by a New York-based on-line video and news organization, citing a state law that exempts such information from public access.
Urquhart spoke Friday with TGM, noting that Heavy.com asked for the information earlier this week. This column has attempted to contact Matt Brown, editor-in-chief at the organization's New York office, but he did not immediately respond.
An earlier request for information on CPL holders in the cities and unincorporated areas of
Redmond and Woodinville from a private citizen in Redmond has also been turned down, Urquhart said. The sheriff, elected last fall and who must run for re-election again in November, said his department has "about 50,000 names and addresses of CPL holders."
Urquhart noted that under Washington state statute, "License applications under RCW 9.41.070; copies of license applications or information on the applications may be released to law enforcement or corrections agencies." That does not say the information may be released to the general public.
In a telephone conversation, Urquhart recalled what happened in New York's Westchester County in late December when a newspaper there got access under that state's law – which has since been changed as a result – and published the names and addresses, with an interactive map, of all pistol permit holders.
That was done in reaction to the Sandy Hook Elementary School tragedy. Heavy criticism fell on the newspaper, which refused to speak to other news agencies, including TGM, about its motives. So hot was public outrage in the Empire State that when new anti-gun legislation was hastily passed following the school shooting, privacy protections were included.
Apparently, Heavy.com does not realize is that not every handgun owner in King County has a CPL because in Washington State, no permit is required to simply own a handgun. And contrary to what newspapers and on-line news agencies might prefer, the privacy of Evergreen State gun owners is protected by the law. There is no central firearms registry, although the state Department of Licensing does maintain records of all retail handgun transactions.
If Heavy.com was planning to publish this information as did the Journal News back in Westchester County, Urquhart put a lid on it. While the statute, as written, may have a loophole in it, the sheriff said that the intent of lawmakers was clear.
"They don't believe the information should be released," he said. "Neither do I, so I've directed the requests be denied."