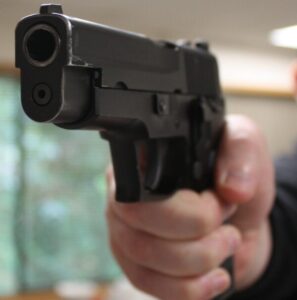 A Las Vegas firearms instructor has been charged with murder in the Feb. 13 shooting death of an alleged car thief, according to KLAS News.
The dead man was identified as 39-year-old Stanley Marks. He allegedly tried to steal the car belonging to Carlos Viana, who reportedly told police he had parked outside of a warehouse, where he was picking up some firearms on the way to a gun range where he was employed. He reportedly told a police dispatcher he had "left his car and the keys outside," and came out as Marks was allegedly trying to drive away.
Inside the car were three handguns and what was described as a "fully automatic machine gun," the report detailed. Viana reportedly told police the would-be thief drove the car at him. Viana fired from a distance of about 3 to 4 feet, into the driver's side window. Marks was struck in the head, and he was pronounced dead at a hospital.
Viana reportedly has a federal firearms license.
Immediately after the shooting, Viana called police.
The report of Viana's arrest has sparked a conversation on social media.