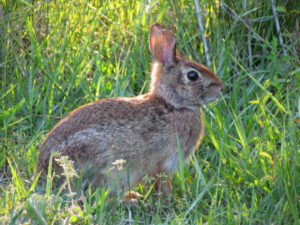 By Jim Dickson | Contributing Editor
You don't have to hang up your gun at the end of deer season for small game seasons linger on through February in many places, and even though the hunting seasons are just now beginning across the country, it's time to plan ahead to continue the action into 2022.
The air is crisper after traditional fall seasons, and other hunters are scarcer both of which make for a better hunting day.
Small game hunting has long been the most common form of hunting in the U.S. and its popularity is well deserved. The success rate is higher than that for larger game such as deer and elk and many people have depended on it for their supper throughout history. Most hunters start out hunting small game and the fun is too much to give up no matter what other types of game you may hunt. Rabbit and squirrel hunting vie for first place in popularity for good reason. They are fun to hunt and offer the best chance of success culminating in a fine meal. That's what hunting is all about. Fun and food.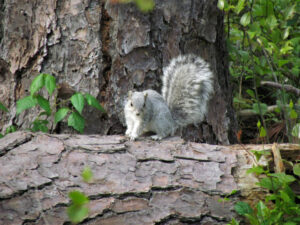 Squirrel hunting was a staple of the pioneers in the East. The vast virgin forests of chestnuts and oaks fed a wildlife population undreamed of by today's hunters. While the oaks deposited plenty of acorns the American chestnuts were the real champions of nut production. Settlers who merely cleared out everything but the American chestnut found they had a heavier weight of harvest in chestnuts than they could get with corn. At any time of the year you could shove your hands under the leaf litter on the forest floor and come up with a handful of chestnuts and acorns. The trees simply made more than the forest bison, elk, deer, bear, turkey, rabbits, squirrels, and other game could eat. To say game was plentiful would be as big an understatement as saying King Kong is a little bigger than your average monkey.
This huge wildlife population was not compatible with the new settler's farming plans. The big game broke the fences and everything dined on the farmer's crops. Soon the larger game was hunted out for hides and meat and the remainder was shot for crop raiding. Eventually you were down to only the squirrel population being reasonably intact.
Men began making Kentucky squirrel rifles just for squirrel hunting and the owner of Stone Mountain Georgia was trying to trade his mountain for one at one time. I have seen a couple of those guns he tried to trade for and they were plain working rifles. I don't know if he was ever successful in trading that big rock for a rifle.
A hunter could still feed his family on just squirrels as they thrived on the chestnuts and acorns of the forest. Then came the 20th Century and a professor deliberately released the Chinese chestnut blight in North America so he could study how it spread. With no natural immunity to the new disease the American chestnut was almost completely wiped out. The oaks were decimated by commercial logging and the National Forests were managed for commercial logging like a tree farm. You could no longer feed a family on just squirrels.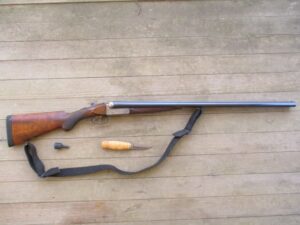 Still the squirrel is a rapid breeder like all prey species and anywhere you have nut bearing trees you can usually find squirrels. Due to their habit of migrating at odd times they may leave one area and show up in another area previously devoid of squirrels. Squirrels are adaptable and will even live in pine forests laying pine cones bare to their core as they get the pine mast out of them.
The break of day is the best time to hunt squirrels as they start the day by heading to the local water source for a morning drink. This is when you have the best chance of catching them moving about.
The best method of hunting squirrels is to find a stand of nut bearing trees and stay stock still until they begin to move about. The favored guns are .22 rifles employed for head shots and 12-gauge shotguns with #6 shot, the latter being the surest way to put squirrels on the dinner table. When a squirrel is running a head shot with a .22 is extremely difficult and having to pass up these shots waiting for the squirrel to be still can mean a missed meal for the hunter.
Some hunters prefer to move stealthily through the trees potting the squirrels as they see them. Squirrels are always on the lookout though and they will sound the alarm. That means that there are a lot of eyes out there watching for you.
Imitating squirrels cussing out another squirrel can often make the locals perk up and look for the newcomer to the area.
You will find that the squirrel is a master of staying on the opposite side of the tree from any perceived threat. That not only makes him hard to shoot it makes him hard to find as well.
Squirrels were long a staple part of the diet in many parts of this country and there is no shortage of recipes. Squirrel and dumplings is often preferred to chicken and dumplings. Whatever way you prepare them squirrels are good eating.
Busting Bunnies
Rabbits are also classic small game and they are best hunted with a 12-gauge and #6 shot as .22's have caused too many mortally wounded rabbits to escape down a hole to die a lingering death. If you must use a rifle, I suggest use an M1 carbine. It kills efficiently without spoiling a lot of meat.
Rabbits can be flushed from cover adjoining fields or in the woods. They can be difficult to spot if they rely on their camouflage and remain stock still upon your approach. They can often be made to flush by constantly stopping to look as you go through a likely area. The rabbit may think he is spotted and run. And then again he may not but this trick works often enough to be worthwhile. A field of clover represents a gourmet salad bar for rabbits and is always worth watching
Since Brer Rabbit loves his briar patch the use of briar proof canvas brush buster clothes is always a good idea. They also like swampy areas and I have found that the LaCrosse rubber boots with LaCrosse merino wool socks are a good choice in marshy areas in cold weather.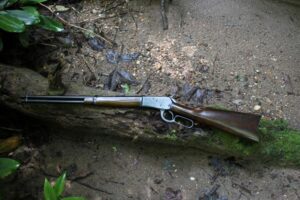 The beagle is often called the rabbit hound for his success in flushing and chasing rabbits out where they can be shot. It must be a dog that doesn't stay so close on the rabbits heels that you can't shoot for fear of hitting the dog though. A lot of hunters keep beagle hounds just for rabbit hunting just as other men have specific breeds of hounds they prefer for coon or bear hunting. Others prefer basset hounds or dachshunds. A dachshund will follow a rabbit into a hole and drag him out or flush him out the back door. Hunting with dogs is a sport in and off itself and a lot of dog men get as much pleasure out of watching and listening their dogs work as they do in any other part of the hunt.
Wear rubber gloves when cleaning rabbits as they may have tularemia, or "rabbit fever." This disease can decimate a rabbit population as quick as the Black Plague decimated medieval Europe's human population. Never allow your dogs to eat rabbit innards lest they get tapeworms.
Rabbits have been made into many gourmet dishes in Europe and America and some of the world's most expensive restaurants serve rabbit dishes. Need I say more about how they taste?
Like squirrel hunting, rabbit hunting is addictive and there are people who prefer each to hunting any other type of game.
Raccoon hunting season is also still on this time of year in most places and for people who love to follow a pack of baying hounds caught up in the thrill of the chase it is hard to tell who is the most into the sport, the hunters or their dogs. Doesn't matter though. All that matters is that everyone is out having fun and exercise in the brisk winter nights. This type of hunting is famous in other countries and many Europeans envy the Americans for being able to do it. Many years ago the editor of a gun and hunting magazine in Finland that I was writing for dropped by to see me while he was in this country. He was thrilled to go raccoon hunting, an experience he could not have in Finland. I got my old friend Harold Houck to take us out. Harold was an enthusiastic ringtail hunter with as fine a pack of hounds as you ever saw and my Finish friend had a most memorable hunt that night.
It should be noted that raccoons are also good eating and the hides are valuable. Many hunters do not kill the animal though, being content just to tree it and leave it to chase again another night.
If you want to really help the game population you can get an experienced coyote hunting dog and add it to your pack, but check the regulations to determine whether hunting 'yotes with dogs is legal in your state or region. The other dogs will follow its lead and go after the coyote and this normally will not affect their future use on raccoons.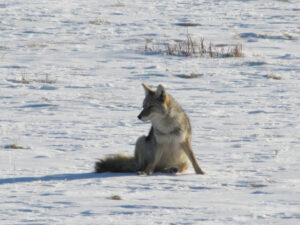 (Editor's Note: Out West, coyote hunters have developed calls to bring these predators to within rifle range. Bolt- or semi-auto rifles such as the Remington 700 or AR-15 are popular for this endeavor. Calibers such as the .223 Remington, .22-250 Remington and .204 Ruger are very popular for the kind of long-range shooting that is often required to pop a yodel dog creeping in what it thinks is an injured deer or rabbit.)
Every coyote you kill means a lot more game animals for you to hunt.
Whatever you hunt there is no reason to stop hunting after deer season when you can continue hunting small game. The thrill of the chase and the hunt are still there just waiting for you.