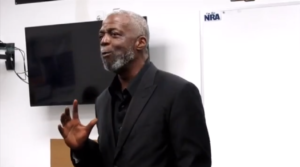 When the establishment media talks about "gun safety advocates," it is typically about some gun control activist group pushing a political point, so when a real gun safety effort could be spotlighted, the press could get an eyeful.
That's an opportunity looming in Detroit this coming weekend (Aug. 21-22) in Detroit, when veteran firearms instructor and Second Amendment activist Rick Ector, founder of Legally Armed in Detroit, hopes to greet a legion of women to a genuine firearms safety and training course. He spoke with TGM via telephone Monday to reveal his event will unfold simultaneously this weekend at two different ranges. He is expecting a record turnout.
Ector has been offering this training opportunity for a decade, according to WWMT. In his first effort, 50 women showed up. Last year, more than 1,900 attended, the story noted.
A past speaker and participant in the annual Gun Rights Policy Conference, co-sponsored by the Citizens Committee for the Right to Keep and Bear Arms and the Second Amendment Foundation, Ector is dedicated to making his city safer by acquainting women with firearms and erasing fears rather than promoting them.
According to his post on Facebook, this year's participants have a full agenda and his goal is to train 4,000 women this weekend. They will enjoy free gun rentals, free ammunition, free hearing and eye protection and free shooting lessons, but they better sign up fast because space will be limited.
The importance of genuine firearms safety and education cannot be overstated for anyone living in a large city, especially considering the murder rates. Detroit is experiencing a bad year, but so far its body count is only approaching half of that already posted in Chicago to the west about 285 miles.
Over the weekend, according to Fox News, nine people were killed and 52 others injured in shootings across the city. One of the victims was a 7-year-old girl, and her younger sister was wounded in the city's Belmont Central neighborhood.
According to the popular website "Heyjackass.com," as of Monday there have been 46 murders in the city so far in August, and another 235 people have been wounded by criminal gunfire. Another homicide was posted but did not involve a firearm. For the year so far, the website says, there have been 486 murders involving guns out of the 512 slayings so far posted.
So far this year, the website said, Chicago has racked up 486 murders, and that would include the slaying of Chicago Police Officer Ella French, killed in the line of duty. Two brothers have been arrested in that murder.