By Dave Workman | Senior Editor
On New Year's Day, American handgunners were treated to news for which they had been waiting more than ten years: Colt has resurrected the legendary Python revolver, one of the most recognizable handgun models ever produced, thanks to appearances in films and on television.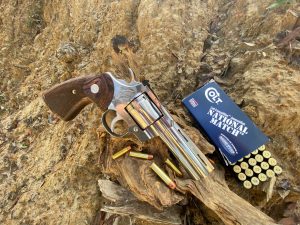 Originally introduced in 1955, the Python has a mystique few other American sidearms have achieved. Chambered for the .357 Remington Magnum cartridge, the Python is immediately recognizable for its vent rib on top of the barrel, which also features a full-length underlug for weight and eye-catching appeal. It has adjustable sights, checkered "target-style" grips and slightly protruding barrel crown that enhances both looks and accuracy.
But the original Python, despite its hand-fitting and magnum chambering, was in some ways delicate. Inside there were lots of parts that made the double-action smooth as glass, and single-action letoff nothing short of target grade. With its polished Royal Blue finish (later the Python was offered in either nickel or stainless steel), barrel lengths that include 2 ½-, 4-, 6- and 8-inch choices, the Python was Colt's modern flagship revolver, and when it disappeared from the company's handgun line, prices immediately spiraled upward.
They have been selling at gun shows for sometimes between $2,500 and even $4,000, depending upon the condition and whether the original box came with the gun. By comparison, the MSRP on the new model is $1,499.
https://www.youtube.com/watch?v=Ik-yt5lZEpc
This new introduction, upon which the wraps were faithfully kept until Jan. 1, is made from modern stainless steel and is slightly beefier and stronger than the original in places that count. The action has eliminated several internal parts and the barrel crown is now recessed. The revolver still utilizes the reliable V-shaped mainspring that now controls the trigger as well as the hammer.
Colt has improved the adjustable rear sight, and made the front sight user-removable and changeable with a hex wrench, eliminating the pinned sight provided on the original.
Initially, Colt is offering its famous double-action sixgun with either a 6-inch of a 4.25-inch choice of barrels.
Here are some important details handgunners will appreciate:
Barrels are cut with 1:14-inch rifling on a left-hand twist with 6 lands and grooves.
The 6-inch model weighs 46 ounces while the 4.25-incher weighs 42 ounces.
The longer revolver has an overall length of 11.5 inches while the shorter specimen is 9.75 inches long.
Both models feature the classic Colt Python checkered walnut target stocks (grips).
At the widest point, the Python is 1.55 inches.
The new Pythons hold six rounds and can take the same speed loaders and same holsters as the originals.
Why is this such an important announcement? For some time, Colt has been struggling along, as other gun makers managed to bring out competing products at lower suggested retail prices.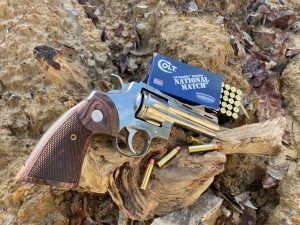 But in recent years, the legendary company that gave America popular revolvers including the Model 1873 Single Action Army and the equally-famous Model 1911 pistol that was the official sidearm of the American Armed Forces in two world wars.
A couple of years ago, Colt re-introduced a stronger version of its famous Cobra concealed carry revolver, followed by the King Cobra with a 4-inch barrel. Both have performed reliably.
Planning to bring back the Python has been in the works for a few years, according to an interview Colt Product Director Justin Baldini did here, with GUNS Magazine.
Baldini says Pythons have already been shipped to distributors, but the initial run will sell fast. Not to worry, he says more are being built by Colt every day.