By Dave Workman | Senior Editor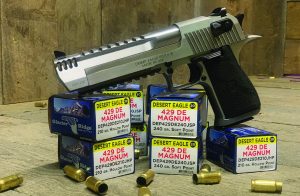 Magnum Research ammunition has been announced as a supplement to the Desert Eagle handgun platform. Made with Starline brass and Sierra bullets, the 429 DE ammunition is loaded by HSM in Montana and distributed by Magnum Research.
Based on the .50 AE cartridge, 429 DE ammunition is available with either 240-grain softpoint or 210-grain hollowpoint projectiles. It produces 25 percent more velocity and 45 percent more energy than a .44 Magnum firing a 240-grain bullet out of a 6-inch barrel.
Just before the holidays, Federal announced new loads in .450 Bushmaster, a straight wall cartridge capable of handling bucks, bulls, bears and big hogs with gusto. Three new offerings were introduced, all with 300-grain projectiles. One has a Fusion soft point bullet, another launches a Non-Typical bullet and the third features a Power-Shok soft point.
Hornady offers the .300 PRC, based on the .375 Ruger. It's a non-belted cartridge for long-range shooting. Two new entries will join the Critical Defense family, in .25 ACP and .32 ACP, both featuring the FTX bullet with patented Flex Tip.
Also from Hornady comes the Outfitter ammunition line, with nickel-plated cases and GMX bullets. There are 11 new entries in calibers ranging from .243 Winchester to .375 H&H Magnum.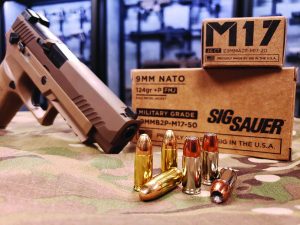 Sig Sauer expanded its Elite Ammunition product line for 2019 with the addition of its high performance M17 9mm+P loads, with two selections. One features a 124-grain Elite V-Crown JHP bullet for personal protection and the other is topped by a 124-grain FMJ round for practice and training. Both rounds have a reported muzzle velocity of 1,198 fps and muzzle energy of 395 foot-pounds.
Federal has several new offerings on the way for 2019, with entries for handguns, rifles and shotguns. New handgun entries in various calibers are offered for both training and defensive use, and there are shotshells for turkey, upland and waterfowl.
There is plenty of variety in the new entries with literally something for everyone. Included is the Black Cloud TSS shotshell with FLITESTOPPER steel pellets and 18 g/cc Tungsten Super Shot.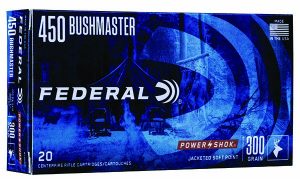 For handgunners, Federal Hydra-Shok Deep loads are now available in .40 S&W and .45 ACP. This ammunition produces deep penetration in ballistic gel and an improved center post for better expansion.
From CCI, there will also be a handful of new rimfire loads.
Also, keep an eye peeled for new entries from Speer Gold Dot.