By Dave Workman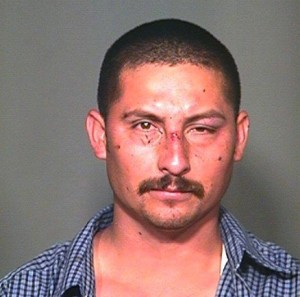 Senior Editor
A Mexican citizen who entered this country illegally to rob drug traffickers faces life in prison after pleading guilty to first-degree murder in the December 2010 slaying of Border Patrol agent Brian Terry.
It was the Terry murder, in the Arizona desert about ten miles from Nogales that ignited the investigation of Operation Fast and Furious 22 months ago
Manuel Osorio-Arellanes has been in federal custody since the night he was wounded in the gun battle that took Terry's life. According to CBS News and other news agencies, Osorio-Arellanes entered the guilty plea in an agreement with the U.S. Attorney's Office that it would not to seek the death penalty. Instead, he could be imprisoned for the rest of his life.
Osorio-Arellanes will be sentenced Jan. 11 by U.S. District Judge David Bury.
Osorio-Arellanes acknowledged entering this country illegally to rob drug traffickers. He and several accomplices encountered Terry and three other Border Patrol agents on the night of Dec. 14, 2010, when the gun battle occurred. The bandits had stashed guns and food they apparently had hidden near the border, and two of those weapons were linked to the Fast and Furious gun smuggling sting.
Osorio-Arellanes is from the Mexican state of Sinaloa.
The Terry murder and subsequent recovery of the Fast and Furious guns at the crime scene compelled whistleblowers within the Bureau of Alcohol, Tobacco, Firearms and Explosives to come forward. Integral to that happening were National Gun Rights Examiner David Codrea and independent on-line journalist Mike Vanderboegh at Sipsey Street Irregulars. They initially broke the story about the gun trafficking operation and the fact that the BATF allowed some 2,000 guns to "walk" into the hands of drug cartel gunmen.
CBS brought national attention to the story when investigative reporter Sharyl Attkisson interviewed whistleblower John Dodson. She won an Emmy award earlier this year for her coverage of the Fast and Furious scandal, and at least one book has been written about the case.
Congressman Darrell Issa and Senator Charles Grassley are continuing to probe the Justice Department's apparent mismanagement of the investigation and lack of oversight of the BATF operation. They have released the second of three joint staff reports covering their investigation.
The report names four top Justice Department officials who claimed lack of memory 249 times during interviews with congressional investigators. The officials were identified as Robert "Monty" Wilkinson, the Justice Department's deputy chief of staff; Gary Grindler, acting deputy attorney general; Edward Siskel, associate deputy attorney general and Dennis Burke, former U.S. Attorney for Arizona. Burke abruptly resigned from his post on Aug. 30, 2011 on the same day that Kenneth Melson was removed as acting BATF director.
The report asserts that, "Given the circumstances surrounding Border Patrol Agent Brian Terry's death, one would expect Justice Department officials to have some recollection of the event. Instead, Department officials seem to have experienced collective memory loss. During his three-hour interview, Wilkinson stated that he could 'not recall' or did 'not know' the answer to questions posed 38 times. Gary Grindler provided similar answers 29 times, and Ed Siskel 21 times. In two different interviews, Burke stated that he 'did not recall' or 'did not know' 161 times."
The report further notes that, "Criminal Division officials received detailed information about gunwalking in Fast and Furious at the same time these officials were expressing concern about gunwalking that had occurred in Operation Wide Receiver. Many similarities existed between the two operations. However, officials in the Justice Department claim that no one made the connection, failing to recognize the same warning signs and mistakes in both operations."
Among the specific allegations contained in the report are:
Associate Deputy Attorney General Ed Siskel did not actively engage with ATF leadership. He viewed his role as extremely limited, so he did not seek out any detailed knowledge of specific ATF operations, including Operation Fast and Furious. Siskel had no prior training or experience with ATF, and he did not make any effort to learn more about ATF's problems during his tenure in ODAG.
Acting Deputy Attorney General Gary Grindler did not take an active leadership role with respect to ATF. He waited for his staff to bring matters to his attention. Accordingly, Operation Fast and Furious continued unabated.
Deputy Chief of Staff to the Attorney General Monty Wilkinson was uninterested in the initiatives and operations of individual Justice Department components—including those in his portfolio. In fact, he believed it was not the role of anyone in the Office of the Attorney General to manage and supervise Department components. He read weekly memos containing details about Fast and Furious, but did nothing with this information.
Within the Department of Justice, ATF reports to the ODAG. Not a single Department official, however, took responsibility for supervising ATF. By failing to ask difficult questions about Fast and Furious, ODAG left ATF with the impression that ATF had the full support of Department leadership in the operation.
The report also noted that Burke "reported to officials at Justice Department headquarters that his office had obtained a Title III wiretap in a firearms trafficking case—an unusual step and an aggressive tactic—no one at Justice Department headquarters probed deeper."
Further, investigators determined that ATF officials had asked the Justice Department's Criminal Division and Office of the Deputy attorney General for help to speed up indictments against gun trafficking suspects. However, Justice Department officials did nothing.
"Instead," the report says, "officials at Department headquarters were only concerned with preparing for the press impact of the indictments."
Meanwhile, Federal authorities are still hunting for three other Mexicans allegedly involved in the Terry murder. They are identified by CBS as Ivan Soto-Barraza, Jesus Rosario Favela-Astorga and Heraclio Osorio-Arellanes. A fifth man, Lionel Portillo-Meza is now in Mexican custody awaiting extradition.