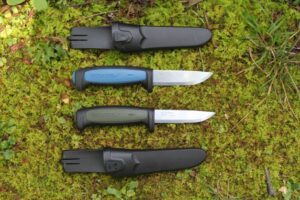 By Jim Dickson | Contributing Editor
What if I told you that you could get a good 1% carbon tool steel sheath knife in a safe scabbard with a good handle for just $9.99 or a stainless steel version with a higher carbon content than most high priced factory stainless steel blades for $11.99?
Well you can. Morakniv in Sweden has been making high quality low cost knives since 1891 and they sell their 511 knife with a 3 & ½ inch blade that is ¾ inch wide for just $9.99 and the stainless steel version, the 546, for $11.99. These are about as perfect a small game, trout, and bird knife as you can find. They have large comfortable nonslip plastic handles that won't tire your hand like a folding knife's handle will in long hard use. Unlike a folding knife, they can never close on your hand. The plastic scabbards are strong, safe, and impervious to the weather, mold, mildew, and rot. All plastics used are suitable for the arctic portions of Sweden so they work just fine in Alaska.
Morakniv makes other knives with prices going up as you go but let's take an overall view first. The knives are made in a state of the art modern knife factory in Sweden from Swedish steel. Their knives are used by both the Swedish Army and NATO. They use several different types of steel depending on the knife.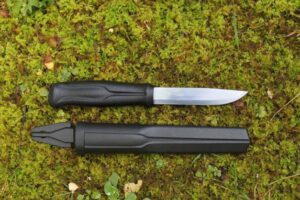 Carbon steel blades have C100 steel which is a 1% carbon tool steel. They still make some traditional Scandinavian 3 piece laminated blades with a 1% carbon steel center sandwiched between two layers of soft iron. These are very popular in areas with arctic cold where metal can get brittle at 60 degrees below zero.
Stainless steel blades of Morakniv knives are made from Sandvic 12C27 stainless steel of .6% carbon or Sandvik 14C28N steel of .62%. This is superior to the 420HC stainless steel found on most premium factory knives which has only .45% carbon. Many knives are made of plain 420 stainless steel which has only .15% carbon.
All the Morakniv knives hold a good edge yet they can still be touched up in the field easily. This last is extremely important. You don't want to let any knife get really dull out in the field. Take a lesson from the butchers and chefs. They put the sharpening steel to their blades every time that they pick them up so they never get really dull. It doesn't take long to touch up an edge but a really dull knife can be a beast to get sharp again especially when you are out in the field.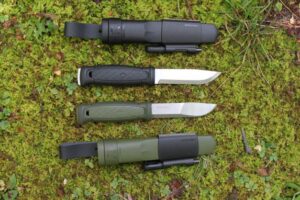 Most Morakniv knives have a tang that stops just short of coming out the back of the plastic handle. The tangs are big and notched to lock into the plastic so they never come out.
Like all Scandinavian knives the Morakniv knives are fitted with comfortable nonslip handles for long working without cramping your hand.
The traditional Scandinavian sheath that swallows up enough of the knife that you don't need a keeper strap comes standard on most Morakniv products. The plastic will never rot or stretch on you and is safe if you fall on it.
These knives come in various colors from black or olive drab to the bright colors so popular with Europeans.
Now let's look at some examples of their work. The Craft Pro S is a $14.99 stainless steel blade 3 &1/2" long and 7/8" wide that handles most any small knife chore easily. Like the first knives mentioned it is virtually weightless on your belt.
While the Craft Pro S has a nice molded in guard the 510 has the swelling at the end of the handle on it's the end of its 3 ¾- by ¾-inch blade so it goes down deeper into its sheath. It also is $14.99.
Moving up in price we come to the Companion Heavy Duty in stainless steel at $24.99. This has a larger handle and a 4-by-¾ inch blade that is .128 inches thick compared to the .118 inches of a classic lockback folder with a 4-inch blade. This knife and scabbard is noticeably lighter than the classic American lockback folder which is so big and heavy that it often ends up carried on a belt pouch instead of in a pocket. The Companion Heavy Duty is also far stronger and safer than the folder. The locking mechanism of the lockback folder is relatively weak. Put the blade in a vise and force the handle down and you will be surprised how quickly it fails and how violently the knife wants to shut then.
Back in the early 1980's when Betty and I had Alaskan trapper's licenses and were living in a one room log trapper's cabin deep in the Alaskan interior there was a foolish man working inside a frozen moose carcass with a classic American 4-inch blade lockback folder. Now every Sourdough knows that this is a job for a saw or at least an axe but never a knife. Much less a folder which guarantees disaster in this work. A disaster is what he got, too. All that could be done in that situation with a knife was to stab at the carcass using the knife as an icepick. The first time the force of his blows glanced off or hit slightly downward on the point the lock failed and the blade closed taking off all of his fingers in the process. I never looked at folding knives the same way again after learning of his fate. My advice is to carry the stainless steel Companion Heavy Duty instead of a big lockback folder.
For those who want to carry a knife in their pocket instead of on their belt Morakniv has the Eldris at $29.99. This is a 2 1/8" by 7/8" blade sheath knife that measures just 6 inches sheathed and is meant to be carried in the pocket. The blade is short but wide and strong so you can cut hard against branches without worrying about breaking your blade as has often happened with jackknives. The oversize comfortable handle lets you know that they intended this blade to work hard. There is a secondary grind near the point to thin the blade there for fine cutting. If you want the options of either belt carry or using it as a neck knife slung from a cord around your neck, you can get it with a ferro rod fire starter, secondary lock with belt loop, and Para cord for $49.99. The ferro rod fire starter is attached to a short Para cord loop that can be secured under the secondary lock or a neck strap so it will always be with the knife.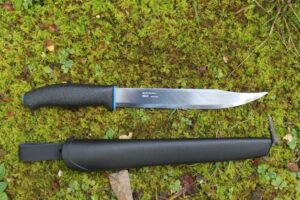 Not all of their knives are short. The 749 S at $29.99 has an 8×1 1/16-inch wide stainless steel blade that is thin like a kitchen knife. It makes an excellent butchering blade for game and excels at cleaning and filleting big fish. It makes a fine kitchen knife too.
For those who want a nice fillet knife they have the Fishing Comfort Fillet 155 at $34.99. This has a narrow, flexible 6-inch stainless steel blade and a fine ergonomic, nonslip handle. The sheath is remarkable. A skeletonized plastic scabbard with a locking snap, it is designed to be rinsed out for easy cleaning after fishing. It has the option of a belt clip or a belt loop, either of which can be instantly mounted. A lot of thought went into that one.
Now we get to their two heavy duty 4.3-inch blade knives, the Kansbol and the Garberg. The Kansbol has a 2.5mm thick stainless steel blade and an overall length of 8.9inches yet weighs just 8.5 ounces. The blade has a secondary grind near the point for fine cutting. This is one of the Morakniv knives used by the Swedish Army. If you want a drop point 4" hunting knife you will find this one will give you good service and it only costs $39.99 for the basic knife and sheath. If you want the upgraded version with survival kit consisting of a diamond sharpener and ferro rod fire starter attached to the sheath it is $109.99.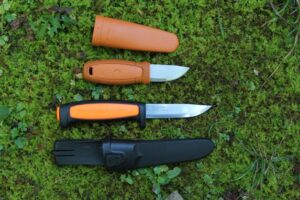 The Garberg S with the same survival kit is also $109.99. this is a heavier duty knife with a big tang that goes all the way through the handle and comes out the back like the expensive Swedish Fallkniven knives. It has a heavier 3.2MM thick blade and a standard grind all the way to the point. All this ups the weight to 13.8 ounces. It is designed to be as indestructible a survival knife as possible and also makes a great small hunting knife.
Both the Kansbol and the Garberg have the same ergonomic handles for hard work. Instead of a guard they have a swelling at the end of the handle. They sacrifice a guard in order to get the knife further into the sheath in the Scandinavian style for more secure carry without a keeper strap.
Morakniv has many more models but these are the ones that I have tested in the backwoods mountains of North Georgia and they have all given good service. You will be hard pressed to find a better knife for the money than those of Morakniv.