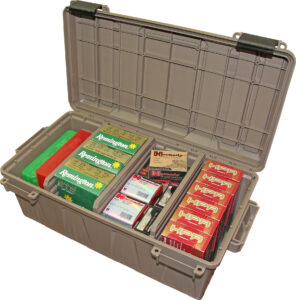 MTM Case-Gard, a leader in innovative polymer-based solutions for shooting and hunting enthusiasts, has announced the company's latest product in its ever-growing line of ammunition and accessory storage gear.
The all-new Divided Ammo Crate is a modular storage solution that blends aspects of MTM's popular Ammo Crates and 4-Can Crate. The Divided Ammo Crate (#ACDC30) delivers a spacious interior divided into four compartments separated by three removable partitions. The modular partition construction allows for custom storage to fit multiple items ranging from ammo boxes, magazines, and cleaning supplies to larger items up to 17.5 inches long.
The Divided Ammo Crate is made of high-impact polyethylene and features a water-resistant O-ring sealed hinged lid to protect contents. Robust latches with padlock tabs further secure stored items. Other notable construction elements include integrated lift handles for the crate's 75-lb. carrying capacity, strap-over channels and tie-down points to secure the crate to truck and UTV cargo beds, and a stackable design that is compatible with MTM's standard #ACR Ammo Crate Utility Boxes.
Designed and manufactured in the U.S., the Divided Ammo Crate boasts internal dimensions of 17.7×8.6×6.6 inches and outside dimensions of 21×11.2×7.5 inches
To learn more about this and other innovative hunting and shooting equipment solutions, visit MTMCase-Gard.com.
MTM Case-Gard™ is family owned and operated since 1968. MTM strives to be innovative in our approach to the shooting sports. All of our products were either designed by one of us, as a solution to a problem we ran into, or because you, the Case-Gard user, suggested it. The results are innovative quality products that last! For more information and availability, check with your local sporting goods dealer or contact MTM Molded Products at (937) 890-7461. See the full line of MTM products at www.mtmcase-gard.com