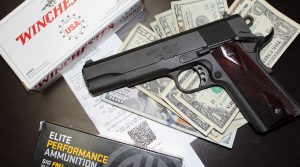 By Dave Workman
Editor-in-Chief
A report by Business Insider adds further confirmation to what gun owners and the firearms industry have known for months: the COVID-19 pandemic panic has resulted in skyrocketing gun and ammunition sales.
In the midst of this surge, Joe Biden and Capitol Hill Democrats are ramping up their efforts to add additional restrictions on gun owners. Bloomberg Law is reporting the Biden-Harris administration is "in the final stages of drafting a regulation on firearm accessories that can be used to make pistols more like rifles, part of the White House's broader effort to tackle gun violence without involving Congress."
The push began after the mass shooting at a Boulder, Colorado market were ten people, including a police officer, were killed. The suspect used an AR-type pistol with an arm brace.
CBS News reported earlier in the week that, "Gun stores nationwide are seeing an increase in customers. The FBI said there were almost 16 million background checks for firearm purchases from January through last month. That's a 31% increase compared to the same time last year."
Gun owners have been complaining for weeks about the non-availability of ammunition. It's hard to find as people continue to buy up whatever ammunition they can find. With an estimated 8 million new gun owners also buying cartridges for their new firearms, that has had even more impact on supplies.
At some point, there may be a collision between anti-gun Democrat policy makers and American gun owners who vote. It could play out in the 2022 mid-term elections, or may show up as soon as this November in Virginia, where the legislative elections are held in off-years.
According to CBS News, gun dealer Clay Ausley in North Carolina says gun sales have corresponded with the arrival of stimulus checks, probably not what Biden and Democrats had in mind when they pushed for more stimulus money to be spread to the public.
Another development Democrats might be watching closely is the changing demographics of gun buyers. Business Insider learned from Chris Metz, CEO at Vista Outdoor, that most of the new customers added to the company's hunting and shooting categories this year "have been younger generations, as well as women and people of color."
During the First Quarter of this year, according to CBS News, "the FBI said there were almost 16 million background checks for firearm purchases."
Back in January, the Washington Post reported on the spike in hunting license sales in some states. "Michigan and Nevada, states known for wildlife hunting, saw a 67% and 30% hike, respectively, in registrations for new hunting licenses in 2020 as compared to 2019," the report stated.
A resurgence in hunting and general gun ownership, coupled with rising crime, reductions in police agencies and a hard push for gun control may be setting the stage for a replay of the 1994 mid-term elections. More than 50 Democrats who supported Bill Clinton and Joe Biden's gun control efforts were booted from office, and the party lost control of Congress for more than a decade.