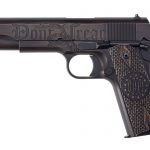 Thompson Auto-Ordnance has just announced a new custom Liberty 1911 pistol, and it should have instant appeal to collectors and shooters.
According to Auto-Ordnance, the new Liberty 1911 pistol is "our latest patriotic commemorative pistol, echoing the sentiments of our Founding Fathers in warning all tyrants to tread on American liberty at their peril. Freedom-loving patriots have always been prepared to oppose tyranny with the ferocity of a poisonous snake. No better symbol of that exists than the Gadsden Flag, with its legendary motto "Don't Tread on Me!"
The .45-caliber pistol is engraved with the slogan "Liberty…Death" on the right side of the slide, and Don't…Tread" on the left slide flat.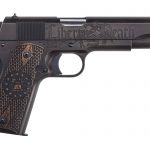 The pistol wears custom Goncalo wood grips featuring 13 stars surrounding the Liberty Bell on the right panel and "DTOM" on the left, referring to "Don't Tread On Me."
Auto-Ordnance finishes this pistol with a custom Cerakote mix of black and brown for a unique appearance.
It is a standard-issue Model 1911 with a 5-inch barrel, GI sights, and a seven-round magazine.