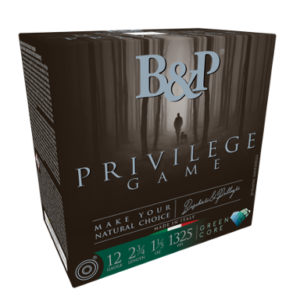 Baschieri & Pellagri USA, manufacturer of premiere shotshells for sporting clays and hunting, has introduced several new loads for 2023, including offerings for waterfowl, upland game and competition.
Leading off, the new Dual Steel and Dual Bismuth loads should keep duck and goose gunners on the winning side.
According to a company release, the new Dual Steel shotshell combines two overlapping layers of top-end steel pellets (steel and plated steel) of different sizes to maximize pattern effectiveness from standard and external choke tubes for long-range killing power. Dual Steel is available in 3-inch, 12-gauge #2 + #3 shot in 1 1/8- and 1 1/4-ounce payloads.
Dual Bismuth shotshells use pellets that are denser than lead but softer than steel, which means undeniable penetration and maximum energy transfer. With two shot sizes stacked together yet delivering homogeneous shot patterns, migrating fowl don't stand a chance. Dual Bismuth is available in 2 3/4- and 3-inch, 12-gauge filled with #3 + #4 shot in payload offerings of 1 1/5 and 1 1/4 ounces.
Dual Steel and Dual Bismuth feature B&P's tried-and-true GreenCore Wad—designed to protect the barrel and ensure maximum performance no matter the environmental conditions. GreenCore is a 100-percent biodegradable wad that leaves behind no particles or toxic residue.
B&P has built its reputation on giving competitive shooters and hunters the very best ammo, and the new Dual Steel and Dual Bismuth lines take this renowned quality and performance to the next level.
Designed for hunting everything from rabbits and to upland game, the new B&P Privilege Game, with its 1 1/5-ounce payload, is ideal for medium to long shots. The felt versions are great for medium to short distances.
B&P has mastered the arts of consistency and efficiency in developing premium shotshells, and Privilege Game not only gets the job done, but does so in an environmentally conscious way with all the benefits of the Gordon System technology.
Privilege Game is available in 12-gauge. The 2 3/4-inch loads come in shot sizes #5, #6, and #7 1/2, which leave the barrel at 1325 fps.
Baschieri & Pellagri also offers new loads for those who hammer hard-to-hit plastic targets, a decisive advantage with the new Helice.
Helice targets, also known as ZZ birds, are said by many competitive shooters to be "the hardest of all flying targets to hit." Made of plastic and not clay, these targets dip, dive, and move similar to unpredictable bird flight. For this reason, helice shooters demand shot-to-shot consistency, and Helice Domination provides it. A triple threat of perfect payloads, honed velocities, and a wad that delivers undeniable performance, this load was designed specifically with the helice shooter in mind.
Helice is available in 12-gauge, 2 3/4-inch loads with perfectly spherical White Lead in shot sizes of #7 1/2 (1300 fps) and #8 (1365 fps). Helice Domination comes in 10-round boxes with 10 boxes per case. It also includes the venerable Gordon System technology with a unique, shock-absorbing base wad dramatically reduces felt recoil.
For more information on B&P shotshells, visit Baschieri-PellagriUSA.com