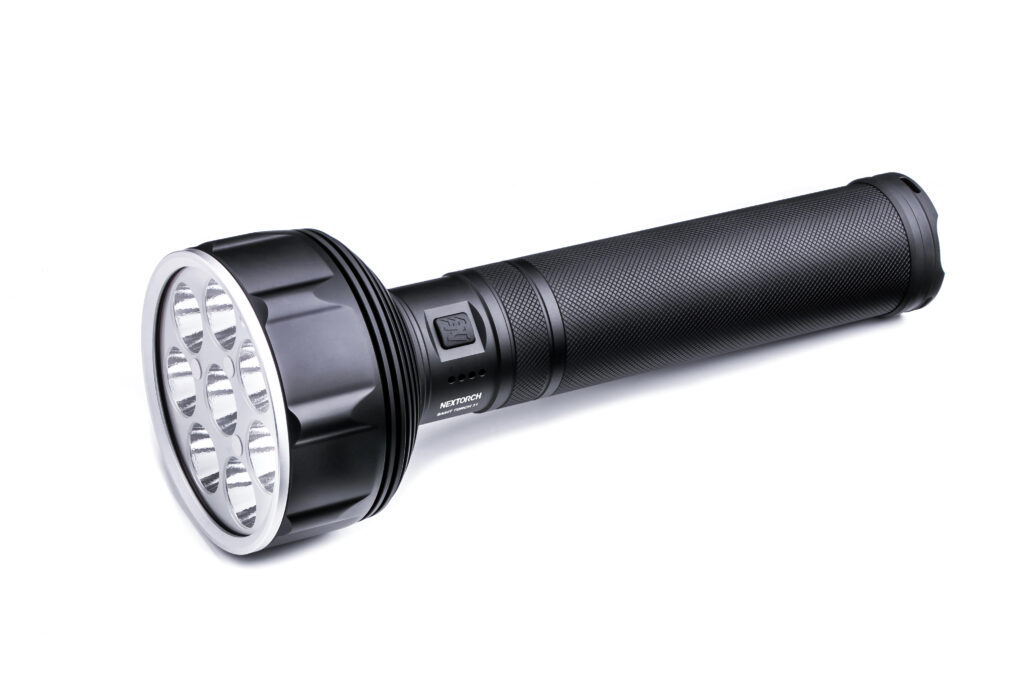 NEXTORCH Industries has announced the 20,000 lumen Saint Torch 31 Searchlight.
The Saint Torch 31 was designed specifically for search & rescue use, but is also ideally suited to any situation that requires long runtimes and exceptionally high-outputs, like game recovery after dark or late nights on the water.
Crafted from 6061-T6 aircraft grade aluminum, the Saint Torch 31 produces an ultra-bright 20,000 lumen output thanks to 8 high-output LEDs and its extra-large battery pack. This incredible illumination tool casts its beam up to 2,827 yards. The Saint Torch 31's battery pack consists of six 4800 mAh Li-ion cells, providing up to 81 hours of run time on low. The battery pack also works as a high-capacity power bank that can be used to recharge electronic devices up to four times on a single charge via a standard USB cable. A convenient LED status indicator provides battery life at a glance, and the waterproof/dustproof covers for the battery pack and flashlight head can be combined to create a small waterproof storage container for medicine, etc.
Another great feature of the Saint Torch 31, is the Smart Output Adjustment. Due to its exceptionally high output, it has the potential to generate considerable heat and reflected glare. To prevent any potential safety issues the Saint Torch 31 features a photodetector and temperature sensor to automatically regulate the output when the temperature rises or if it detects an object within 6.5 ft. This allows the Saint Torch 31 to remain at a safe operating temperature and reduces the glare from the light contacting reflective surfaces.
Features:
– 20,000 lumen max output
– 4 brightness modes plus monetary on function
– Smart output adjustment
– LED battery indicators
– Built-in 6 x 4,800 mAh rechargeable battery pack
– QC 3.0 fast battery charger
– IPX7 rated, waterproof to 3.5 ft.
MSRP: $578.99
Standard accessories include:
– Nylon carrying case
– USB-C charging cable and 3.0 fast charger
– Waterproof storage case
– HM30 carrying handle with tripod socket
– Shoulder strap
NEXTORCH is a manufacturer of professional portable lighting products for law enforcement, hunting, tactical, outdoor & everyday carry.
To learn more about the Saint Torch 31 Ultra-Bright Searchlight and the complete product offerings from NEXTORCH, please visit: www.nextorch.com.