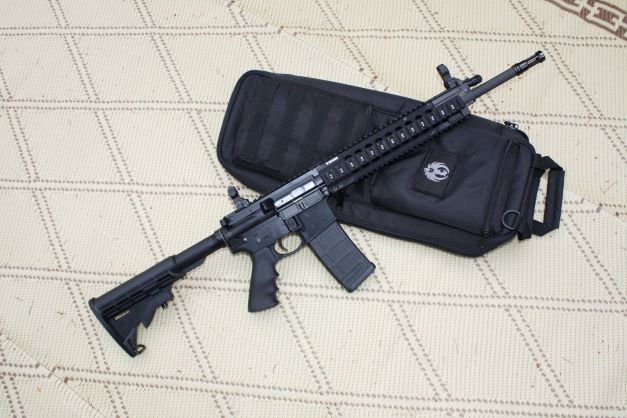 By Dave Workman
Editor-in-Chief
A three-judge panel for the Ninth U.S. Circuit Court of Appeals on Wednesday struck down a California prohibition on sales of semiautomatic rifles to young adults in the 18-20-year-old range, remanding the case back to the district court for further proceedings in a win for gun rights groups. The case is known as Jones v. Bonta.
The case was filed by the Second Amendment Foundation, Firearms Policy Coalition, Inc., Firearms Policy Foundation, Calguns Foundation, Poway Weapons and Gear and PWG Range, North County Shooting Center, Inc, Beebe Family Arms and Munitions, and three private citizens including Matthew Jones for whom the case is named.
The majority opinion was written by Judge Ryan Nelson and joined by Judge Kenneth Lee, both Donald Trump appointees, and in part by Judge Sidney Stein from the Southern District of New York, a Bill Clinton appointee. Judge Stein also dissented in part.
Writing for the majority, Judge Nelson observed, "(T)he Second Amendment protects the right of young adults to keep and bear arms, which includes the right to purchase them. The district court reasoned otherwise and held that the laws did not burden Second Amendment rights at all: that was legal error…(T)he district court erred by applying intermediate scrutiny, rather than strict scrutiny, to the semiautomatic centerfire rifle ban. And even under intermediate scrutiny, this ban likely violates the Second Amendment because it fails the 'reasonable fit' test."
Writing at The Reload, reporter Stephen Gutowski observed, "The ruling is another setback for California's efforts to restrict gun ownership."
In his opening remarks, Judge Nelson observed, "America would not exist without the heroism of the young adults who fought and died in our revolutionary army. Today we reaffirm that our Constitution still protects the right that enabled their sacrifice: the right of young adults to keep and bear arms."
Forty pages later, the judge stated, "(W)e hold that California's ban is a severe burden on the core Second Amendment right of self-defense in the home."
In the past, the Ninth Circuit has almost automatically entertained requests for an en banc review of pro-Second Amendment rulings by three-judge panels.