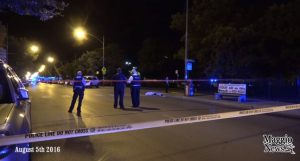 By Dave Workman
Editor-in-Chief
There was no moratorium on mayhem in Chicago, even over the Mother's Day weekend.
Five days after Chicago resident Nortasha Stingley, whose daughter was murdered in 2013, pleaded for a Mother's Day ceasefire, her plea was answered with six dead and more than 20 others wounded, according to various reports.
The popular Heyjackass.com website shows Chicago has seen more than 200 people murdered so far this year, the bulk of them killed by gunfire. So far this month, nearly 20 people have died from criminal violence, not all of them shot.
Fox News reported Monday the weekend saw 28 people wounded between 6 p.m. Friday and 11:59 p.m. Sunday. Hey Jackass.com says 946 people have been wounded in Chicago so far this year, and that number will no doubt go up.
"There was less bloodshed than during the previous weekend, when people said 46 people were shot and seven were murdered," Fox News reported.
Six people were murdered at a birthday party over the weekend in Colorado Springs, according to KUSA News. The apparent killer then took his own life. That case seemed to get more attention than the mayhem in Chicago, which many in the gun rights community suggests is a symptom of selective outrage.
Chicago has been the murder capital of the country, and a monument to the futility of gun control, Second Amendment activists contend.
Violent crime appears to be spiking in many jurisdictions around the country, according to anecdotal reports.
Portland, Oregon has had at least 28 homicides this year, according to the Portland Police Bureau. That's more than double the number of murders racked up so far in Seattle, where 11 people have so far been killed. It should be noted that both Northwest cities are the respective centers of liberal politics in Oregon and Washington, where gun control advocacy groups are strongest.
Colorado has suffered this year, with the mass shooting in Boulder followed by the weekend's tragedy in Colorado Springs.
At some point, expect the gun prohibition lobby to blame the rise in shootings to the spike in gun ownership, while the flip side to that argument is more people have purchased firearms for personal protection because of rising violence and reported cuts to law enforcement agencies.
Seattle has lost an estimated 200 officers over the past year. In April, the Portland Oregonian reported on the loss of officers to the Polkice Bureau in a story that said many were just burned out. An estimated 115 officers have left that force.
According to HeyJackass.com, a Chicago resident is wounded every 2 minutes, 42 seconds on average. A person is murdered every 14 hours, 24 seconds, again on average. These numbers will shift as the year wears on, and the violent summer months are still to come.