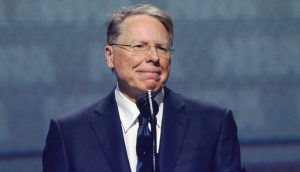 Embattled National Rifle Association Executive Vice President Wayne LaPierre was re-elected to another term by the NRA Board of Directors following the association's legally-required annual meeting, held in Charlotte, N.C.
According to an NRA release, Charles Cotton was elected NRA president by the board, along with Lt. Col. Willes K. Lee (Ret.) as First Vice President and David Coy as Second Vice President.
The announcement drew an immediate reaction from New York State Attorney General Letitia James, who has been pursuing a federal lawsuit against the association and its officers, and is seeking to dissolve the NRA, which is celebrating its 150th anniversary this year.
"The NRA's decision to re-elect Wayne LaPierre and other top leaders yesterday despite the detailed evidence of repeated fraud and self-dealing we have laid out in our lawsuit and during the bankruptcy trial underscores that board governance is broken and that the rot runs deep at the NRA," James said in a statement. "For years, Mr. LaPierre and his lieutenants used the NRA and its donors as a breeding ground for personal gain and to live a lavish lifestyle, which is why they must be removed. Our fight for transparency and accountability will continue because no one is above the law."
The NRA had originally planned to hold its 150th Anniversary members meetings and exhibits in Houston, but the continuing COVID-19 pandemic resulted in cancellation.
According to the NRA news release, the board also re-elected NRA Secretary/General Counsel John Frazer and NRA Treasurer Sonya B. Rowling. Jason Ouimet was re-appointed as Executive Director for the Institute for Legislative Action and Joseph De Bergalis, Jr., is Executive Director General Operations. ​ 
As noted in James' statement from New York, she filed a lawsuit against the NRA and four of the organization's current or former top executives for allegedly "failing to manage the NRA's funds; failing to follow numerous state and federal laws, as well as the NRA's own bylaws and policies; and contributing to the loss of more than $64 million in just three years."
Named as defendants were the NRA as a whole, as well as LaPierre, former Treasurer and Chief Financial Officer Wilson "Woody" Phillips, former Chief of Staff and Executive Director of General Operations Joshua Powell, and Corporate Secretary and General Counsel John Frazer, the news release recalled. NRA's effort to relocate to Texas by filing for Chapter 11 bankruptcy protection earlier this year failed. The lawsuit is continuing