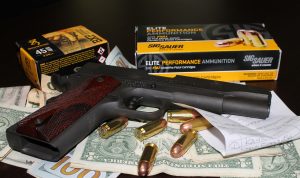 By Dave Workman
Editor-in-Chief
Two New York State lawmakers, both Democrats, have proposed an excise tax on ammunition obviously modeled after taxes levied in Seattle, Wash., and Cook County, Ill., but with the difference being that in the Empire State, the tax would be collected statewide.
According to WWNY News, revenue from this tax will "go towards a gun violence research fund. It's part of a study by the state Department of Health and SUNY."
However, neither tax in Seattle or Cook County has resulted in a decline in gun-related crime, and at least in Seattle's case, the tax has never come close to achieving its revenue forecast. Murder has increased in both localities since the taxes were created.
Sponsoring Senate Bill S8415 are Sens. Andrew Gounardes (D-22nd District) and Alessandra Biaggi (D, WF 34th District.) According to Spectrum Local News, Assemblywoman Pat Fahy (D-Albany, District 109) is also on board.
Under the legislation, rimfire cartridges would be taxed at 2 cents per round and centerfire cartridges would be taxed at 5 cents apiece. It is the exact same price tag found in the Seattle and Cook County measures.
And like those other taxes, backers of the New York scheme echo the same arguments by anti-gun tax proponents in Seattle and Cook County.
"By taxing ammunition, we are fairly funding research that will help us build smart and effective policies," said Gounardes.
Critics rip that idea, saying it penalizes law-abiding citizens for crimes they didn't commit. Instead, one man suggested, criminals should have to pay any such tax.
When the tax was initiated in Seattle back in 2015, then Councilman Tim Burgess predicted revenues ranging somewhere between $300,000 and $500,000. However, since the tax has been collected beginning in 2016, the most it has ever brought in, according to data obtained from the City of Seattle under a 2017 court ruling, was $184,836.
In New York's case, the tax would be assessed statewide, so it would likely bring in considerably more money because all hunters and shooters in the Empire State would be forced to pay.
New York Assemblyman Mark Walczyk opposes the legislation. According to WWNY, Walczyk said it is "a direct attack on the Second Amendment."
"What is a deer hunter's .30-06 ammo have to do with any inner-city gang bangers that are waving Glocks around the streets? The answer is nothing," Walczyk (R. – 116th District) reportedly said.