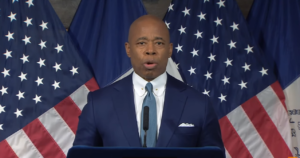 One day after the New York Post reported that the New York Police Department "is expected to blow past its overtime budget by nearly $150 million" in its efforts to deal with a surge in violent crime, the Citizens Committee for the Right to Keep and Bear Arms early Friday morning offered a solution.
The overtime crisis, said CCRKBA Chairman Alan Gottlieb, "might be alleviated if the city would support, rather than restrict, the gun rights of its law-abiding residents."

According to the newspaper, New York Mayor Eric Adams has directed "police brass to flood the streets and subways with officers and supervisors to try to stem the surge of violence in the Big Apple."
With a U.S. Supreme Court ruling on New York's restrictive "good cause" gun permit regulations due at the end of next month, Gottlieb released a statement Friday skewering Empire State gun laws and the Big Apple's decades-old anti-gun philosophy.
"The crime situation in New York City is out of control," Gottlieb stated. "Part of the blame goes to former Mayor Bill di Blasio, and part of it to new Mayor Eric Adams, but the real problem has been festering for generations, ever since the Big Apple erected big obstacles to the exercise of the Second Amendment right to both keep and bear arms.
"Nothing worries criminals more than legally-armed citizens, otherwise known as 'would-be victims'," he added. "If city officials from the mayor on down weren't so determined to keep law-abiding citizens disarmed, instead of preying on the public, criminals would be praying they don't get shot by an intended victim."
In the aftermath of a mass shooting incident in a Brooklyn subway station, Mayor Adams was quick to demand a "national response on gun control." But Gottlieb maintains the solution is entirely local, and it may take a bit of eating crow by city officials.
"We don't expect Mayor Adams to immediately understand this common-sense approach to crime," Gottlieb acknowledged. "After all, the mayor has armed police bodyguards, but average citizens don't. He enjoys a level of security that has been withheld from his constituents for decades. He paraded around the Met Gala in a tuxedo emblazoned with the words 'End Gun Violence,' which is symbolism over substance."
Gottlieb ripped New York City's gun control history, noting the anti-gun-rights approach has "created a nearly risk-free working environment for violent criminals, and that needs to change."
"If Adams wants safer neighborhoods, he should spearhead a movement to give his constituents the tools, and support from the legal establishment, to fight back," the veteran gun rights leader said.
"The national gun control experiment has failed, and in New York it has failed miserably," Gottlieb observed "The time has come to abandon what hasn't worked, and adopt policies and philosophies that will work. It's time for the perps, not the public, to be afraid. He can save lives, and the budget, by changing the city's course. Put citizens and over-worked police in the winner's circle by making sure criminals are always the losers."
Bloomberg News recalled that when Adams ran for the mayor's post, "he made a campaign promise to cut police overtime spending by half. Instead, the NYPD's budget for extra hours is on pace to soar 73% above what was allotted, according to the city's Independent Budget Office."
Based on that, it appears his campaign promise has been as fruitless as the city's gun control effort.
The New York Post on Thursday criticized Adams for having jetted off to Los Angeles "for more than two days as new data showed major crime continued to surge and a poll revealed his approval ratings have sunk over the issue."