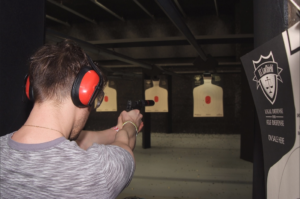 Special to TGM
Text from Jim Irvine
Photos courtesy John Pleva
The Strongsville Republican Club held its 7th annual "Night at the Range" recently where club members and guests met at a local gun range instead of a traditional meeting.
What began as an effort to bring 20-30 people out to the range for some trigger time has grown into an even larger event with over 100 participants, many voluntary instructors and support staff working with the range employees to offer a fun and educational evening for new and seasoned shooters.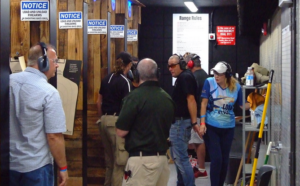 Having outgrown the original range, the new set up at the Parma Armory allows people to try out a pistol range, rifle range, archery range, and decision making on a shooting simulator. Each participant also heard a discussion on law-enforcement interactions and firearms laws from a local police officer and a talk on political advocacy and being involved in the process by working on campaigns as well as the nationally acclaimed FASTER Saves Lives ®program from co-director and A1S4 Protection PAC chairman Jim Irvine.
On the range new shooters were offered the chance to try a variety of firearms under the close supervision of qualified instructors, including several female instructors to help the ladies feel comfortable. Learning is fun when accompanied by quality instructors, and there were enough to go around.
License holders and experienced shooters had the choice of just getting some trigger time on their favorite gun, or getting some personalized tutoring to refine their skills. They also had the opportunity to try out new types of firearms. As always, the AR-15 was a popular choice for trying something new. Many people seemed surprised how fun and easy to operate they found the AR-15. It was not what they expected knowing it only through media demonization. By keeping the rifles on a separate range, new shooters were not subject to the noise of rifles in the next lane.
The evening ended with free time where participants could go back to what they found most interesting. People were leaving with smiles on their faces for their newfound skills and knowledge. The range was happy with potential new customers, and the club was happy with proving something of real value to their members.
Thanks to the Parma Armory for making their facility available, and their staff as well volunteers from Tactical Defense Institute, Iron Eagle Training, and A Girl and a Gun for making this a great event for shooters of all experience levels.
This is a great model that could be copied across the country to help shooters interact and introduce new people to the shooting sports.