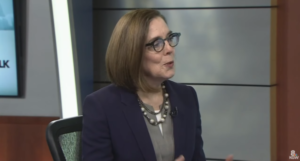 By Dave Workman
Editor-in-Chief
Oregon Gov. Kate Brown has signed legislation prohibiting firearms on the capitol grounds and inside the capitol building in Salem, according to KATU News.
The legislation also mandates so-called "safe storage" of firearms, and requires gun dealers to provide some sort of locking device with each firearm sold. The bill further requires gun owners to report lost or stolen firearms to police within 72 hours of discovering guns are missing.
Another requirement is that gun dealers post signs in their businesses that state the following: "The purchaser of a firearm has an obligation to store firearms in a safe manner and to prevent un-supervised access to a firearm by a minor. If a minor or unauthorized person obtains access to a firearm and the owner failed to store the firearm in a safe manner, the owner may be in violation of the law."
According to KATU News, Brown, a Democrat, inked the bill Tuesday, declaring, "I am signing SB 554 with the hope that we can take another step forward to help spare more Oregon families from the grief of losing a loved one to gun violence."
Once the law takes effect, neither lawmakers nor the citizens they serve will be allowed to bring firearms onto the capitol grounds or in the building. Supporters claim the legislation will "prevent accidental shootings by children, suicides and mass shootings," KATU reported.
Democrats supported the legislation while Republicans opposed it.
While anti-gunners are celebrating Brown's signing of the bill, a Portland-based "interfaith group" is also reportedly pushing to get two anti-gun initiatives on the November 2022 ballot. According to KATU, IP 18 will ban the sale of so-called "assault-style weapons" in the state, while IP 17 requires a permit to purchase a firearm, mandates background checks on all gun purchases and bans "large-capacity magazines."
The initiatives are reportedly being pushed by an "interfaith movement" that has gathered 2,000 signatures on each in order to present them to Oregon Secretary of State Shemia Fagan Wednesday. If both measures are approved for circulation, it will allow proponents 10 months to gather 140,000 signatures.
Meanwhile, Democrats in New York state are also reportedly pressing more gun control in the wake of an uptick in shootings.
According to WMHT, one proposal "would create more hurdles for individuals seeking to purchase a gun, which Democrats said would help cut down on unlawful gun ownership while protecting firearm users who obtain their weapon legally."
The proposal also requires would-be gun owners to take a five-hour firearms safety course and a live-firing test with a 90 percent accuracy score. People would also have to apply for a hunting license before they purchase a firearm, "and provide proof that they've bought a safe storage depository for the firearm."