by Dave Workman |Senior Editor
Salem, OR, resident Rachel Lucas, a Beaver State native who grew up in a liberal, anti-gun household seems well on her way to become the worst nightmare that Pacific Northwest gun prohibitionists could ever experience.
A survivor of a brutal attack several years ago—the kind of incident which she acknowledged "changes your life forever"—the mom, former music and voice teacher is a proud gunowner and what's more, she has become an activist for gun rights and crime victims. She has an Oregon Concealed Handgun License (CHL) and carries a small revolver.
She has testified before the Oregon Legislature against various gun control proposals, and in the wake of the horrible attacks at the Clackamas Mall and Sandy Hook, she didn't rush out to demand restrictions on honest gunowners. Instead, Lucas founded Safer Oregon – Oregon Crime Victims for Self Protection.
Her children are grown, and it was her daughter, a college Republican, who suggested that she get a gun for personal safety.
"At one point in my life," the energetic Lucas said, "I really was anti-gun. I bought the whole Brady thing hook, line and sinker. But then I went shooting; if we can get women to try out shooting, then we win them over." Following her violent attack by a complete stranger, which she detailed in an August Op-Ed article that appeared in the Salem Statesman- Journal, Lucas went through "a lot of therapy." She experienced panic attacks.
"You think you're over it," she said, "but then something hits out of the blue, some new challenge that you have to work through. You heal, but the scars are always there." Now something else is there as well: Confidence.
"When I shot a gun for the first time," she recalled, "I realized a whole area where I had been scared. It empowered me…I know I can protect myself." She took a class, which is a requirement to obtain an Oregon CHL, and after buying her first handgun, she "went shooting every week." Rachel's first handgun was a Walther PPK, but she quickly discovered that she didn't have the hand strength to cycle the slide, so she tried a Beretta .22-caliber semi-auto, and finally settled on a revolver.
"I've since become a revolver woman," she said. "I think revolvers are the best thing ever, especially for self-defense." Realizing she will never be as proficient as some people with a handgun, she thinks a revolver is easier to handle, especially for many women, and simpler to operate.
"I don't go anywhere without my gun, except for places where you can't (carry)," she said.
Fighting back
Lucas is hardly the only woman who has lived through a traumatic experience, and she has determined that by stepping forward and telling her story, others are inspired to do likewise.
"If they're going to attack women," she said, "then women can stand up and tell their stories. Women are stronger nowadays. I feel like women who have been victims of crime have powerful stories to tell and we have one of the strongest voices to protect our rights.
"We can win hearts and minds," she added.
The Lucas family moved from Portland to Salem not long ago, and her fledgling grassroots organization went on something of a hiatus. But what rekindled her activism was a segment of "The View," during which a 30-second advertisement supporting background checks was shown. This message was produced by anti-gun billionaire Michael Bloomberg's Everytown for Gun Safety, and it depicts a woman on the telephone with police as her ex-husband kicks in the front door, grabs their son and then pulls a pistol out of his pocket and, off camera after the screen goes dramatically black, a shot is fired.
It was the reaction of three of the four female panelists that got Lucas' attention. All three suggested that the video actually makes a case for owning a gun. That same sentiment echoed across the Internet after the video aired, creating one more example of a Bloomberg-financed effort that backfired.
But "The View" segment caused Lucas to fire up the victims' group anew. And she wrote that Op-Ed, which got plenty of attention in her community and beyond. She attends church mass daily, and one morning after mass, a woman approached her to say, "I'm mostly against guns, but you really made me think." Lucas said she received many e-mails after the story appeared, most of them positive.
"I realized that if I tell my story, others will come forward," she explained. "Bloomberg, he's telling women in this ad that they don't get to have guns. The message I got from that ad is that I can't protect myself." But she knows better, and that's the message she is working to deliver to others with her crime victims organization.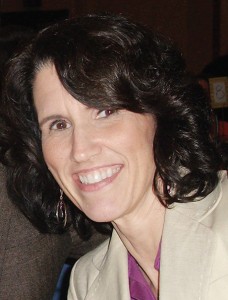 Lucas said an acquaintance told her about a traumatic experience she had survived, and when that woman went to her doctor, she was surprised when he suggested that she buy a gun and get a CHL.
Hiding no more
Lucas is not an overnight convert.
She told TGM that she's been working somewhat behind the scenes on the gun rights battle lines for a while. She recalled how it took three years for Oregon lawmakers to pass a privacy provision for CHL holders.
This was very important to her on a personal level. Lucas is still very sensitive about privacy issues, especially after what happened to gunowners in two New York counties after Newtown, when a newspaper there not only identified them, but published an interactive map showing the names and addresses of permit holders.
She recalled the Oregon legislation came "in the nick of time" because there were concerns that some newspapers had figured out ways to get access to the information. There had been proposals to make the information public.
"The legislature at that time wanted to make information on CHL holders public," Lucas explained. "I immediately got drawn into testifying." "During the course of three years," she added, "I learned how powerful our testimony is." Lucas related how she helped in the effort to stop four anti-gun bills in 2013 that were introduced in response to the Newtown tragedy and the Clackamas Town Center shooting. She also learned how the gun prohibition lobby brings out its full agenda when trying to exploit a tragedy.
"None of the bills were even relevant to the Clackamas Town Center," she said.
Now a life member of the National Rifle Association, Lucas thinks the philosophy and message of her organization "needs to go nationwide." The gun control battle is waged largely on an emotional level, she acknowledged, but there are two sides to the argument, with plenty of emotion on the side of victims who have armed themselves to prevent a repeat of whatever life-changing event they survived.
"We want to help people learn to testify," she explained. "There's a way to share…You want to help people aim and shoot and tell their stories to win hearts and minds. There is strength in numbers." Her group has a website, saferoregon.org. Now that her story has been revealed in the Statesman-Journal, and she has also written a column on being armed and female for an on-line blog called Oregon Catalyst, Lucas expects more people to come out of the shadows, tell their stories and add their voices to the effort to protect gun rights, not just in Oregon but everywhere.
History will determine who had the better side of the argument.
.