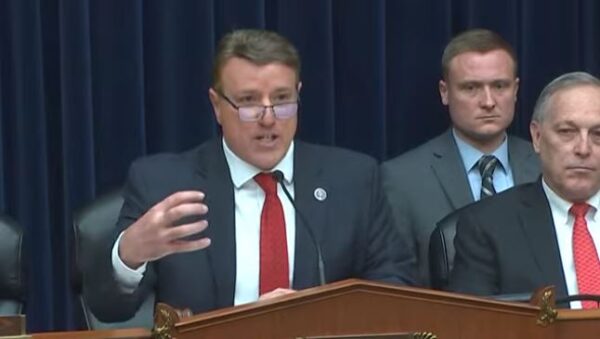 By Dave Workman
Editor-in-Chief
The parents of a victim in the 2018 mass shooting at Marjory Stoneman Douglas High School were ejected from Thursday's hearing before the House Oversight Committee on alleged overreach by the Bureau of Alcohol, Tobacco, Firearms and Explosives, causing committee Chairman Rep. Pat Fallon (R-TX) to call a recess because of their disruption.
However, Fallon did not ask Capitol Police to "arrest that woman," but only that she be removed from the hearing room, as one news outlet reported. His instructions to the officers can be clearly heard on a video of the incident.
According to the Washington Examiner, couple were identified as Manuel and Patricia Oliver. Their son, Joaquin, was one of 17 people killed by a lone teen who had been a student at the high school. The Valentine's Day attack ignited a national protest movement, "March For Our Lives," which was quickly appropriated by the gun control lobby.
The disruption occurred after some two hours of testimony by the four-member panel, which included Alex Bosco, founder and inventor of the Stabilizing Brace; Amy Swearer, senior legal fellow at the Heritage Foundation; Rob Wilcox, federal legal director at Everytown for Gun Safety, and Matthew Larosiere, a partner at the Zermay-Larosiere Law Group and adjunct scholar of law and policy for the Second Amendment Foundation. (Click on each witness's name to read their submitted statements.)
Patricia Oliver allegedly accused the Republicans of being responsible for her son's death, and Manuel Oliver allegedly yelled, "All of you are full of s—t."
The hearing lasted into the early afternoon and, following a lengthy lunchtime recess, reconvened for only a short time before Fallon adjourned.
Under questioning, Bosco told the committee the ATF's complete reversal on stabilizing braces could conceivably turn millions of law-abiding gun owners into felons, an assertion supported by Swearer, who is considered an expert on constitutional matters relating to the Second Amendment. Bosco also said the change in rules, which had allowed pistol braces for more than a decade without problem, would probably put him out of business.
Wilcox, meanwhile, repeatedly insisted the ATF is doing a necessary job of enforcing gun laws and assuring compliance by industry and retail gun dealers.
Democrats on the committee tried to spin the hearing into a matter of protecting children by enforcing gun control laws.
Republicans repeatedly noted that it is the responsibility of Congress, not a federal agency, to establish laws. Bosco and Swearer both noted in reaction to questions from different Republican committee members that Congress did not pass any legislation specifically about pistol braces.