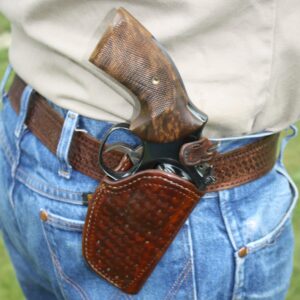 By Paul Lathrop
Contributing Editor
Billy Penn, a Philadelphia-based news website, is reporting that Republican lawmakers in Harrisburg are advancing a permitless carry bill.
Currently in the Keystone State, gun owners must pay a $20 fee and submit two character references to acquire a permit to carry.
The legislation, House Bill 659, would eliminate the need to obtain a permit to carry for those over the age of 21 in order to carry a concealed handgun in the state. It would also correct an issue in Pennsylvania law where open carry is permissible outside of Philadelphia without a permit but is not allowed in a vehicle.
Some 20 other states have adopted permitless, or "constitutional carry" statutes.
Aaron Bernstine, the bills' sponsor, told a reporter, "There's no reason that we shouldn't take line and do exactly what the other 20 states have done across this country, and make sure that law-abiding citizens have the opportunity to protect themselves."
Bernstine went on to say that concealed carry licenses are a "duplicative" process and that background checks are already necessary to purchase a handgun
Of course, there are those who are up in arms that responsible gun owners may be allowed more freedom. Among people who are opposed to the bill are Philadelphia District Attorney Larry Krasner and Philadelphia Sheriff Rochelle Bilail.
Billy Penn quoted Sheriff Bilail observing, "Eliminating concealed-carry permits allows anyone to carry a weapon out in the open, and that would bring a whole lot of misunderstanding, and a whole lot of potential danger. How would you identify those that are legally carrying versus those who aren't?"
Gun control advocates are also opposed to the measure.
"This could be a real risk not only to the driver, but also to the law enforcement officer," asserted Max Milkman, identified as an "organizer" for the gun control group Ceasefire PA.
Anti-gunners are also arguing the legislation, if passed, would encourage more people to openly carry firearms in Philadelphia.
The Pennsylvania Firearm Owners Association (PAFOA) also advises gun owners on the downside of open carry in urban areas on its website.
"We would like to point out that there is much debate among firearm owners about whether openly carrying firearms is really a good idea," the PAFOA message states. "While we will leave that choice to the individual we will state that in many urban areas (namely Philadelphia) doing so will draw unwanted attention from law enforcement that may include (but not be limited to) the following repercussions:
Being stopped and questioned by law enforcement.
Having your License to Carry Firearms seized and sent back for revocation.
Being arrested either improperly or for other charges like disturbing the peace or creating a public nuisance.
"While this may not happen should you choose to carry openly," the group acknowledges, "many urban law enforcement officers we have talked to have expressed a very negative opinion towards the idea. Some have suggested that law enforcement will do everything in their power to make your life difficult should you choose to."
If passed, the bill would travel to the desk of Governor Tom Wolf (D), who is all but certain to veto it.