FNH USA launches new product line

FNH USA has launched a brand-new product line for 2014: the FN 15™ family of modern sporting rifles. "The FN 15™ category is a very important and exciting launch," said John Goliber, FNH USA Chief Technology Officer. "Like the SCAR® platform, the FN 15™ product line incorporates all of the best features and benefits FN has developed over the last 125 years. With this addition, FN now offers our customers robust and affordable products in all categories, whether they are looking to purchase a product for personal defense or use in the pursuit of sport or competitive shooting activities." The FN 15™ Carbine (shown here) has a 16- inch chrome-lined, alloy steel barrel and is available in 5.56mm NATO. The polymer forearm and butt stock are both black, and the stock is collapsible into six positions, making the total length 31.9 inches at its shortest and 35.2 inches at its longest. The FN 15™ Carbine also features an A2-style compensator and a 1:7-inch RH twist rate. It comes with fixed A2-style front sights, a removable M4- style rear carrying handle, and one GI pattern 30-round aluminum magazine.
The FN 15™ Rifle has a 20-inch chrome-lined, alloy steel barrel, polymer forearm and fixed butt stock, with a total length of 39.5 inches. For more information, visit online at: fnhusa.com.
Steyr Arms introduces full-size L-A1 pistol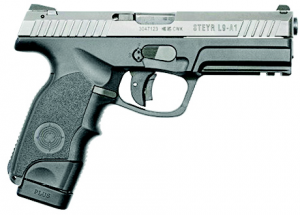 Steyr Arms has announced the availability of the new full-size L-A1 service pistol to the US market. Originally introduced last year at the IWA Outdoor Classics Show in Nuremburg, Germany, high demand from the American market has brought the L-A1 pistol here. Featuring a full-length slide, 4.5-inch cold-hammerforged barrel and 17-round magazine capacity for its 9x19mm Luger chambering, and12 rounds for both the .40 S&W and .357 SIG versions, the new L-A1 service pistol is ideal as a duty or sporting handgun. The new L-A1 is nearly identical in form and function to other handguns in the Steyr line, which combine a comfortable fit, a low bore axis, remarkable safety features, extreme reliability and amazing accuracy—thanks to a consistently crisp trigger break. The L-A1's full-size polymer frame offers unparalleled ergonomics with a high grip that places the barrel axis lower in the hand to mitigate muzzle rise, while creating a perfect grip angle and a very natural point of aim. The L-A1 incorporates a newly designed loaded chamber indicator and a reversible magazine release that is easily swapped for right- or left-handed shooters. The drift-adjustable sights are in the Steyr's intuitive trapezoidal configuration, and a Picatinny rail on the frame's dust cover provides a mounting position for illumination and laser-aiming devices.
Suggested retail is $560. For more information, contact Steyr Arms at 7661 Commerce Lane, Dept. TGM, Trussville, AL 35173; phone: 205-655-8299; online: steyrarms.com.
New Eze-Scorer Silhouette Targets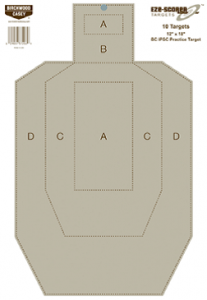 Birchwood Casey's has introduced two new 12'x18″ Eze-Scorer™ Silhouette Paper Targets that make handgun practice easy and affordable.
The new Eze- Scorer Targets come in both BC Bad Guy and BC IPSC Practice v e r s i o n s (shown here).
The nonreactive paper targets allow shooters to get plenty of range time with varied s h o o t i n g scenarios. Eze- Scorer 12″x18″ Silhouette Targets come in packs of 10 for $4.30, or are available in multiples of 100 for $0.40 each. Contact Birchwood Casey for more information by writing to 7887 Fuller Rd., Ste. 100, Dept. TGM, Eden Prairie, MN 55344; phone: 800-746- 6862; online: birchwoodcasey.com.
HiViz unveils 2 new Ruger handgun sights
HiViz HiViz Shooting Systems (a division of North Pass Ltd.), announced two new sights for Ruger handguns.
Both have the features of other HiViz sights, including superior light gathering capability, all steel sight base construction, ramped and serrated sight blade with a square profile. The new SR22 sight is part of the new third generation line of sights, designed with the durability of an overmolded sight while having the flexibility of interchangeable LitePipes. The skeletonized sight frame provides protection for the LitePipe and the internal locking mechanism holds it firmly in place. It fits the Ruger SR22 with adjustable rear sight and includes three LitePipes in red, green and white.
The new RG2245L handgun front replacement sight has the same qualities as the Ruger Mark III sight, but is made exclusively for the 22/45 Lite model. It comes with six LitePipes in various colors to better suit changing lighting conditions or personal preferences. These new sights, along with other HiViz shooting accessories, are available through selected sporting goods stores or online at: HiVizSights.com.