Barrett® Fieldcraft™ Hunting Rifle Shipping

In early April, Barrett Firearms announced that shipments of Fieldcraft rifles to distributors have begun. This rifle is designed to be carried further on long days in the field and perform like a Barrett at that critical moment. The stock is crafted from hand-laid carbon fiber to provide an ultra-light yet rigid platform for shooting from field positions. The stainless steel actions are scaled for their specific caliber and fully hand bedded to the stock. This rigidity optimizes the accuracy of a lightweight rifle. "Fieldcraft is the latest representation of our philosophy to build the highest performance rifles for every application," says President Chris Barrett. "Even though we are known for making the world's finest military-grade rifles, we love to hunt. Recently we introduced the Barrett Sovereign shotgun line, and now we have created the ultimate hunting rifle." The Barrett Fieldcraft is claimed to be the perfect combination of ultra lightweight design and heavy-duty performance. Yet another example of how Barrett is going to greater lengths for the precision shooter. For more information or to find a Barrett dealer, visit online at: Barrett.net.
---
FN announces factory short-barreled FN 15™ carbines

FN America announced in March the release of two FN 15™ Patrol carbines in short barreled configurations, available to commercial customers. These two new carbines are the first time FN has offered short barreled rifles for sale to the individual consumer. "FN has been producing SBR's for military and law enforcement customers, and as individual upper receivers or barrel kits, but never as factory-produced consumer products," said John Keppeler, vice president of sales and marketing for FN America, LLC. "These new carbines are currently shipping to FN distributors nationwide and are just the first of many SBR configurations we will be releasing." The two FN 15 Patrol SBR carbines will be chambered in 5.56x45mm and offered in either a 10.5- or 14.5-inch, button-broached and chrome-lined barrel with A2-style compensator, hard-anodized aluminum upper receiver, and 6-position collapsible stock and combat-grade trigger. In addition, the two carbines are equipped with low-profile gas systems optimized for each barrel length offered. MSRP is $1,149. For more information on these new short barreled FN 15 carbines or other FN products, please visit online at: fnamerica.com.
---
Steyr offering Austrian camo clothing line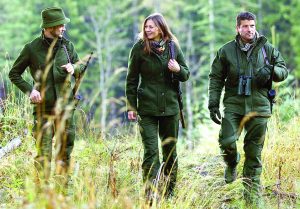 Jagdhund, an acclaimed Austrian-based clothing company, is now offering US consumer a full line of men's and women's parkas, jackets, pants, long- and short-sleeve shirts, base layers, socks, headgear, scarves and gaiters exclusively through Steyr Arms in Bessemer, AL. Through extensive research and development, the team at X JAGD has taken camouflage to a new level by creating new patterns that cancel out the laws of perception and provide hunters with a surface structure that optically dissolves the hunter into their environment. Until now, perceptual research was only aware of three dimensions for arranging camouflage patterns: form, color, and space. With the X JAGD DEMORPHING collection, hunters disappear completely because the factors of time and motion have been added to the existing equation of form, color, and shape to create the DEMORPHING principle. X JAGD combines the most technologically advanced designs with exceptional outdoor materials in order to offer top-tier performance and reliability at all times. These "intelligent" materials must fulfill certain special requirements in regard to hunting, whether it is heat management, anti-piling or moisture wicking. Whether you are travelling to hunt around the world or in your own backyard, X JAGD offers the cleverest camouflage you can rely on for uncompromised performance. To review the X JAGD clothing line, visit the webstore at: .xjagd-usa.com. For a limited time, customers will receive a 15-percent discount off their online orders.