Browning adds six new 1911-22 pistols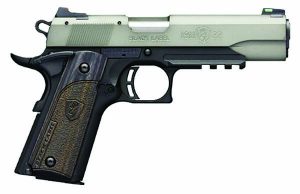 Browning® is adding six new models to their very popular Black Label 1911-22 line of pistols. The new Black Label 1911-22 Medallion will come in both Full Size and Compact models. Features include a matte black finish slide with brush polished flats, aluminum alloy frame and intricately checkered rosewood grips with an inlaid gold Buckmark. The pistols have steel three-dot sights and include one 10-round magazine. Barrel length on the Full Size is 4-1/4" and 3-5/8" for the Compact. Suggested retail for both versions is $669.99. The new Black Label 1911-22 Gray pistol is available in four versions: Full Size, Full Size with Rail, Compact, and Compact with Rail (shown here). The machined aluminum slide is finished in a handsome gray anodized finish. Barrel length for the Full Size is 4-1/4" and 3-5/8" for the Compact. The frame is composite with a machined 7075 aluminum subframe and slide rails. Fiber-optic sights are included. The Black Label 1911-22 Gray pistol Full Size and Compact models suggested retail is $699.99. The suggested retail price for models with the accessory rail is $719.99. For more information on Browning products, visit online at: browning.com.
---
DoubleStar unveils its Fang™ Blade

Born with Every Day Carry (EDC) in mind, the Fang features a durable tanto point and chisel ground edge of 1095 carbon steel for easy maintenance and superior piercing strength. It also includes DoubleStar's Dragon Hyde™ DLC coating, textured G-10 scales and a built-in bottle opener on the base of the handle. The Fang is perfect for inside the waistband, pocket carry or as a neck knife. The Fang comes with a Kydex Sheath with Tek Lok. It's made in the USA and comes with a warranty. Blade length is 2.875" with an overall length of 6.7". MSRP is $145. The Fang Blade is part of DoubleStar's Hydra Edged Weapons Line, which has been designed by Rob Cabrera, DoubleStar's new director of its Edged Weapons Division, owner of Filo Bladeworks and practitioner of the Filipino Martial Arts of Eskrima, Kali and Arnis.
---
American Tactical offers Omni Hybrid 410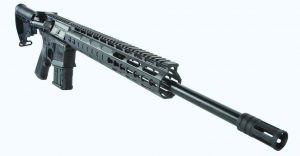 American Tactical, a world-wide importer of firearms, ammunition and tactical equipment to the USA, has announced the arrival of the Omni Hybrid .410 shotgun, a gas operated, short stroke, balanced piston system designed to use only 2.5 ".410 shells. It functions with a wide variety of .410 loads from bird shot to slugs, also available from American Tactical. The complete shotgun is built on American Tactical's patented Omni Hybrid lower receiver with a six-position adjustable stock. The upper handguard will be a 13" free-floating Keymod rail. The shotgun will be available as both a complete unit as well as a separate upper receiver assembly. Each Omni Hybrid .410 comes with one 5-round polymer magazine. Additional 5-round and 15-round magazines are available for purchase separately. The Omni Hybrid .410 can also be converted to 5.56 or 300blk just by changing the upper receiver. Every Omni Hybrid .410 upper receiver is built to standard AR specs and can be installed on most mil-spec lower receivers. MSRP $599.95. For more information, visit online at: americantactical.us.