KRISS USA delivering DMK22 rimfire rifle

Chesapeake, VA-based KRISS USA has begun delivery of the first DEFIANCE® DMK22, .22LR chambered AR-15 style carbines, to authorized resellers and distributors. Available models include the DMK22C as well as the DMK22 LVOA, officially licensed by War Sport Manufacturing. The DMK22C features a 16.5", 4140 Chrome Moly, barrel with a 1:16" twist rate, ½" x 28 RH threading, and black nitride coating. The 13" free floating hand guard is made from aircraft grade aluminum, with a MIL-STD 1913 Picatinny top rail and modular rail section attachment points at the three, six, and nine o'clock positions. The DMK22 LVOA features the iconic War Sport LVOA modular hand guard. The proprietary sporting rifle receivers are forged from an aluminum alloy and are designed to be compatible with AR-15 upgrade parts; such as MILSPEC butt stocks, pistol grips, dust covers, charging handles, forward assists, magazine releases, muzzle devices, and hand guards. The bolt catch functions with the included DEFIANCE® .22LR magazine to lock the bolt back when empty, even when the magazine is removed. Further customization can be achieved with different barrel profiles, through a patent pending barrel adaptor system. Standard furniture for all DEFIANCE® DMK22 carbines include the DEFIANCE® Low Profile Flip Sights, DS150 adjustable stock, and pistol grip. Available in black for an MSRP of $799. All models of the DEFIANCE® DMK22 include a 15 rounds capacity DEFIANCE® magazine, 10 rounds magazines are also available for capacity restricted markets. For more information, visit online at: www.kriss-usa.com.
---
Bulletproof cases protect new iPhones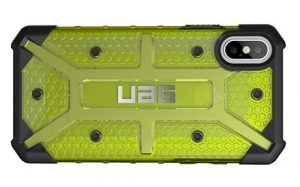 Whether you're in the woods or at work, your phone is prone to small bumps and big drops. Urban Armor Gear (UAG) has you and your gear covered with the new six series of cases designed for Apple's iPhone X, iPhone 8 Plus, and iPhone 8. UAG cases are designed with adrenaline-fueled outdoor adventurers in mind. Each case reflects UAG's ethos of superior protection and lightweight designs that meet or exceed U.S. Military drop-test standards. Offering premium protection, the six series are custom built to accommodate the latest Apple features and the all-new glass design. For example, the translucent Plyo Series Case is available in Ice, Ash, and Crimson at an MSRP of $39.95. Other models are available at similar pricing. The slim design is thin, friction-free and lint resistant with air soft corners for cushioning impact.
---
Thunderbolt Sportswear offers ultra-light tactical jeans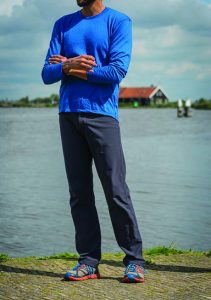 Portland, OR-based Thunderbolt Sportswear has introduced a new lightweight version of their original Mark II jeans, now offering exceptional durability, comfort and breathability for travel, work and all-day play in warmer climates. Made with water- and wind-resistant Schoeller® Dryskin soft-shell fabric these pants are designed to be extremely light and breathable while easily moving freely in all four directions for all day comfort. The Mark II Lite is packed with features like mesh pocket bags and corrosion resistant zippers while the lightweight Schoeller fabric is abrasion-resistant, fast drying and extremely durable. These go-anywhere pants offer the same comfortable modern fit and performance people have come to expect of the original Mark II for a seamless transition between active pursuits and the office. The Mark II Lite comes in a Granite and Ranger colorway in a variety of waist size and leg lengths. For more information or dealer near you, visit online at: thunderboltsportswear.com.