New Ruger SP101® in 9mm Luger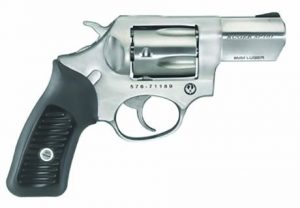 The newest addition to the Ruger SP101® family is chambered in 9mm Luger, featuring a 2.25" barrel and integral sights. This new satin-finish stainless steel configuration also boasts a cushioned, black rubber grip; patented transfer bar mechanism provides an unparalleled measure of security against accidental discharge and a triple-locking cylinder. • The triple-locking cylinder is locked into the frame at the front, rear and bottom for more positive alignment and dependable operation shot after shot. Approved for sale in California and Massachusetts. The 9mm SP 101 ships with three full moon clips that act as both a speed loader for the 9mm rounds and aid in the ejection of the spent cartridges. Overall length is 7,20 inches, weight unloaded 25 oz. MSRP $719.00
---
New .30 Carbine caliber Motor Patrol Pistol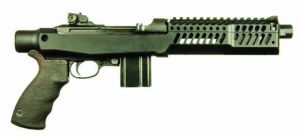 Inland Manufacturing, makers of the Inland series of M1Carbines, debuts its new .30 Carbine caliber compact pistol, a compact version of Inland's popular full size .30 Carbine caliber firearms. The M30-IMP is fitted into a special Inland/Sage aluminum pistol chassis with Ergo Sure Grip pistol grip and will accept any ATF approved arm brace that utilizes a standard AR style pistol buffer tube. The 7½-inch barrel is threaded (1/2×28 tpi) and comes with a thread protector. Each M30-IMP is shipped with one 10-round magazine and, like all Inland .30 Carbine firearms the magazine catch fits higher-capacity military and civilian magazines.•Sights are M1 Carbine style, with adjustable ghost ring aperture rear sight. •Overall length is 16-inches; weight 4½ pounds. MSRP: $1399. For more information visit online at: mkssupply.com.
---
REACTOR Lasers for Springfield Armory XD-E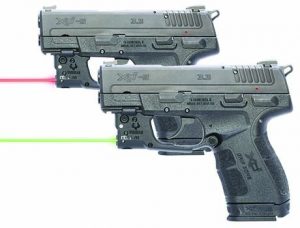 Viridian® Weapon Technologies has released a new REACTOR® laser sight designed exclusively for the Springfield Armory® XD-E™ 9mm compact pistol. Now available for purchase in green and red, the latest additions to Viridian's REACTOR series include a bi-color battery indicator, multiple modes of operation, proprietary INSTANT-ON® technology and a microfiber, ambidextrous IWB holster. Built to fit specific handguns, the green laser is extremely powerful and is up to 50 times brighter than red lasers. The REACTOR R5-R, the brightest red laser on the market, offers similar performance for the budget-conscious gun owner. Viridian's patented INSTANT-ON technology, ensures that the laser activates automatically when the gun is drawn. This means that the split-second the gun clears the holster, the INSTANT-ON system ignites the brilliant laser in one reflex-fast move. To see a full list of REACTOR laser sights designed to fit popular gun models, visit: ViridianWeaponTech.com/REACTORS.
---
Dark Storm Industries rifles in .308 Winchester

Dark Storm Industries DS-10 MOE rifles in .308 Winchester offer a reliable and accurate AR-style platform featuring Magpul Original Equipment. Three variants in the DS-10 MOE line-up include a standard, a fixed magazine and a featureless version to comply with laws in restricted states. All three variants are built on Dark Storm Industries' DS-10 billet lower and upper receivers. The Fixed Mag version is DSI's own patented FX (fixed magazine) lower. All three have an upper receiver with a forward assist and ejection port cover. Additionally, these mid-length direct impingement gas system rifles include MIL-Spec buffer tubes, DSI rail gas block and a DSI 18" .308 Winchester threaded nitrite barrel. The combination of DSI's American-made billet upper and lower receivers with the renowned quality of Magpul accessories make for an exceptional rifle. The Magpul Original Equipment (MOE) features include: Magpul MOE 9" M-Lok forearm; Magpul PMAG 20-round magazine; Magpul MOE adjustable stock; pistol grip and birdcage flash hider. All DSI DS-10 .308 MOE rifle models come optic ready with trigger lock and are available in Black, Two Tone FDE and Two Tone ODG for $1,195.